What Is AvaiBook?
The all-in-one Vacation Rental Software leader in the market from the Idealista family.
Our responsive platform includes Channel Manager, Booking Engine, PMS tools and integrated Bank Gateway.
We include the authomated registration of guests and comunication with authorities.
Our own Market Data research tool to define your pricing policy and analyse your revenue as well as your competitor's.
Virtual Tours to highlight your accommodations and boost the direct bookings.
Who Uses AvaiBook?
Our platform is perfect for vacation rental managers, Real State agencies as well as villas, cottages and apartment owners.
Where can AvaiBook be deployed?
Cloud-based
On-premise
---
Countries available
Andorra, France, Italy, Portugal, Spain
Languages
English, French, Italian, Spanish
Countries available
Andorra, France, Italy, Portugal, Spain
Languages
English, French, Italian, Spanish
AvaiBook videos and images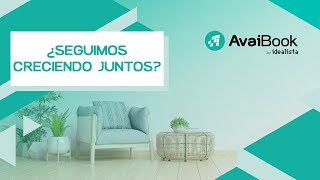 Compare AvaiBook pricing with similar products
Features of AvaiBook
Booking Notes
CRM Software
Calendar/Reminder System
Channel Analytics
Contact Management Software
Customer Support Software
Drag & Drop
Dynamic Pricing
Employee Management
Floor Plans & Maps
For Vacation Rentals
Front Desk Management
GDS/OTA Integration
Group Reservations
Guest Communications
Guest Experience Management
Housekeeping Management
Incentive Management
Inventory Control Software
Lead Management Software
Marketing Automation Software
Online Booking
Order Management Software
Owner Statements
Panoramas
Partner Management
Payment Processing Software
Pipeline Management
Promotions Management
Reporting/Analytics
Reservations Management
Room Inventory
Social Media Integration
Vendor Management Software
Virtual Reality
Work Order Management
Richard
Director in Spain
Hospitality, 2-10 Employees
Used the Software for: 1-5 months
Be aware of this company
Comments: Very agressive methode of blocking your account. My credit card was stolen and a small fee of 13 euro wasn´t charged, they BLOCKED my account for days, PRESSING to pay inmediatly. They had several thousand of euros on hold from PAID reservations. I claimed acces to the information of MY clients, they denied! Once I published a negative revieuw they CANCELLED al my bookings. Lost a lot of money.
Pros:
Nice trial periode, all seems marvelous! But don´t get too excited...
Cons:
Lots of failure of sync with HOMEAWAY. Not usefull for VRBO. Problems with TXT on AIRBNB adverbs. Calenders does not sync. They collect your BOOKING payments with a 4% extra CHARGE, even you have set BOOKING payments to your account directly. If you complain, they cancell your account, and of course NO MONEY BACK!
Verified Reviewer
Sofware engineer in Spain
Verified LinkedIn User
Information Technology & Services, 1,001-5,000 Employees
Used the Software for: Free Trial
very bad process to create and charge a manual reservation
Comments: I've been trying to charge a virtual booking card for weeks, I understand that for security reasons they have to do several checks, but they end up telling you that you have to hire another plan paying more money, it seems like a huge robbery. They charged me 5% for the transaction and another 4 euros for a "manual validation" and I still don't see my money
Pros:
Have entered my first reservation manually two weeks ago and still haven´t received my money. Don´t see any pro yet
Cons:
time-consuming, a very bad process to create and charge a reservation
Investment Management Software, 2-10 Employees
Used the Software for: 1+ year
Alternatives Considered:
Software de muy alta calidad para la gestión de unidades tuísticas
Pros:
Avaibook es un sistema de muy fácil funcionamiento. El channel manager que sincroniza los calendarios con las diferentes OTAS nunca nos ha dado un problema. Nos permite también realizar reservas directas, con pasarela de pago virtual, totalmente segura para los clientes, ahorrando así tasas y comisiones de las OTAS
Cons:
El servicio técnico y la atención al cliente son de muy buena calidad, aunque en ocasiones no son todo lo ágiles y rápidos en contestar que nos gustaría. No obstante la mayoría de las consultas son solucionadas en el mismo día.
AvaiBook Response
last year
Hi Jesus, thanks for leaving us such a wonderful review. We are thrilled to hear about your experience with our product and synchronization system. We'll continue to improve our product to maintain our position as the best solution out there for vacation rental owners. Best wishes, the AvaiBook team
Leisure, Travel & Tourism, 2-10 Employees
Used the Software for: 1+ year
Alternatives Considered:
Muy recomendable
Comments: Muy contento, el trato desde el primer día de acogida super cercano. El tiempo que le dedican a las explicaciones y sobre todo un puntazo que te resuelvan las dudas con un video de Loom. Muy top!!
Pros:
Lo tiene todo, un Software muy completo. Sin duda se lo recomiendo a la gente que tenga más de un alojamiento y se quiera despreocupar de multitud de tareas ya sea como cerrar y abrir fechas en diferentes plataformas, realizar parte de viajeros etc..
Cons:
El única contra que le puedo poner es que cuando un huésped cancela una reservase sigue cobrando el 1% . Un caso que nos paso es que una huésped decidió cancelar su reserva de Booking para volver a reservar modificando un huésped más, esa persona no sabia que podía directamente modificar la reserva sin tener que cancelar y volver a reservar. Esto nos llevo a unos gastos de 37 euros por tan solo una modificación de la reserva.
AvaiBook Response
last year
Hola Jesus, !Gracias por tu rese?a! Nos alegra saber que el utilizo de AvaiBook te haya ayudado en la gestion diaria y te haya permitido ahorrar mucho tiempo trabajando de forma segura y sin riesgo de overbooking. En cuanto a la comision, te recomendamos pasar a nuestros nuevos planes Estandar o Pro, sin comision por reserva, que te permiten trabajar con un coste fijo anual o mensual y ofrecen muchas mas herramientas y sincronizaciones XML ilimitadas! Gracias de nuevo por confiar y crecer con nosotros. El equipo de AvaiBook
Hospitality, 2-10 Employees
Used the Software for: 2+ years
Una pena
Comments: Pues después de 7 años de relación nos hemos visto obligados a cambiar de empresa. No será por sus malas formas de hablar, todo lo contrario, son todo dulzura y buenas palabras, sus hechos ya es otra casa. Si todo va bien y no hay problemas, todo correcto, el problema ha venido con todas ls cancelaciones que hemos tenido que han sacado a la luz todas las vergüenzas y todos los problemas de las sincronizaciones. Entiendo la complejidad de este tipo de producto y la falta de estandarización en cada uno de los portales que trabajamos, pero estos señores no han sabido adaptarse a estos tiempos y tienen un producto que hace aguas por todos los lados. Ya veréis como la respuesta que dan, es muy cordial y con muy buenas palabras, pero, y aquí está el problema, no te dan ningún tipo de solución, más que venderte un cambio a un plan superior y si les preguntas por la solución a tus problemas, todos dicen que lo mirarán, que no les consta y cuando ven el marrón, se lo pasan a un compañero que te volverá a llamar, no saliendo de su asombro por lo que le contamos. En resumen, era una buena opción, venida a menos en servicios y a más en precios, lo mejor es no caer en sus cantos de sirenas y tener unas buenas sincronizaciones, con todas las opciones que tiene cada portal, adaptada a nuestros negocios.
Pros:
Creer que lo puedes gestionar todo en un mismo lugar.
Cons:
Que piensas que lo tienes todo gestionado y te llevas las sorpresas, sobre todo que desde AvaiBook, nunca son responsables de nada, siempre es responsabilidad del cliente.
AvaiBook Response
last year
Hola Miguel, Gracias por tu rese?a. Todos los comentarios son importantes para nosotros y te agradecemos subrayar la amabilidad de nuestro servicio al cliente, ya que es algo muy importante para nosotros. En cuanto a lo que comentas, lamentamos mucho oir esto. Sobre todo, hemos revisado y nos complace ver que en varias ocasiones nuestro departamento de atencion al cliente cuanto de calidad ha entrado en contacto contigo para recordarte todas las opciones que ponemos a disposicion, No queremos que la comision sea razon de descontento y por esta razon en los ultimos meses hemos creados nuevas Tarifas sin comisiones y con muchas mas funcionalidades, que permite pagar una cuota fija (anual o mensual) a partir de 17/mes. Esto te permite ademas a?adir sincronizaciones API/XML ilimitadas, y de maxima calidad, y sincronizar asi de forma facil y segura tus anuncios con los portales lideres a nivel mundial. Estamos a tu disposicion para revisar nuevamente la situacion de tu plan :) Gracias!