Flipsnack
What Is Flipsnack?
Flipsnack is the fastest PDF-to-flipbook converter on the market. This online publishing solution allows you to bring your PDFs to life, transforming them into life-like publications with a 3D
Read more
flip-page effect. Alternatively, you can use our Design Studio to easily create engaging flipbooks from scratch. Bring your printed catalogs to digital customers while embracing a more sustainable and cost-effective path for your business. Powerful features like shopping buttons, videos, GIFs, enticing p
Read less
Who Uses Flipsnack?
Flipsnack is a great solution for marketers, business owners and designers who want to create interactive marketing materials & internal communication documents, such as catalogs, brochures & more.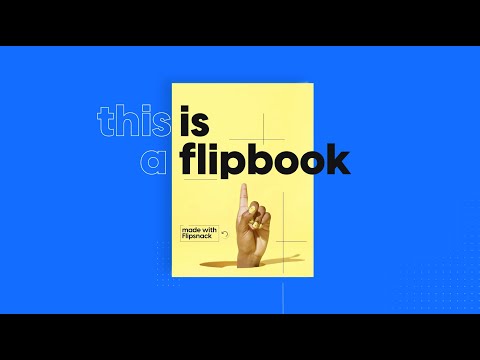 Not sure about Flipsnack? Compare with a popular alternative
Alternatives to Flipsnack
Thomas J
Analytics | HubSpot in US
Verified LinkedIn User
Media Production, 51-200 Employees
Used the Software for: 1+ year
Flipsnack Review
Comments: We are using it to display our print magazine online to web visitors and overally have had a good experience with Flipsnack.
Pros:
Very easy to get started. We used several other products that were more expensive, less features and harder to use before finding Flipsnack.
Cons:
Nothing yet that we have found but we are just beginning to use it at scale. If I were to pick something I would like to have more options it would be on gating it. We use it on a membership site so I have had to find ways to gate the pages themselves instead of the reader.
Flipsnack Response
4 years ago
Hi Thomas, Thank you for the kind review. It would be very helpful for us to know more about how you would like to gate access to your online magazine. Who knows, perhaps we'll find a solution! Please email us at [email protected]
Brandy
Marketing Director in US
Real Estate, 201-500 Employees
Used the Software for: 1+ year
The best out there!
Comments: Great customer service when I've had questions. Ease of use. Team function is great. Quality looking digital documents with the ability to truly customize what you're publishing. Best of all, it's affordable!
Pros:
So much easier than other software I've used that's suppose to do similar things. It couldn't be any easier to use and with having a team, the team function to allow others to get in and have User access is wonderful! We love the customization available for Flipsnack documents and the option to publish documents private or public. We love every feature!!
Cons:
No cons on my end after using other similar software in the past. FlipSnack has been a game changer for myself and my Marketing Team!
Flipsnack Response
last week
Thank you so much for the review, Brandy. We are glad you like Flipsnack this much!
Entertainment, 2-10 Employees
Used the Software for: 1-5 months
Text editor bug is a huge problem
Comments: Awful customer service. Clearly outsourced oversees and with little knowledge of the product. No phone number available to call. Waste of time.
Pros:
Very little. Basic functions work ok.
Cons:
For weeks I have been going in circles with customer service having to prove that the view one sees in their EDITOR mode is different from the published mode. In short, the text box formatting has a bug and you cannot access the html to correct it. I have sent them several screen shots of the two and the obvious discrepancy and I have been getting back lame answers, mainly blaming me. Today they admitted to the bug. But clearly others would have encountered an error simply caused by coping text boxes! Awful.
Flipsnack Response
3 years ago
Hello Dan, We're really sorry you had an unpleasant experience on our platform, but I can assure you we are doing the best we can in order to fix the issue that you are currently encountering. We always try to help our customers the best we can, but it seems like we missed some details along the way regarding the issue you have encountered, and we are truly sorry about this. Our main purpose is to help our customers reach their goals. While our team tried to investigate and even replicate this issue, we were unable to reproduce the same behavior on our end, regardless of how many times we tried. In regards to this issue, I promise you that we are not going to overlook the inconvenience you have encountered or place the blame on you, but on the contrary, we are going to do the best we can in order to fix it and to make sure you have a great time on our platform.
Adianna
Administrative specialist in US
Education Management, 5,001-10,000 Employees
Used the Software for: 1+ year
Alternatives Considered:
Needs more improvements
Comments: Overall as expensive as a program is it works out for my newsletter but this will be the last year I use it.
Pros:
I like the different tools available to create a newsletter.
Cons:
I just like the way you use the name as a pertains to pages which confuses me since I'm American. there are things in the tools that can use an upgrade for a user-friendly approach.
Flipsnack Response
2 weeks ago
Thanks for the feedback, Adianna. It helps us a lot!
Jeffrey
Principal Lead Consultant in US
Insurance Software, 2-10 Employees
Used the Software for: 2+ years
Alternatives Considered:
Flipsnack provides a turnkey solution that makes my firm look cutting edge.
Pros:
It's ridiculously easy to use and has a high WOW factor. My clients think this takes day to do and that I must be a graphic designer.
Cons:
I wish they provided more templated background options.
Flipsnack Response
2 weeks ago
Thank you so much for the review. Your feedback helps us a lot!