15 years helping Canadian businesses
choose better software
What Is RSVPify?
A leading end-to-end event management platform trusted by 30% of the Fortune 500. Manage events big and small with ease and keep the spotlight on your brand. Powerful features including email invitations, online registration and RSVP, custom data collection, guest list management, menu preferences, sub-event management, event privacy/exclusivity, drag-and-drop seating charts, check-in, and much more.
Who Uses RSVPify?
RSVPify is an end-to-event event management platform serving thousands of mid-size businesses and non-profits and over 30% of the Fortune 500.
Where can RSVPify be deployed?
Cloud-based
On-premise
---
About the vendor
RSVPify
Located in Chicago, US
Founded in 2013
RSVPify pricing
Starting Price:
US$19.00/month
Yes, has free trial
No free version
RSVPify does not have a free version but does offer a free trial. RSVPify paid version starts at US$19.00/month.
About the vendor
RSVPify
Located in Chicago, US
Founded in 2013
RSVPify videos and images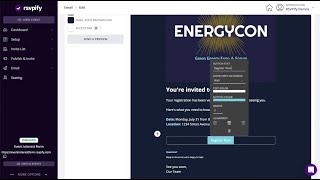 Features of RSVPify
API
Activity Dashboard
Alerts/Notifications
Attendance Management
Attendee Management
Barcode/Ticket Scanning
Communication Management
Confirmation/Reminders
Contact Management Software
Customer Data Management
Customizable Branding
Customizable Reports
Discount Management
Drag & Drop
Electronic Payments
Email Marketing Software
Event Calendar
Event Management Software
Event Scheduling
Event Ticketing
Guest List Management
Mobile Access
Online Payments
Online Registration
Payment Processing Software
Point of Sale (POS)
QR Codes
Registration Management
Reporting & Statistics
Reporting/Analytics
Third Party Integrations
Ticket Reservations
Ticketing Software
Visitor Registration
Website Management
Nancee
Director of Communications in US
Verified LinkedIn User
Hospital & Health Care, 501–1,000 Employees
Used the Software for: 1-5 months
Reviewer Source
Fantastic Customer Service Experience
Comments: We are scheduling vaccinations for over 300 employees in 15 min increments over three days. Needed them to pick a time, get a confirmation and allow for follow up and exporting of names for check in and record keeping.
Pros:
I had a difficult project to set up, this software made it possible to send a link to more than 300 emails, have them choose a 15 min time slot and send a confirmation email as well as a follow up. It also allows me to see who is coming in those slots for a chek in process. I hit the customer service JACKPOT with [SENSITIVE CONTENT HIDDEN] who worked with me for two days to make sure all my pieces of this intricate project were in place, she even check after I was complete and made recomendations for tweaks. Thank yuu times 1000, [SENSITIVE CONTENT HIDDEN]!
Cons:
I am sure in future updates, my project will allow for their production team to add some more features - but this is not a CON, just growth potential!
Anthony
CIO in US
Verified LinkedIn User
Higher Education Software, 1,001–5,000 Employees
Used the Software for: 1-5 months
Reviewer Source
Outstanding product for small to medium size event - great value!
Comments: This software is a cost effective solution for event registration and management. RSVPify is simple and can be used in a very simple and effective way. That apparent simplicity belies its potential for much more sophisticated event management.
Pros:
We selected the product because it allowed us to upload a guest list, limit registrations to the guest list, and had an e-checkin/ticket capability using QR codes. We used the software for 11 events, ranging from 20-380 attendees, and it worked just as well for all of them.
Cons:
Having a dedicated app that could be used for scanning the QR codes and checking people in would be a much better solution than a combination of mobile device camera/QR reader and web browser. The delivered solution requires using two pieces of software and on an iPad open a browser tab for each checkin. After a while tabs need to be manually closed. Additionally, the option to automatically check in people when the code is scanned would have sped things up. In the current implementation you scan the code and then have to manually check the person in.
Alternatives Considered: Certain Event Management, Cvent Event Management and Eventbrite
Reasons for Switching to RSVPify: We selected the product because it didn't require a long term commitment, it was affordable, it had basic CRM functionality, it had an e-ticket capability including QR code for checkin, and they had great customer support.
Burak
Multimedia Designer in Canada
Graphic Design Software, 11–50 Employees
Used the Software for: 1-5 months
Reviewer Source
Easy to use, looks professional
Comments: It was really easy to track down the attendance also importing/exporting guests. The RSVP interface and general RSVP experience of a guest is very professional.
Pros:
Event page creator is great and user-friendly. Documentation and customer service was very helpful.
Cons:
Event page creator should have a video option, not only images. It is expensive.
Alternatives Considered: Blackbird
Reasons for Switching to RSVPify: I liked the extra features of the event page builder (still can be better though)
Online Media, Self Employed
Used the Software for: 1-5 months
Reviewer Source
Not Worth the Time or Money
Comments: Clearly focused on business and not customers.
Pros:
Nothing. I did not like anything about this software.
Cons:
Too complex, not enough/very few templates, way too time-consuming for generic event planning. Customizable to a fault (not enough templates to use for quick completion of a project). No free trial offered. Poor marketing of plans--especially after researching and seeing reviews--definitely not worth the money. Go with a website that actually has a free trial, a website that is simpler to navigate, and a customer service department that is direct and actually willing to hear you out and assist. Biggest waste of time and money. Would not suggest to anyone. I use services like this often and I am fairly computer savvy (or can work with something until I figure it out), but I would never use this website again. Not helpful and you can find way cheaper options that are faster to navigate.
RSVPify Response
4 years ago
Rebecca, Thank you for taking the time to share your feedback. We truly appreciate it. I'm sorry to hear you found your RSVPify experience to be sub-par when planning this upcoming birthday party. That's certainly not what we like to hear, and we look forward to improving from your feedback. We're excited to soon release the all-new "RSVPify 3," which will include a library of pre-made event website templates, from birthday party websites to corporate and non-profit. Along with hundreds of new features and enhancements. We apologize for any confusion, but as a point of clarity, RSVPify's full suite of design options and templates is available to all plan tiers -- including the free plan. RSVPify also offers a 5-day money back guarantee/refund period to trial premium features risk-free. We regret that you did't find the experience ideal for birthday party planning, and look forward to offering a whole host of more bespoke options in the near-future. All the best, Team RSVPify
Marissa
Executive Assistant in US
Electrical/Electronic Manufacturing, 51–200 Employees
Used the Software for: 1+ year
Reviewer Source
RSVPify has made my job easier!
Comments: Using RSVPify has allowed me to remain organized, and therefore more effective, while planning big corporation events.
Pros:
I loved that RSVPify helps users create and manage event invitations, guest lists, and RSVPs for various occasions like weddings, parties, and corporate events. It offers features such as customizable event pages, guest list tracking, meal preferences, and more, which can streamline the event planning process for users. Using RSVPify has made my job as a marketing executive easier.
Cons:
I would say the price point of RSVPify was the least liked.
Alternatives Considered: Eventbrite
Switched From: Microsoft Excel
Reasons for Switching to RSVPify: I felt as if RSVPify was easier to navigate and understand.