What Is PDQ Deploy?
Automate your patch management with PDQ Deploy. Select the software you want to deploy (we have a pre-built library of over 200), specify which machines require updates, and set a preferred schedule for deployment. PDQ Deploy will automatically and silently apply updates — all without bothering end users.
Who Uses PDQ Deploy?
By sysadmins, for sysadmins. Designed for small, medium, and large businesses in any industry — whether you manage 50 machines or 5000.
Where can PDQ Deploy be deployed?
Cloud-based
On-premise
---
About the vendor
PDQ
Located in Salt Lake City, US
Countries available
Australia, Canada, United States
PDQ Deploy pricing
Starting Price:
US$1,275.00/year
Yes, has free trial
Yes, has free version
PDQ Deploy has a free version and offers a free trial. PDQ Deploy paid version starts at US$1,275.00/year.
About the vendor
PDQ
Located in Salt Lake City, US
Countries available
Australia, Canada, United States
PDQ Deploy videos and images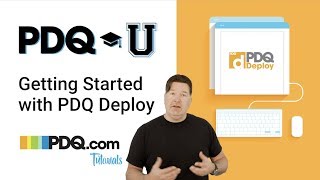 Features of PDQ Deploy
Alerts/Notifications
Automatic Patch Deployment
Automatic Scans
Backup and Recovery
Compliance Management
Customization
Maintenance Scheduling
Network Wide Management
Patch Management Software
Remote Access/Control
Remote Monitoring & Management
Vulnerability Protection
Alternatives to PDQ Deploy
André
System Administrator in Brazil
Verified LinkedIn User
Chemicals, 201-500 Employees
Used the Software for: 1+ year
A easy to use and reliable solution for small and mid sized companies
Comments: When we started to use this software, we did not have a solution to inventory and deploy softwares on your computers and servers, that is a powerful tool, with a very good price that really worths the investiment. We were able to keep all our computers and softwares updated, and we have pushed some Windows build updates through PDQ Deploy, which worked very well! If you do not have a inventory/deploy solution on your environment, and cannot spend so much money with it, go with PDQ without think twice, you will not regret!
Pros:
It is easy to implement, configure and to use it, everything on this software is so intuitive, even if you not read the manual you can do more than 50% of the software functionalities. The software has a wide variety of options to deploy softwares to your computers, also, if you spend a few bucks more, you can buy the PDQ Inventory, which works very well integrated with the Deploy solution.
Cons:
The error messages on the deploys are not so clear, it difficults the troubleshooting on the first time without some research.
Health, Wellness & Fitness, 1,001-5,000 Employees
Used the Software for: 2+ years
Great Product
Comments: The one challenge that we were able to overcome was identifying our computers that had versions of Windows 10 that were no longer supported by Microsoft.
Pros:
We really appreciate the ability to view Windows versioning. It help us identify the outdated computers so we could get them updated. It saved us countless hours.
Cons:
I can't think of a con. The only con I can identify is, that we have to take time to learn some aspects of the functionality.
Alternatives Considered: ManageEngine Endpoint Central
Reasons for Choosing PDQ Deploy: We switched from Desktop Central because of the price.
Switched From: ManageEngine Endpoint Central
Colin
Senior Technician in US
Government Administration, 201-500 Employees
Used the Software for: 2+ years
PDQ Deploy is a Stellar Product
Comments: I echo my previous comment, i.e. this has been such a time-saver when ensuring we keep our endpoints current, and it makes it a lot easier to manage 100s of endpoints with literally the click of a button.
Pros:
This has saved us so much effort in maintaining the integrity of our software products on our domain endpoints. In addition to the pre-built library, it has been a godsend to be able to create customized packages and get them deployed quickly. When we were hit with Hafnium on our Exchange server and moved to O365, I created a customized package to remove our previous suite and get out the latest O365 suite to our endpoints with about an hour's work on PDQ Deploy.
Cons:
Nothing comes to mind, to be perfectly honest.
Phillip
Systems Administrator in Australia
Education Management, 1,001-5,000 Employees
Used the Software for: 1-5 months
PDQ Deploy anomalies
Pros:
Simplify server management Saves on me sign in multiple times Repeat task on remote machines
Cons:
These features seem inconsistent: - Say you want to run a number on commands on a number of servers you cannot get a combined report of the output of all the commands. Often this is needed as the report may be input into further tools - You should be able to set default credentials for each computer you add manually which can be overridden from 'deploy one' - You should be able to group a group of computers like a tree structure eg. directory structure in Windows or UNIX - Computers should be able to be a member of more than one group. When you add a known computer to another group it should copy all these properties as default starting point - In new package, you should have the ability to not have to choose a step type but the commands the user types in most cases tell you what type of step it is
William
Windows Admin in US
Environmental Services, 51-200 Employees
Used the Software for: 2+ years
Great software!
Comments: I have solved every remote install and patching issue using PDQ, Inv/Deploy
Pros:
Deployment, configuration, overall ease of use
Cons:
Nothing, I love every aspect of PDQ Inv/Deploy