What Is Givebutter?
Givebutter is the #1 rated fundraising platform on G2, powering $300m+ in donations for more than a million changemakers worldwide. Nonprofits use Givebutter to replace multiple categories of tools, including donation forms, fundraisers, events, donor management (CRM), email, texting, and more. Instead of charging a traditional SaaS subscription fee, Givebutter is completely free to use with a 100% transparent tip-or-fee model. Givebutter has been certified as a Great Place to Work in 2022.
Who Uses Givebutter?
Small and medium-sized nonprofits love Givebutter, including charities, service organizations, faith-based, schools, sports teams, companies and hopefully your group too!
Where can Givebutter be deployed?
Cloud-based
On-premise
---
About the vendor
Givebutter
Located in Washington, U.S.
Founded in 2016
Givebutter support
Phone Support
24/7 (Live rep)
Chat
Countries available
United States
About the vendor
Givebutter
Located in Washington, U.S.
Founded in 2016
Givebutter support
Phone Support
24/7 (Live rep)
Chat
Countries available
United States
Givebutter videos and images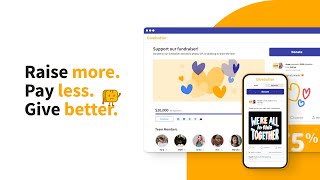 Compare Givebutter pricing with similar products
Features of Givebutter
Alumni Management Software
CRM Software
Campaign Management Software
Contact Management Software
Contribution Tracking
Dashboard Software
Donation Tracking
Donor Management
Email Marketing Software
Event Management Software
For Nonprofits
Fundraising Management
Membership Management Software
Online Giving
Payment Processing Software
Pledge Management
Receipt Management
Recurring Giving
Reporting/Analytics
Social Media Integration
Alternatives to Givebutter
Christopher
Founder & Chief Adventurer in U.S.
Verified LinkedIn User
Fund-Raising, 2-10 Employees
Used the Software for: 1+ year
The Best Site to Fundraise
Comments: Givebutter is easily accessible, customer friendly, effective, transparent about their minimal fees, and the best site to fundraise, hands down, no questions asked. I used to fundraise on other platforms, but I will now always stick to Givebutter after having a continued remarkable​ experience with the company. I'm very thankful that I discovered this site, and it has saved me a great amount of time & energy with my fundraisers. I've also seen a spike in my crowdfunding success by​ using this company.
Pros:
I most like the new ticketing feature for events because I plan to directly use Givebutter for a future project where there will be both crowdfunding for the tour and ticket sales for each event along our stops. Givebutter is a simple and brilliant solution for all of your fundraising needs, and this ticket feature is an example that shows how accessible, practical, and user-friendly the site is. I love how all these tools will be centered in one platform, and that helps me out tremendously.
Cons:
There are very few things that I don't like about Givebutter. As the company evolves, there are better and better additions to the givebutter.com site. I definitely can't complain about the software because I've had such an easy and fun time using this fundraising platform.
Michael
Vice President of Advancement & Strategic Initiatives in U.S.
Verified LinkedIn User
Higher Education Software, 51-200 Employees
Used the Software for: 6-12 months
Alternatives Considered:
Great benefit and easy to use platform with lots of room to grow
Comments: We have been greatly satisfied with Givebutter. The zero fees and complete data transparency have put us in the drivers seat with our online fundraising initiatives. Using Givebutter has dramatically increased our online fundraising potential. We are eager to keep this product in our arsenal of tools in the work ahead of us.
Pros:
Givebutter is easy to use, has lots of great features, and gives you control over your data. It also doesn't require a barge or boatload of cash to get started. Givebutter has a great team of specialists ready and willing to help you through your initial configuration as well as your ongoing work with the platform.
Cons:
There are no drawbacks. We are eager to see what new features Givebutter continues to implement to make its communication with other platforms common in the space as seamless and easy as its current complement of offerings. We are also eager to see FORM applications grow so we can retired other solutions we have entirely. We are working hard to earn enough annual dollars to afford custom URLS and the giving hub. Two great features we are eager to implement as WE grow.
Givebutter Response
2 years ago
Thank you so much for your thoughtful review, Michael! We're beyond thrilled you found working with our team an added benefit to using Givebutter. Our support team is always available to take feature requests; or click the question mark in the top right corner of your Dashboard, then Give Feedback.
Staffing & Recruiting, 10,000+ Employees
Used the Software for: 1+ year
My review
Pros:
It's very user-friendly and easy to use.
Cons:
Not much. Everything is great about this.
Mary
Special Projects Coordinator in U.S.
Nonprofit Organization Management, 201-500 Employees
Used the Software for: 6-12 months
Alternatives Considered:
Excellent for non-profits of all tech-skill levels to offer modern virtual fundraising events
Comments: We created our account in 2020 and it solved the immediate critical need of reaching supporters for our fundraising events amidst a pandemic. Because of Givebutter, we had an immediate and headache-free solution that allowed us to raise almost $40K so far. Also, we are an agency with many different programs, each of which manage their own unique fundraising campaigns and have their own unique needs. Givebutter offers three different types of fundraising campaigns, which allowed each of our Programs to run the type of campaign they needed.
Pros:
It has a clean and simple user interface, which required very little training time as I onboarded new Users from our staff. Their support team is very responsive and knowledgeable, and help to guide us through all of our questions. Their organization has a customer-centric focus, and is designed to receive and adapt based of their user feedback. We also really liked its ability to integrate with our CRM.
Cons:
Currently they do not offer an online auction function (silent or live), but this feature is in development and anticipated this year. We also did not like the Tips feature, which if activated removed their platform fees. Essentially, if you leave the Tip feature on then at checkout it provides the donor with the option to also tip Givebutter. We felt that this was confusing to our donors, who may not understand what Givebutter is, and that those funds would not be included as part of their gift to our organization. We would instead prefer to have a flat platform fee, but realize this probably means they would make less money. Also, the integration with our CRM was limited in terms of what data migrated where. We hope to see that change, so more information can be captured via Givebutter and automatically synced into our CRM.
Givebutter Response
2 years ago
Thanks so much for taking the time to write a review, Mary! We're so glad to read your entire team can use Givebutter with ease. Thank you for sharing all your functionality needs, too! If you haven't already, please reach out to support so we can be sure any feature requests are documented, or you can visit our Feature Request portal on our Community page.
Kim
Development Manager in U.S.
Nonprofit Organization Management, 2-10 Employees
Used the Software for: 1+ year
User-friendly and always evolving
Comments: It has been great. The customer service team is understanding and quick to respond. If there's something I ask for that isn't an option, they will add it to their list of requests and usually get to it in about 6 months or so depending on how popular of a request it is. I can't wait to see what they come out with next.
Pros:
Love that it is easy to use for admins and donors. The Givebutter team is so open to feedback and makes frequent updates that help us fulfill our need better
Cons:
They automatically add a 5% tip to every donation unless you opt to turn it off, in which case you would absorb the cost as an organization. It's definitely the more feasible choice to have it turned on, but beware if your donors don't notice it, they might come back to you very unhappy...
Givebutter Response
2 years ago
Thanks so much for taking the time to write a review, Kim! And please keep your feedback coming. We love to turn requests into new features! Your thoughts on the transparency of tips are appreciated! As always, the support team is available to collect feedback you have about the donor experience.