15 years helping Canadian businesses
choose better software
What Is StockIQ?
StockIQ is an intelligent supply chain planning software solution for Demand management, Replenishment planning, Supplier planning, Promotion Planning and monitoring, Inventory and Capacity planning.
The StockIQ software is tailored to the distribution and manufacturing industries.
The inventory reporting solution accelerates the Sales & Operations Planning processes (S&OP) and ensure timely collaboration among sales, marketing, supply chain, finance and partners.
Who Uses StockIQ?
Wholesale Distribution, Manufacturing, eCommerce, Retail, Food & Beverage, Consumer Packaged Goods, Medical Devices Industrial Supply
Where can StockIQ be deployed?
Cloud-based
On-premise
---
About the vendor
StockIQ Technologies
Located in Broomfield, US
Founded in 2015
StockIQ pricing
Starting Price:
US$750.00/month
StockIQ does not have a free version. StockIQ paid version starts at US$750.00/month.
About the vendor
StockIQ Technologies
Located in Broomfield, US
Founded in 2015
StockIQ videos and images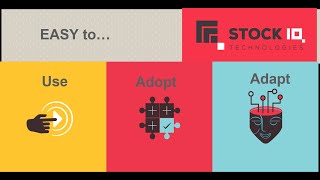 Features of StockIQ
Activity Dashboard
Alerts/Notifications
Capacity Planning Software
Check-in/Check-out
Dashboard Software
Data Import/Export
Data Visualization Software
Demand Forecasting
Forecasting
Historical Reporting
Inventory Auditing
Inventory Control Software
Inventory Management Software
Inventory Optimization Software
Inventory Replenishment
Inventory Tracking
Order Fulfillment Software
Order Management Software
Performance Metrics
Promotions Management
Purchase Order Management
Reorder Management
Reporting/Analytics
Sales & Operations Planning
Sales Trend Analysis
Search/Filter
Supplier Management
Supply Chain Management Software
Andrew
Category Manager in US
Verified LinkedIn User
Wholesale, 51–200 Employees
Used the Software for: 1+ year
Reviewer Source
ERP Agnostic Tech with top-tier support
Comments: Extremely positive product experience. We consistently hit fill rate targets, and when we struggled StockIQ worked along with us to tweak our settings to get where we needed to be.
Pros:
We are on a custom ERP, so most out of the box solutions wouldn't work. We also have a somewhat complicated ordering system with lots of specific parameters. StockIQ was able to handle all of our needs, even when a few required so slight tweaks. The implementation team was committed to our success and continued to help us optimize our settings, and regularly listens to feedback and adds functionality.
Cons:
Not much not to like. It's leaps and bounds above our previous system. Any complaints I have are caused by our internal data structure and not StockIQ.
Alternatives Considered: Netstock
Reasons for Choosing StockIQ: Rockysoft wasn't supporting us in the way we needed. They were removing features and were very hands-off.
Reasons for Switching to StockIQ: Better pricing, most involved support, complete feature set.
Natalie
Buyer in South Africa
Verified LinkedIn User
Health, Wellness & Fitness, 51–200 Employees
Used the Software for: 2+ years
Reviewer Source
StockIQ for optimal inventory control and forecasting
Comments: SIQ has allowed us to classify our inventory of over 10 000 products effectively and we have saved so much time on planning purchase orders and promotions. 10 out of 10! The integration from our previous stock management system was world class.
Pros:
StockIQ's dynamic forecasting system and ability to plan promotions better has really been a huge win for us, coupled with their multi functional reporting, filtering and integration with our current ERP has made it a no brainer for us as a rapidly growing omni channel company.
Cons:
The only drawback that I can mention is the fact that we are in different time zones so the turn around on support required is not always immediate but as soon as they are up and running for the day their support and customer care has been phenomenal.
StockIQ Technologies Response
6 months ago
Thank you for the awesome review, Natalie! It is great to hear how the ability to plan promotions has been a huge win for your company.
Jasmine
Supply Planner in US
Consumer Goods, 51–200 Employees
Used the Software for: 1-5 months
Reviewer Source
Supply Chain Management
Pros:
Forecast manager is a great tool to use when planning buys.
Cons:
the weekly independent forecast vs. real sales orders some times double dip. No days of supply for Proj actual available
StockIQ Technologies Response
2 years ago
Glad the Forecast Manager is a great tool for you. Appreciate your feedback!
Michael
Sr. Director of Supply Chain in US
Consumer Goods, 11–50 Employees
Used the Software for: 2+ years
Reviewer Source
Excellent System and Team!
Comments: This is the 2nd company where I've implemented SIQ. The customer support is truly exceptional.
Pros:
The Demand Planning and Replenishment/MRP planning are the tools most used by my team. Being able to run historical forecast accuracy reporting allows for a quick gathering of data to help inform future forecasting. Having MRP drive demand signals for finished goods and raw materials has greatly increased the ability to have appropriate material where and when we need it.
Cons:
SIQ does not allow a pull of future orders that match the layout of historical orders and forecast data. It would also be nice to create custom reporting that can be created/pulled on a set schedule and emailed...example would be every morning SIQ pulls all inventory and expiry dates and sends to me and my team. This would be a huge time saver and would free up my team to spend time in other areas.
Verified Reviewer
Verified LinkedIn User
Wholesale, 51–200 Employees
Used the Software for: 1+ year
Reviewer Source
A complete solution for demand management
Comments: Couldn't be happier. It has increased our inventory visibility and we have more levers that we know how to use to get our levels right.
Pros:
The onboarding process was focused on us. With other solutions we talked to, we were going to have to fit their mold. With StockIQ, [SENSITIVE CONTENT HIDDEN] and the team took time to understand our ERP (custom) and determine the best fit. It's always being updated and user feature requests are taken seriously. At least half a dozen new features were added because we requested them to make things easier.
Cons:
We as a company like to use a lot of "uploads" to adjust things. At launch, not a ton of those were supported but more and more have been added. I would also argue that we're a bit uncommon in that request.
Alternatives Considered: Netstock and Absolute Value
Reasons for Switching to StockIQ: At the end of the day, StockIQ had the most features for the best value. More importantly, we were absolutely convinced that their support team would be there for us every step of the way - and that's been been proven true and returned additional value in spades.