What Is Guesty For Hosts?
Guesty For Hosts, previously Your Porter App, is a mobile-first property management platform for hosts & property owners managing a handful of short-term rentals. Our platform provides all the features you need to save time, increase your listings' exposure, and manage on-the-go.
Who Uses Guesty For Hosts?
Guesty For Hosts was built for small short-term rental hosts & property owners who manage their rentals across Airbnb and additional booking channels. one.
Where can Guesty For Hosts be deployed?
Cloud-based
On-premise
---
About the vendor
Guesty
Located in Den Haag, Netherlands
Founded in 2016
Guesty For Hosts pricing
Starting Price:
US$49.00/month
Yes, has free trial
No free version
Guesty For Hosts does not have a free version but does offer a free trial. Guesty For Hosts paid version starts at US$49.00/month.
Pricing plans
get a free trial
About the vendor
Guesty
Located in Den Haag, Netherlands
Founded in 2016
Guesty For Hosts videos and images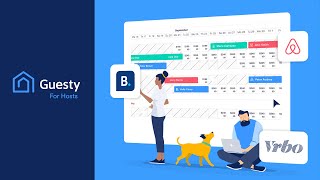 Features of Guesty For Hosts
Contact Management Software
For Vacation Rentals
Guest Communications
Guest Experience Management
Owner Statements
Reservations Management
Work Order Management
Alternatives to Guesty For Hosts
Reviews of Guesty For Hosts
Yvette
Consultant in Norway
Verified LinkedIn User
Information Technology & Services, Self Employed
Used the Software for: 1-5 months
Great tool to manage guest booking and more
Comments: Great product & great support staff
Pros:
- fantastic support team behind. - solid, trustworthy company behind the software. - software that fullfills my booking need and more: -- coordinate who has booked on Airbnb and booking.com to avoid doublebooking -- make webpage free via Your Porter App system (they also offer to use own domain for a fee) --Automation of day to day actions, like sending welcome email -possible to test it out before buying (also good because one has not started to earn money yet, so the tool helps one make money first before asking for money). - I only have one listing and the company support me having many questions even though I am very small w/only 1 listing.
Cons:
Have nothing negative to say. It is just a very good tool with extremely good and helpful support staff.
Alternatives Considered: Hostaway, Guesty and Lodgify
Reasons for Switching to Guesty For Hosts: 1/ Open regarding pricing. 2/ Easy to just start and not having to wait after the weekend to have an interview or demo and maybe hopefully then getting the price of the product. 3/ Free test period 4/ Seemed serious and not an extremely big cooperation that would not take me who has just one listing seriously. 5/ The research I did indicated this is a up and comping company.
Louise
Property manager in U.K.
Commercial Real Estate Software, Self Employed
Used the Software for: 1-5 months
Great
Comments: Brilliant. The automated messages alone is saving me hours of work.
Pros:
I found the software is very user friendly as a first time property manager. The help boxes cover every aspect of setting up and running your account. Saves me hours in communications.
Cons:
I haven't found anything yet that I don't like about this software.
Alternatives Considered: Hostaway
Reasons for Choosing Guesty For Hosts: Pricing
Switched From: Hostaway
Reasons for Switching to Guesty For Hosts: The price point was better for us as we only have one property currently.
Real Estate, 2-10 Employees
Used the Software for: 2+ years
Mobile. Universal. Failing.
Comments: I have been a ProHost on Guesty for Hosts (formerly known as YourPorter) for many years now and only after testing/comparing nearly every short term rental software on the market in excruciating depth. At that time back in 2019, this was truly the premier option for managing a handful of short term rental properties quickly, efficiently, and from any device. The Porter team felt small, but development was rapid and support responsive. Most/all of that changed with the acquisition and rebranding into Guesty for Hosts. Customer support responses are canned, generic, and generally careless. Significant bugs, including major ones that mess up pricing when used with industry standard smart pricing tools, break availability windows when toggling between options, and mandate force-quitting the iOS mobile app on every relaunch are persistent and unresolved months after being reported. While I still love the idea of mobile-first channel manager with the features and flexibility that Guesty for Hosts offers, the growing list of major bugs that cause me hours of troubleshooting and self-solving are growing old and I am beginning to start looking/testing other channel management tools that work more consistently and reliably, without costing an arm and a leg.
Pros:
Automated messaging includes several features beyond the industry standard dynamic tags from customer reservations like if/then messaging criteria that can be used to create advanced guest upsells based on whether or not there are guests checking in before/after others, whether a guest has completed the integrated check-in form, and how many other reservation variables such as min/max guests, min/max stays, and days to check-in. Additionally, the mobile-first UX of the product makes managing on smartphone (almost) as easy as managing on desktop, with most/all features available on the go, even if things like messaging templates are largely unusable given tiny text entry fields and dated web-frame based UI. Lastly, integrated direct booking capability provides additional revenue opportunities for hosts with chops to register their own domain name and promote their own booking capabilities to avoid the 20-30% platform tax.
Cons:
Ever since the Guesty acquisition customer support has gone off the rails: support inquiries are generally responses with canned/generic responses, new features are nonexistent, and longstanding bugs in the software (like the one that can't unblock availability in your calendar if/when you change the availability window) will cost hosts who use the product real dollars. Additionally, the dated mobile interface, while undoubtedly innovative back in its day used a dated, cross-platform technology that's largely just embedding sliding webpage frames inside of a local mobile app. This has led to the need for me to force-quit the iOS map nearly *every single time it's launched* in order to even view/access the calendar on an iPhone.
Alternatives Considered: Uplisting, Tokeet, Elina, Beds24, Lodgix, iGMS, Hostfully Property Management Platform, Rentlio and Lodgify
Reasons for Choosing Guesty For Hosts: Greater features and mobile flexibility.
Switched From: iGMS
Reasons for Switching to Guesty For Hosts: Originally: mobile-first design that allowed 100% management from mobile interface.
Hospitality, 2-10 Employees
Used the Software for: 1-5 months
fabulous integration software
Comments: Guesty saves me ample time and helps streamline my work so I can provide top tier service to my guests
Pros:
Guesty has been a fabulous integration tool, to sync our listing calendars, integrate with our pricing management system, and even link with our guest guide! Guesty's webpage builder for direct bookings is also significantly more robust and user friendly than our old systems was.
Cons:
Really none after the worse management software we dealt with!
Samantha
Owner / Host in U.S.
Hospitality, 2-10 Employees
Used the Software for: 1-5 months
A great tool for basics
Pros:
The simple aggregation of listing management, calendars, and team communications are exactly what I needed! The website is a big bonus and overall Guesty is affordable.
Cons:
It would be great to customize the order for your cleaning check-lists and move things around after you've added them
Alternatives Considered: Hostfully Property Management Platform
Reasons for Switching to Guesty For Hosts: Pricing and didn't need the other features of the other product