What Is Zoho Sprints?
Zoho Sprints is a free online agile project management tool for Scrum teams. Add user stories to your backlog, estimate and prioritize work items, stay on track with personalized scrum boards and swimlanes, get actionable insights from velocity, burn up and burn down charts, collaborate with your team on a social feed, and schedule your review and retrospective meetings from one place.
Who Uses Zoho Sprints?
It is used by teams of all sizes, to plan and track projects the agile way. It is suitable for anyone who wants to work in iterative cycles, particularly software development teams.
Zoho Sprints Details
Zoho
Founded in 1996
Zoho Sprints Details
Zoho
Founded in 1996
Zoho Sprints videos and images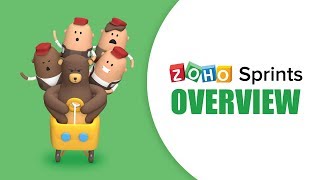 Compare Zoho Sprints pricing with similar products
Starting price
US$14.00/month
US$7.00/month
US$5.00/year
US$13.49/month
Zoho Sprints deployment and support
Support
Email/Help Desk
FAQs/Forum
Knowledge Base Software
Phone Support
24/7 (Live rep)
Chat
Deployment
Cloud, SaaS, Web-based
Android (Mobile)
iPhone (Mobile)
iPad (Mobile)
Training Software
Live Online
Webinars
Documentation
Videos
Sean C.
API Integrations Engineer in U.S.
Verified LinkedIn User
Computer Software, 2-10 Employees
Used the Software for: Free Trial
Alternatives Considered:
Zoho Sprints is Manageable and Customizable
Comments: We decided to use Scrum methodology. Zoho Sprints was able to handle backlog and bug log the way we have been using it. It was available and it worked without a huge learning curve for a short deadline.
Pros:
I like the customization of features, especially creating card templates and statuses. Custom templates comes in handy when we are importing from another platform like Trello and we want to use the same format. I also like the integration between other platforms including Zoho Projects for Gantt charts. I like that we can add a custom 'Status Type'. I used this feature to add a 'Review' status for code review. I also like the integration with Zoho Projects and Trello. I also liked how I can simply reorder users stories or work items, from sprints or backlog, into different Epics.
Cons:
I found Epics to be a little confusing. I am curious as to why this is a premium feature. It appears there are many other features I would consider premium. Some of the dashboard items were hard to setup to be useful.
Adarsh N.
Founder & CEO in India
Verified LinkedIn User
Information Technology & Services, 2-10 Employees
Used the Software for: 6-12 months
The Best Agile Project Management Solution ever built!
Comments: We have been using Zoho Projects and to our development model, this was a better choice. We switched to Sprints and We love it more than ever. This product has increased the entire team's productivity by a very large extent.
Pros:
Amazingly user-friendly and fast. Very fast updates and new features. Ideal for startups who work from simplest software applications to most complex one's. Amazing customization options, beautifly laid out with neat UI. Quick support and perfect resolution to queries.
Cons:
Nothing Specific but we are looking forward to get some friendly features like Cumulative timesheets across the project for a user. Its very annoying to calculate every user's individual project's timesheet to know a month's performance.
Yaniv T.
Software Engineer in Sweden
Defense & Space, 10,000+ Employees
Used the Software for: 1-5 months
Has been very helpful
Pros:
It is very easy to interact directly with clients via Zoho Sprints . This helps incorporate their feedback quickly, saving time for everyone . Bug tracking is accurate and you can breakdown projects in as many subtasks as you need .The time estimates are also precise .
Cons:
Breaking down projects per user progress is complicated and not very clear . The history of completed sprints should go farer back in time .
Information Technology & Services, 11-50 Employees
Used the Software for: 6-12 months
Worst project management software I've ever used
Comments: Absolutely horrible. Doesn't integrate well with Zoho Desk, Zoho CRM, or any of the Zoho projects. Horrendous UI. Buggy and glitchy. Run - don't walk - away from this part of Zoho. There are plenty of solid project management/agile management tools out there that offer great value - this would be dead last in ratings.
Pros:
Zoho One generally has good breadth and value for money. Zoho Sprints should be removed from the Zoho platform. I suppose if you were running a team of yourself, and hated your time but love clicking your mouse and being frustrated, this might be a good choice.
Cons:
Absolutely unusable. The integrations into the rest of Zoho One's products is barely there. The interface is not intuitive. Buttons are completely in the wrong place. If you asked a UX designer to create a piece of software with the maximum amount of clicks and that forces a user to really slow down and search for how to use the software, they would struggle to design Zoho Sprints.
Information Technology & Services, 11-50 Employees
Used the Software for: Free Trial
Good tool for Agile/Scrum
Comments: For Agile/Scrum, this is the right tool and so we are using this on a daily basis.
Pros:
Seems it is the correct tool for Agile/Scrum. We evaluated many tools including basecamp, good day etc but nothing to our satisfaction. This fits our needs and bill as well.
Cons:
There are still several bugs in the system which we are raising tickets. They are taking time to resolve. But we are able to use it using work arounds.