Zoho Projects
What Is Zoho Projects?
Zoho Projects is a cloud based project management software with over 200,000 customers worldwide. It helps you plan your projects, and execute them with perfection. With Projects, you can assign
Read more
tasks easily, communicate effectively with both your team and clients, be informed on all project updates, get detailed reports on work progress and deliver projects on time, everytime.
Read less
Who Uses Zoho Projects?
Teams of all sizes and industries that are looking for a PM tool to plan, track and collaborate on their projects.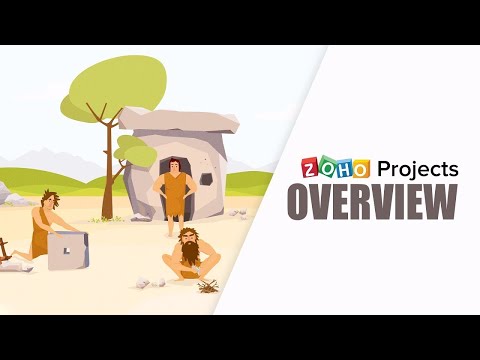 Not sure about Zoho Projects? Compare with a popular alternative
Alternatives to Zoho Projects
Prathamesh
Tech Lead Manager in US
Verified LinkedIn User
Apparel & Fashion, 1,001-5,000 Employees
Used the Software for: 2+ years
Excellent tool for task management
Comments: My overall experience is great with Zoho projects, it works fine if given the right technology support. In past three years we have done multiple updates and customization on Zoho projects and they have worked well for us. I personally would recommend Zoho projects to others to built a very good project management tracking system.
Pros:
Zoho projects has been part of our organization from past 3 years. It is a very useful tool for project management. It has high importance in task management especially in tracking down deliverable in kanban projects. The user interface is very friendly and the dashboard is highly interactive. Milestones can be easily set and can be tracked throughout its completing period. Project lags, time delays, and bottlenecks can be identified easily in the system. This tool also helps to manage teams and individual tasks assigned to each person. Notifications can be enabled to track individual performances. Overall, this tool is multi-purpose tool that can perform wide range of tasks.
Cons:
Zoho projects are hard to customize. Its scalability is very limited to certain tasks. It is good in project management, but it fails to provide a communication channel between people. Chat windows lag a lot between communication and real time forums take lot of time to update. Zoho requires high internet bandwidth, slow internet creates problem with updates and Zoho starts lagging. Multi user portal has also lot of issues. Even multi user portal is a common feature. The feature creates issues with file sharing. It takes lot of time for file transfers.
Kelly M
System Engineer in US
Verified LinkedIn User
Information Technology & Services, 10,000+ Employees
Used the Software for: 2+ years
This easy-to-use app keeps track of chores and projects quickly
Comments: I really like the functions, the tools, and everything else that this software provides us with in order to manage a project. Those tools are really useful and important at the moment in order to manage a project and collaboration, and this software, it's absolutely useful if you want to manage like a professional.
Pros:
Zoho projects have a number of great features, but one of my favorites is the option to personalize the parameters for the project management. In addition to being incredibly simple to operate, the customization function meets the vast majority of the needs that my firm has in regard to project management.
Cons:
Zoho Projects is, without a doubt, one of the least user-friendly and most aggravating pieces of software I have ever worked with. It has some of the worst user experience and interface (UI) that I have ever seen, and it is missing some of the most fundamental capabilities that a project management software ought to have. It has been nothing but a hassle from the beginning to the end.
Arpita
Business Analysr in Bangladesh
Information Technology & Services, 51-200 Employees
Used the Software for: 6-12 months
Better not use it!
Comments: My team had horrible experience using it and their customer support is poor too. I don't recommend using this when we already have a lot of options around.
Pros:
Time tracking and task automation comes to help while other features are par behind.
Cons:
Very messy and complicated to use. It was never user friendly and thew workflow isn't synced well.
Verified Reviewer
Customer Relations Director in US
Verified LinkedIn User
Apparel & Fashion, 501-1,000 Employees
Used the Software for: 2+ years
Alternatives Considered:
The best of both worlds: value and features
Comments: Overall the experience has been very good for our team, since we are in apparel manufacturing, we have a ton of projects that span 6-12 months and different concurrent projects every month so Zoho keeps us track and schedule our seasonal projects without getting confused.
Pros:
It is very easy to use the strong time tracking tools and project task setups
Cons:
It does not include templates or anyway to create custom templates and some of the views are a bit odd
Marketing & Advertising, 2-10 Employees
Used the Software for: 1-5 months
Zoho Projects is the BEST Project Management Software we've Found!
Comments: Absolutely love it. Zoho Projects has made a HUGE difference in how we run our business, helping us to create processes and flows, as well as keeping big and small projects alike, on track! Couldn't do without it!
Pros:
This software is really easy to use, easy to 'read' and navigate. Definitely the best project management software we've found - really easy to collaborate with colleagues and coworkers, while integrating easily with the CRM and other Zoho software packages!
Cons:
It's a bit clunky to set up, and when you need help...it's not always terribly straight forward.