What Is Wix?
Wix is an industry-leading web creation platform that provides everything you need to create, manage and grow your business online. Build a memorable user experience with intuitive design features and experience faster load times with enhanced performance. Reach more customers with advanced marketing and SEO tools while the ultra resilient and flexible infrastructure means your site is ready for any amount of traffic. Plus with enterprise-grade security, your visitor data stays safe 24/7.
Who Uses Wix?
Anyone looking to bring their vision to life with a secure and reliable website. Whether you're a self-creator, small business or large organization, you can do it all with Wix.
Where can Wix be deployed?
Cloud-based
On-premise
---
About the vendor
Wix
Located in Tel Aviv-Yafo, Israel
Founded in 2006
Wix pricing
Starting Price:
US$22.00/month
No free trial
Yes, has free version
Wix has a free version and does not offer a free trial. Wix paid version starts at US$22.00/month.
About the vendor
Wix
Located in Tel Aviv-Yafo, Israel
Founded in 2006
Wix videos and images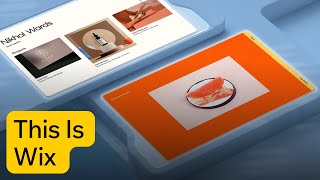 Features of Wix
API
Activity Dashboard
Alerts/Notifications
Appointment Management
Attendance Tracking Software
Attendee Management
Availability Management
Backlink Monitoring
Billing & Invoicing
Booking Management
Campaign Management Software
Catalog Creation
Cataloging/Categorization
Categorization/Grouping
Class Management
Collaboration Tools
Communication Management
Confirmation/Reminders
Contact Management Software
Content Management System (CMS) Software
Content Publishing Options
Content Sharing
Customizable Branding
Customizable Templates
Dashboard Software
Data Security
Design Management
Document Management Software
Drag & Drop
Email Management Software
Email Marketing Software
Employee Management
Event Calendar
Event Management Software
Event Scheduling
For Small Businesses
Form Builder
Full Text Search
Image Library
Inventory Management Software
Keyword Rank Tracking
Knowledge Base Management
Landing Pages/Web Forms
Membership Management Software
Multi-Channel Campaigns
Multi-Channel Communication
Online Booking
Online Store Builder
Order Management Software
Payment Processing Software
Post Scheduling
Pre-built Templates
Preview Functionality
Promotions Management
Publishing Options
ROI Tracking
Real Time Editing
Real-time Updates
Registration Management
Reminders
Reporting & Statistics
Reporting/Analytics
SEO Management
Search/Filter
Shipping Management
Shopping Cart Software
Social Media Integration
Support Ticket Management
Template Management
Templates
Third Party Integrations
WYSIWYG Editor
Website Hosting
Website Management
Computer Software, 11-50 Employees
Used the Software for: 2+ years
Highly customizable and intuitive UI
Comments: Wix was quick and easy to learn and I would recommend it for small to medium sized companies that want to have an online presence but don't want to spend time on the developer side of making a complex website.
Pros:
Wix has the customization options that many website builders do not have. Learning curve was pretty low and we were able to create a fully functioning basic website in under a day. It is very user friendly.
Cons:
I would have preferred to have more control over the aesthetic of the website, and a downside is that if you are switching to a new template, you have to redesign your entire site.
Alternatives Considered: WordPress
Reasons for Choosing Wix: Wix has many more customization options and allowed us to make a more unique looking website with more functionalities.
Switched From: Squarespace
Reasons for Switching to Wix: Wordpress is more customizable, but has a much larger learning curve.
Caitlyn
Editor-In-Chief in US
Entertainment, 2-10 Employees
Used the Software for: 2+ years
Wix is the perfect website management platform training wheels
Comments: The platform was great at first, when I was just starting out. However, when I moved up to using the paid plan, it didn't really seem to improve from being the basic package it was to begin with. All of the supposedly upgraded features only basically worked. My site still looked as one customer described it, "Super Hacky." Enabling multiple sections, posting videos, and having large amounts of people in the forums at once caused the site to lag. There was issues with overall design management capabilities of the site. However, I would still recommend it to someone who was looking for something they could use as a one page, landing page, blog and maybe integrate their merch store. Other than that, if you are looking for something that you can use for a more professional website hosting platform, I would choose something else that is more capable of handling something large scale.I would also recommend, if you are going to use it for a landing page or a blog, do not enable the ability for people to become members of your site. The reason for this is, there is a significant problem with spammers and scammers creating membership accounts and flooding your inbox. Then, when you try to delete and block these users from making accounts, it is made extremely difficult. Finally, when you try to get a hold of support to help you solve the problem, you are not able to get into contact with an actual person to help you.
Pros:
It is great for anyone who needs to get experience managing a website for their small business. It is also great for someone who is just looking for a basic landing page sort of platform for their blog.
Cons:
The biggest issue I have is the fact that it is very difficult to block bot accounts and scammers and spammers from becoming members of your site and filling the inbox with spam. I contacted support several times about solving this problem and since support is not run by an actual person and is completely automated, it seems, I was able to get no help.The other issue was the fact it kept trying to give me options for "my restaurant," even though I filled out the questionnaire and was clearly set up as a publisher/entertainment company.
Alternatives Considered: WooCommerce and GoDaddy Website Builder
Reasons for Switching to Wix: I watched a demo and was led to believe it would be a better fit for the kind of business I was running.
Jyoti
Massage Therapist in US
Hospital & Health Care, Self Employed
Used the Software for: 2+ years
Reliable and Relatively User-Friendly
Comments: Overall Wix has been a great asset. I went from using an expensive website designer to doing it all myself. Wix has been very reliable.
Pros:
Wix fairly easy to use, although there is a bit of a learning curve. It just takes time, so as long as you are willing to put the hours in, you can come up with a really good website design. It's well worth watching the Wix tutorials. They are well put together and easy to understand. Wix also does online classes covering various areas. I don't find these as useful. The presenters are obviously experts but are not necessarily great teachers. Mostly I find they try to include far too much information and deliver it too quickly. Wix has a large range of good, modern designs, with inbuilt SEO options that make building your own website pretty easy. I also like that there is an inbuilt mobile website version which you can preview as you go along.
Cons:
Wix also does online classes covering various areas. I don't find these particularly useful. The presenters are obviously experts but are not necessarily great teachers. Mostly I find they try to include far too much information and deliver it too quickly. Customer service is very response and has helped on a couple of occasions to quickly resolve an issue with the website's function. It does have some glitchy areas in the website builder, but I think if you follow the tutorials and use the recommended browsers they are less likely to be bothersome.
Alternatives Considered: WordPress, Squarespace and GoDaddy Website Builder
Reasons for Choosing Wix: I wanted to be in control of making changes to my website instead of waiting till my designer has availability in their schedule. It's important for me to be able to tweak things as I go. It's also a far less expensive option for my small business.
Reasons for Switching to Wix: I found Wix to be the easiest out of all the products I tried out.
Jobin
Researcher in India
Education Management, 1,001-5,000 Employees
Used the Software for: 2+ years
Wix Review: Is it Really Good?
Pros:
Among many site builder software available, Wix distinguishes itself from others since it offers a wide variety of user friendly tools to customers. Among the many advantages of the software following are the most attractive. 1. The design templates available are upgraded and with the drag-drop options any one can create a website within a short span of time. 2. User friendly interface of wix offers different tools to create, manage and update websites and its content. 3. We can add animations for texts as well as for other elements in a flexible user interface. 4. There are a number of website apps that the user can add to the website using the App market tool. 5. Built in SEO management makes it easy for the user to market products and services. 6. Flexible payment plans. 7. Free logo maker tool and free https. 8. Customer support is excellent.
Cons:
Even though Wix is among one among the best of its kind, there are some areas in which they can really make improvements which would enhance user experience and the quality of service provided. 1. Ads are a major problem for users using the free and connect domain plans. The Wix banner is also a hassle. 2. Even though Wix offers a smart assistant to build websites through Artificial Design Intelligence, a major drawback is that its not available to all types of projects. 3. Lack of a unlimited plan and the need to have a paid plan for tracking and analytics are among the things that need some improvement. 4. If you wish to go for a redesigning, no option is available to change the template already chosen.
Marketing & Advertising, 2-10 Employees
Used the Software for: 2+ years
The World's Leading Brand.
Comments: I love Wix because it is a simple to use website tool. The user interface is friendly, familiar and intuitive. I can use it for the most simple tasks, like adding a video or photo to my website, or for more complex tasks like adding an interactive map or a new feature. Therefore, I am able to get the job done quickly and easily. With Wix, I know that clients have no way of fixing issues with my sites once I send them off to them as generated from Wix because it automatically creates a backup. There are very few drawbacks like what other companies experience when using this program.
Pros:
I liked the fact that there is an easy-to-use and intuitive interface. It's quick and easy to fill out all my information, makes it super easy for me to create a beautiful website without having to worry about technical difficulties. I don't have to worry about going out of business because the software we use encourages us to get our promotions out there.
Cons:
The best thing about Wix is that it is easy to use and has a variety of available templates. I like having a lot of options, but sometimes too many features can be difficult to navigate. One feature that I really loved using was the ability to create unique pages, but it was lost when I upgraded my membership package. The least favorite thing about this software is that it lacks social media integration.