Microsoft Teams
What Is Microsoft Teams?
Microsoft Teams is a group chat solution for teams who want a shared workspace and messaging service. Microsoft Teams replaces Skype for Business as the chat-based communication service of choice for
Read more
Microsoft 365 team collaboration. It's available on iOS, Android and Windows 10 operating systems. Microsoft Teams is an enterprise-grade messaging application that is a collaboration hub for teams. Create new teams to manage projects, and use Microsoft Teams to send messages, make calls and video conference with coworkers. Get real-time updates to keep everyone on task throughout the day.
Read less
Who Uses Microsoft Teams?
Cloud-based solution designed for business communications to help teams manage chat, meet, file sharing, team discussions, and more.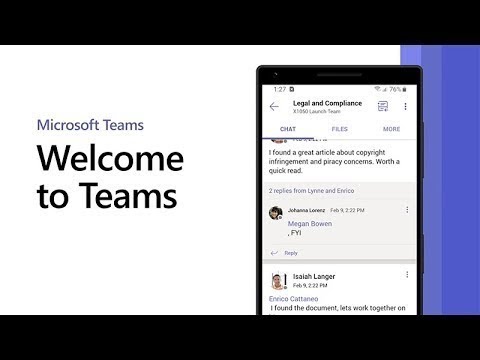 Not sure about Microsoft Teams? Compare with a popular alternative
Alternatives to Microsoft Teams
Reviews of Microsoft Teams
Jagdeep
Automation Test Engineer in India
Information Technology & Services, 10,000+ Employees
Used the Software for: 1+ year
Microsoft Teams User
Pros:
The most important features of this software is real time chat, online meeting, screen recording, file sharing. Our organization uses this software as a means of communication. It's very well supported on mobile application also. Apart from its regular use, I give online KT sessions to new joiners which enables me to record it and share with others. Oh Yes, here it is integrated with our SharePoint. I had been the part of our team when we were customizing this product for our needs. As soon as the meeting ends, a recording link is generated where the video is stored at our sharepoint space. Coming on to share files, I have almost shared files and documents with all extensions. Adding to this, I have shared zip folders also. Since it's a part of Microsoft Suite, it is readily integrated with other applications like outlook etc. The statuses of any person (Available, Busy, DND) can be easily tracked on the mail itself, provided the person has logged in to Teams also. You can communicate with people of other organizations also if they are using Microsoft Teams provided they should also use the same communication channel and both the organizations have enabled cross communication between organizations. While doing screen sharing, the participants can request control of the desktop, just like Anydesk. This gives Teams a cut above the others.
Cons:
The most irritating part is the tool bar while sharing screen during online meeting. There is no button in that tool bar with which I can disable it. This further makes very difficult to navigate to different tabs of the browsers. While giving demo of my code to PDO, I sometimes need to navigate to Jira tabs or to confluence documents, and this tool bar of Microsoft teams gets pinned there and as I mention again, there is no explicit button to disable it while screen sharing. This is the only drawback of Teams.
Verified Reviewer
Infrastructure Engineer in India
Verified LinkedIn User
Information Technology & Services, 10,000+ Employees
Used the Software for: 2+ years
MS Teams : A gift for remote work
Comments: I am using daily MS teams for chatting, calling, training purpose within an organisation.Without MS teams I can't even imagine a single day in office. If I am in between any issue then I can quickly call someone through teams, MS teams helped me alot during pandemic as it was not easy to complete my task virtually with my teams but thanks to MS teams. Instead of writing emails and attaching files to them MS teams allows us to share files,Emojis, GIF's and many more which is again a great thing. It is easy to use without any technical experience and customer support is also good. Also Microsoft teams allows us to create different channels where you can ask questions, share information, share updates and many more. Best tool in the market...
Pros:
First of all during covid period MS teams played a big role in everyone's life, MS teams is user friendly tool and it's easy to use. You can add as much as people for meeting there is no limit that's a good thing.MS teams provides a lot of features like editing a message, deleting a message, you can invite people's for group chat, mobile accessibility. Also the best feature which I like the most is you can see the last seen or the last active status of a person so that you can ping accordingly.Screen sharing is also easy. I can say MS teams is a king in IT technology.
Cons:
Sometimes MS teams behave weirdly, it got stuck then we need to close the teams and again need to restart.Sometimes I felt issues in receiving a incoming call on teams and few times after receiving a call I faced some connectivity issues like I can hear a person who is in call with me but that person can't hear me . So, if all those issues can be rectify then it will be great
Sal
Academic Advisor in US
Education Management, 10,000+ Employees
Used the Software for: 2+ years
An all-in-one solution integrated with Microsoft's suite of programs.
Comments: Teams works well with our single sign-on system and allows us to communicate in real time as well as organize and collaborate on various committees and groups.Some have used the program more extensively with students with great success.The program works well, and I enjoy using it.
Pros:
Microsoft is something of an all-in-one solution, allowing for individual chats, group chats, video calls and meetings, screen-sharing, as well as file-sharing, either individually or on a group basis. The program is very easy to use and functions well. It was easily integrated within our organization and allows, primarily, for communication within an organization but also reach other Teams accounts allowing for collaboration on a multitude of levels.The team that I work with has used Teams to collaborate and organize files to support recruitment processes.The search feature works well allowing me to find previous conversations as well as files.
Cons:
While Teams is an all-in-one solution, I do find that it can take a moment to load depending upon how large a file or spreadsheet is. While this is expected given the wide range of integration, I do hope it is something that can be improved to allow for faster file access.
Tom
Account Manager in UK
Consumer Electronics, 11-50 Employees
Used the Software for: 2+ years
Alternatives Considered:
Software we use on a daily basis
Comments: For better or for worse I can't imagine us not using Teams.
Pros:
As we already used Office 365 integration was very easy, we adopted Teams when staff began working from home due to the pandemic - prior to this we were using Skype For Business for instant messaging. It has been essential in ensuring our company operated smoothly since we have adopted a permanent element of home working. It is regularly used for meetings, video calls and screen sharing.
Cons:
The app is sometimes quite resource heavy depending on the length of a particular call and the number of participants. When screen sharing you can select a running application from a list but some don't appear in list (Power BI, for example) and you have to share your whole screen. Incoming call behaviour is sometimes odd, a call will ring the mobile app but not on desktop when running at the same time.
Verified Reviewer
IT Director in Panama
Verified LinkedIn User
Publishing, 51-200 Employees
Used the Software for: 2+ years
Our Global Team Easily Collaborate In Realtime via Audio/Chat/Video
Comments: We are able to meet and keep our remote team together with Microsoft Teams and also easily communicate with third party individuals with Microsoft Teams now accessible via the browser so no need for installation of an application.We also can easily schedule interviews and reviews.Collaboration is very easily as well and we have been using Microsoft Teams to create instructional videos
Pros:
We like most how we are able to keep remote team together and have meetings with everyone at different timezones whether they are stationary, at the office or in transit.Scheduling meetings is easily and synchronize with Outlook's calendar.We are able to screenshare to better collaborate, share documents so persons can see documents in realtime while we discuss a matter.We are able to use Microsoft Teams like a remote access software similar to Team View and this is a great help for third party staff who have IT related issues where we do not install the corporate remote access tool since those devices are personal devices.
Cons:
From a technical standpoint we do not like that Teams calendar feature is dependent on Microsoft exchange or Outlook's calendar so this is an issue we have for our users who are not using Microsoft exchange.It would be great if Teams had its own calendar or have the option of using its own.