Local product
What Is Vendasta?
Vendasta provides an end-to-end ecommerce platform to channel partners who sell digital products and services to local businesses. Partners include marketing agencies, independent software vendors (ISVs), and media companies.
The platform provides partners with everything needed to market, sell, bill, and fulfill digital solutions to local businesses all under one login. Partners receive access to rebrandable business apps for delivery to clients.
Who Uses Vendasta?
Vendasta is sold exclusively through channel partners such as agencies, media companies, financial institutions, telecoms, independent software vendors (ISVs) and more.
Where can Vendasta be deployed?
Cloud, SaaS, Web-based
About the vendor
Vendasta Technologies
Founded in 2008
24/7 (Live rep)
Chat
Languages
Not provided by vendor
Vendasta pricing
Starting Price:
US$99.00/month
Yes, has free trial
No free version
Vendasta does not have a free version but does offer a free trial. Vendasta paid version starts at US$99.00/month.
About the vendor
Vendasta Technologies
Founded in 2008
24/7 (Live rep)
Chat
Languages
Not provided by vendor
Vendasta videos and images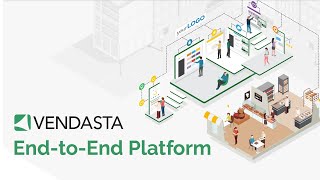 Compare Vendasta pricing with similar products
Features of Vendasta
Brand Tracking
Campaign Analytics
Campaign Management Software
Campaign Tracking
Cataloging/Categorization
Categorization/Grouping
Collaboration Tools
Communication Management
Content Management System (CMS) Software
Customer Management
Dashboard Software
Data Visualization Software
Email Marketing Software
Engagement Tracking
For B2B
Inventory Control Software
Inventory Management Software
Keyword Rank Tracking
Keyword Tracking
Mobile Access
Multi-Channel Marketing
Multi-Vendor
Negative Feedback Management
Offboarding
Onboarding Software
Order Management Software
Payment Options
Performance Metrics
Project Management Software
ROI Tracking
Real Time Notifications
Reordering
Reporting/Analytics
Response Management
Review Generation
Review Monitoring
Review Notification
Review Request
SEO Audit
SEO Management
Search/Filter
Self Service Portal
Sentiment Analysis
Shopping Cart Software
Social Media Integration
Social Media Monitoring Software
Social Sharing
Sourcing Management
Vendor Payment
Website Analytics
Francisco S.
Owner in U.S.
Verified LinkedIn User
Internet, 2-10 Employees
Used the Software for: 2+ years
Very Profession, fast response from support!!
Pros:
Automation, analytics and support. The software simplify most of my needs.
Cons:
White label features a little expensive but reachable.
Vendasta Technologies Response
7 days ago
Thank you for taking the time to leave us a review! We're proud to have you as a partner!
Marketing & Advertising, 11-50 Employees
Used the Software for: 2+ years
Alternatives Considered:
Superior software and Marketing Services Support
Comments: Our agency is absolutely thrilled with Vendasta. It has enabled us to expand our services, increase our capacity and help more people succeed online. Providing the software solutions our clients need to thrive is extremely important to us, we are grateful for our partnership.
Pros:
The software support that Vendasta provide is what really makes the difference for our team.
Cons:
Their software helps me support my clients and community.
Vendasta Technologies Response
2 weeks ago
Thank you very much for the five-star review, Fern. We're proud to serve your business!
Burhan S.
Ceo in U.S.
Verified LinkedIn User
Marketing & Advertising, 11-50 Employees
Used the Software for: 1+ year
I have a Love-Hate relationship with Vendasta. It saves me time but also delays me a lot of time
Comments: Every day I will run into a platform issue, which delays my work by hours, days, and sometimes weeks. This affects our ability to get results in a timely manner and now we have to apologize to our clients for delays. Sometimes I would have a day filled with tasks and cannot waste any time, but of course, a task that should take 3 minutes on Vendasta ends up running into software issues, you try to fix it and get nothing, so then you call support (some minimum wage employee that reads off a script) well, of course, they tell you they can't fix it and will need to "investigate" so they tell you will get back to you soon (no timeline). Now they may get back to you the next day or in 3 months (yes it has happened before). Now that whole process, which was supposed to take 3 minutes has now taken 1 hour. Now imagine for every 1 hour you spend on the platform you run into a similar issue. Think about how much time you're going to waste trying to fix it and contacting support. This eventually affects the rest of your day's schedule and now you have to rearrange your tasks. This happens to me every single time I log into vendasta. They have the worst website developers I assume. Because their platform is slow, terribly coded, and causes many delays, it has made it hard for me to train my clients how to use it and also made it hard for me to get anything done that I just decide to avoid​
Pros:
The website is useful​ for agency owners looking to outsource work, it is reliable, and has price tiers​ for any size agency.
Cons:
As soon as Vendasta​ fixes their website I will delete this review. If review is still here it means nothing much has changed. WHERE DO I BEGIN? I'm writing this review after reaching my breakpoint and patience for Vendasta (1 year and 4 months of holding in all my complaints) I rarely​ ever write negative reviews because the world already has enough of that so I try to only write when I have a great experience, but I think when you pass a certain level of disappointment because the heads of the company are probably beyond persuading to make some changes, you're left to try everything you can in hopes for one the CXO's to get off their high horse and start caring about their consumers. [SENSITIVE CONTENT HIDDEN] was asked, are corporate companies giving enough attention to innovation to their product or service and he replied by saying no because most businesses are run by MBA's. He goes on to say how MBAs only work to please the shareholders and not the consumers and all they do is sit in meetings all day. Here is the link to that video for anyone curious: [SENSITIVE CONTENT HIDDEN] It seems like Vendasta is having a similar issue, no innovation or attention is going into their platform. it seems like they don't care about their consumers' experience at all. As a business owner who has spent tens of thousands of dollars with Vendasta in the last year, I feel that I'm not getting an equal amount of value back. (continued​ in next paragraph)
Vendasta Technologies Response
last year
Hi Burhan, we're very sorry to hear you've had a difficult time with the platform. Our partners are typically able to reduce toil with our software, so it's disappointing to hear you haven't had that experience. Let's get to the bottom of this and see if we can't turn this 'love-hate' into a 'love-love' relationship. Our Chief Customer Officer George Leith is going to be reaching out to you this hour. If he misses you, please contact him directly at [email protected] or 1-306-715-4664.
Ghavin J.
CEO Principle Business Success in U.S.
Marketing & Advertising, Self Employed
Used the Software for: 1+ year
Thanks [SENSITIVE CONTENT] for all you do!
Comments: My overall experience is that this is a fantastic solution for a new digital marketing agency and I think it is a work of art and really a god send thanks again.
Pros:
I especially appreciate real people giving advice and guiding me through the software. [SENSITIVE CONTENT] has even helped me brainstorm packages and how to come at new clients. Great stuff! I am at the point where I just don't want to let him down. All of the initial freemium solutions are great for bringing new clients and getting them used to the flow of a better customer journey.
Cons:
I think some work could be done on the actually processing of orders and getting paid. This would help the process seem less professional. It is hard to make a sell when the last step of collecting the money is a mystery and almost a roll of the dice. We could use like a credit approval form for products that are recuring and a way for the payments to show as credited on Vendastas end when we run the card. This way we can get the services started. Vendasta would then just take the share they are owed first and deposit the rest. Don't send the payment to us which then gets hit with a fee and lessons the amount we get or able to pay for the services.
Vendasta Technologies Response
3 weeks ago
Hi Ghavin! We're so happy to read that our technology and support are meeting your expectations. Thanks for the constructive feedback on billing and payments! By allowing our partners to set their own margins, they can control their margins directly. Alistair is going to reach out to speak more about your feedback on orders and payments so that we can provide you with more information on billing and gather your feedback. We're proud to have you as a partner! Chat soon!
Verified Reviewer
President in U.S.
Verified LinkedIn User
Marketing & Advertising, Self Employed
Used the Software for: 1+ year
Alternatives Considered:
Great tools
Pros:
A wide variety of products and services to help clients achieve their goals.
Cons:
Managing the store that clients can see upon login can be a little difficult. Creating products and packages can be a little clunky.