Local product
What Is Vendasta?
Vendasta provides an end-to-end ecommerce platform to channel partners who sell digital products and services to local businesses. Partners include marketing agencies, independent software vendors (ISVs), and media companies.
The platform provides partners with everything needed to market, sell, bill, and fulfill digital solutions to local businesses all under one login. Partners receive access to rebrandable business apps for delivery to clients.
Who Uses Vendasta?
Vendasta is sold exclusively through channel partners such as agencies, media companies, financial institutions, telecoms, independent software vendors (ISVs) and more.
Where can Vendasta be deployed?
Cloud, SaaS, Web-based
About the vendor
by Vendasta Technologies
Founded in 2008
24/7 (Live rep)
Chat
Languages
Not provided by vendor
Vendasta pricing
Starting Price:
US$97.00/month
Yes, has free trial
No free version
Vendasta does not have a free version but does offer a free trial. Vendasta paid version starts at US$97.00/month.
Pricing plans
get a free trial
About the vendor
by Vendasta Technologies
Founded in 2008
24/7 (Live rep)
Chat
Languages
Not provided by vendor
Vendasta videos and images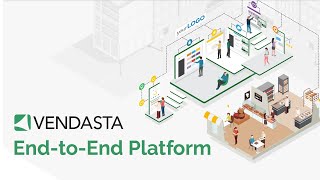 Ann R.
Owner in U.S.
Verified LinkedIn User
Marketing & Advertising, Self Employed
Used the Software for: 1-5 months
Great Onboarding and Continued Support
Comments: The service and support is great! I never go without an answer or helping hands. Shout out to [SENSITIVE CONTENT HIDDEN]
Pros:
Helps me keep my business organized and gives me ways for customers to make immediate purchases. Provides me with a competitive edge.
Cons:
The only thing I would wish for is a Zapier integration.
Vendasta Technologies Response
11 months ago
Thanks for the kind words Ann! We are always here to assist with any questions you have as your success is our success!
Dawn raquel J.
VP of Customer Experience in U.S.
Verified LinkedIn User
Marketing & Advertising, 11-50 Employees
Used the Software for: 1-5 months
Grows & Scales Business
Comments: I was pleasantly surprised how the software has upgraded. The training, customer service, and outreach have exceeded expectations. They understand business pain points and have made leaps and bounds to help combat them.
Pros:
The ability to wrap customers featured services into the offering, and gives a startup equal footing to provide streamline client support. They have certainly come a long way since I originally looked at them four or five years ago.
Cons:
Known integrations (Asana,Trello) to enhance workflow for project management.
Alternatives Considered: ActiveCampaign and HubSpot Marketing Hub
Reasons for Switching to Vendasta: We weren't looking for an experience that every other agency had. We wanted to craft, customize and augment our support and fulfillment for clients.
Marketing & Advertising, Self Employed
Used the Software for: 6-12 months
Great Platform. Allowed me to scale without major investment.
Comments: Marketing moves fast and as a marketing consultant, I have felt under huge pressure to be an expert in every field in order to deliver fully integrated campaigns. With Vendasta, I can deliver my strategies with the help of a highly specialised team of experts and have total confidence that my clients are getting both what they need and expect and within a pre-agreed budget, allowing me to focus my expertise where it is most useful. Secondly, having an impartial, second pair of eyes on the business, helping me to grow and win business has been far more valuable than I could have realised. [SENSITIVE CONTENT]
provides a huge amount of value in terms of helping me to shape out projects, approach potential customers and put my best self forward, while also being a great cheerleader, supporter and, when needed, challenger! Having access to the Vendasta team, fronted by a trusted account handler to guide you through it all is truly one of their greatest achievements. We are launching a new revenue stream for the business this year, and it's entirely down Vendasta's team and services.
Pros:
As a marketer and small business owner, it can be hard to digitise effectively. Vendasta has done the hard work for me by identifying a range of tools and suppliers that suit my business needs and integrating them on a fantastic online portal that I am proud to share with my clients. The online store function makes it easy to create clear products and I really value the input and inspiration of my [SENSITIVE CONTENT]. His solutions-orientated approach and wealth of experience really show and his passion for Vendasta is infectious. He has helped me to identify and utilise Vendasta tools and services to add an entirely new revenue stream to my business. Everyone I have dealt with at Vendasta has been top of their game and I look forward to working with them all more.
Cons:
One of the main draws with Vendastas is the one-login dashboard and while Vendasta has some partners I work with already, the API's to integrate existing accounts don't exist yet, meaning I have had to either create secondary accounts or live with additional logins which somewhat defeats the point. Also, the lack of ability to add funds or pay for entire projects in advance, makes it challenging to manage project budgets.
Vendasta Technologies Response
5 days ago
Shells, we sure do appreciate your partnership. We'll be glad to pass this along to the relevant development teams as well as your PDM. This is such a valuable contribution to our growth in serving you!
Burhan S.
Ceo in U.S.
Verified LinkedIn User
Marketing & Advertising, 11-50 Employees
Used the Software for: 1+ year
I have a Love-Hate relationship with Vendasta. It saves me time but also delays me a lot of time
Comments: Every day I will run into a platform issue, which delays my work by hours, days, and sometimes weeks. This affects our ability to get results in a timely manner and now we have to apologize to our clients for delays. Sometimes I would have a day filled with tasks and cannot waste any time, but of course, a task that should take 3 minutes on Vendasta ends up running into software issues, you try to fix it and get nothing, so then you call support (some minimum wage employee that reads off a script) well, of course, they tell you they can't fix it and will need to "investigate" so they tell you will get back to you soon (no timeline). Now they may get back to you the next day or in 3 months (yes it has happened before). Now that whole process, which was supposed to take 3 minutes has now taken 1 hour. Now imagine for every 1 hour you spend on the platform you run into a similar issue. Think about how much time you're going to waste trying to fix it and contacting support. This eventually affects the rest of your day's schedule and now you have to rearrange your tasks. This happens to me every single time I log into vendasta. They have the worst website developers I assume. Because their platform is slow, terribly coded, and causes many delays, it has made it hard for me to train my clients how to use it and also made it hard for me to get anything done that I just decide to avoid​
Pros:
The website is useful​ for agency owners looking to outsource work, it is reliable, and has price tiers​ for any size agency.
Cons:
As soon as Vendasta​ fixes their website I will delete this review. If review is still here it means nothing much has changed. WHERE DO I BEGIN? I'm writing this review after reaching my breakpoint and patience for Vendasta (1 year and 4 months of holding in all my complaints) I rarely​ ever write negative reviews because the world already has enough of that so I try to only write when I have a great experience, but I think when you pass a certain level of disappointment because the heads of the company are probably beyond persuading to make some changes, you're left to try everything you can in hopes for one the CXO's to get off their high horse and start caring about their consumers. [SENSITIVE CONTENT HIDDEN] was asked, are corporate companies giving enough attention to innovation to their product or service and he replied by saying no because most businesses are run by MBA's. He goes on to say how MBAs only work to please the shareholders and not the consumers and all they do is sit in meetings all day. Here is the link to that video for anyone curious: [SENSITIVE CONTENT HIDDEN] It seems like Vendasta is having a similar issue, no innovation or attention is going into their platform. it seems like they don't care about their consumers' experience at all. As a business owner who has spent tens of thousands of dollars with Vendasta in the last year, I feel that I'm not getting an equal amount of value back. (continued​ in next paragraph)
Vendasta Technologies Response
10 months ago
Hi Burhan, we're very sorry to hear you've had a difficult time with the platform. Our partners are typically able to reduce toil with our software, so it's disappointing to hear you haven't had that experience. Let's get to the bottom of this and see if we can't turn this 'love-hate' into a 'love-love' relationship. Our Chief Customer Officer George Leith is going to be reaching out to you this hour. If he misses you, please contact him directly at [email protected] or 1-306-715-4664.
Peter A.
Director in U.K.
Publishing, 2-10 Employees
Used the Software for: 1+ year
Vendasta is the turnkey solution for starters in Digital Marketing.
Comments: I still find new functionalities every day and I am looking forward to discover more.
Pros:
Vendasta is very easy to use and if you are a small user you can grow with it, step by step. A full pallet of products is available from day one, and the sales and marketing tools are first class.
Cons:
You need to spend some to find all the functionalities, so not 100 % adapted for starters.
Vendasta Technologies Response
4 months ago
Peter, thanks so much for taking the time to leave such a thorough and kind review. We're continually evaluating our user experience to ensure we're delivering value fast. We look forward to delivering new and improved functionalities to you every week!