GMass
What Is GMass?
Use Gmail to send mail merge campaigns with automatic follow-up emails. Connect to Google Sheets. Personalize. Schedule. Track opens and clicks. Create email lists based on search results. Send
Read more
emails as replies to the last thread with each person. Set automatic follow-up emails to be sent sequentially until you get a reply.
Read less
Who Uses GMass?
Anyone in need of an email marketing solution with email tracking and personalization. GMass will give them better deliverability than other larger solutions.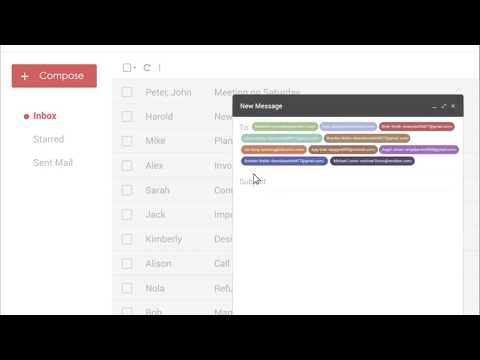 Not sure about GMass? Compare with a popular alternative
Ina
social network manager in Montenegro
Verified LinkedIn User
Information Technology & Services, Self Employed
Used the Software for: 1-5 months
one of the easiest and best email sending extension
Comments: Overall experience is that gmass is so easy to set up and use. You just need to create a email list in google sheet and connect it and with just one click you can send mass emails.
Pros:
Gmass is so easy to use and it is very helpful for email marketing and tracking. Also I like the most that gmass has ability to reach out to alot of people with just few clicks and ability to track who opens or clicks and alot of more analytics and reports.
Cons:
price :) price could be lower especially for team deal ;)
Philanthropy, 11-50 Employees
Used the Software for: 2+ years
Alternatives Considered:
Love the Ease of Use of GMass!
Comments: This is a great way to "get the word out" for our events
Pros:
The button feature is so easy to use while creating my newsletter on GMail.
Cons:
It is expensive for a small non-profit group to use.
Verified Reviewer
Business Development Manager in Slovenia
Verified LinkedIn User
Used the Software for: 1+ year
Super simple extension with useful tools for mass emailing.
Comments: I've used to outreach to potential customers.
Pros:
It lives in Gmail which makes it very convenient to use at the time you need it. Also, I love the basic features included in the software such as reporting, auto follow-up for no replies. I'm most impressed by the simplicity of the software. It's got exactly what you need it without the bells and whistles. The integration with Google Drive's spreadsheet is also seamless and I haven't seen it in other similar products.
Cons:
I didn't like the automatic Gmass signature in the email at the time. I've started using different mass mailing software so I'm not sure if that's still present.
Cara
Director of Growth and Development in US
Insurance Software, 51-200 Employees
Used the Software for: 1-5 months
Alternatives Considered:
GMass is AWESOME
Comments: I have had an increase of interviews since using GMass and it has helped tremendously with my recruiting efforts.
Pros:
I love the automatic responses because I don't have to think about checking in with people who haven't replied back. GMass takes the work out of this step and does it for me.
Cons:
I was having a problem looking like spam because I hire for multiple states and send anywhere from 1000-1500 emails weekly to candidates that have posted their resume to me. If you're not computer savvy you would have trouble figuring out how to change your domain and use the add ons that helps with this area.
Charles
Director of Marketing in US
Fine Art, Self Employed
Used the Software for: 2+ years
GMass is a Solid System for Mid-Level Companies, Start-Ups and Solo Entrepreneurs
Comments: I can easily launch effective email campaigns to the right audience and keep track of all the data so I can make adjustments to get better. GMass is a refined tool that helps me reach the goals I have for consulting and my own business. Great tool!
Pros:
I came back to GMass for Gmail with my new consulting job helping start-ups get going. I also use it for my Fine Art business.The improvements since 2019 have kept GMass on the front edge of delivering splendid results for email marketers. I particularly like these features:> Tight Integration with Gmail> Send Speed Selections> Google Sheet integration> Personalization> email address verification
Cons:
Nothing really. There are a couple of complex fixes that can be applied for larger businesses but they were above my API expertise level. I never found that I needed those configurations to get the benefits I needed.