15 years helping Canadian businesses
choose better software
What Is GMass?
Use Gmail to send mail merge campaigns with automatic follow-up emails.
Connect to Google Sheets.
Personalize. Schedule. Track opens and clicks.
Create email lists based on search results.
Send emails as replies to the last thread with each person.
Set automatic follow-up emails to be sent sequentially until you get a reply.
Who Uses GMass?
Anyone in need of an email marketing solution with email tracking and personalization. GMass will give them better deliverability than other larger solutions.
Where can GMass be deployed?
Cloud-based
On-premise
---
About the vendor
GMass
Located in Mequon, US
GMass pricing
Starting Price:
US$19.95/month
GMass does not have a free version. GMass paid version starts at US$19.95/month.
Pricing plans
get a free trial
About the vendor
GMass
Located in Mequon, US
GMass videos and images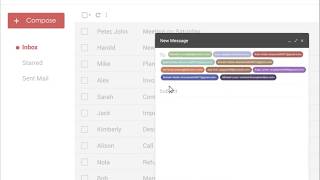 Features of GMass
Alerts/Notifications
Behavior Tracking
Behavioral Targeting
Campaign Management Software
Campaign Scheduling
Click Tracking
Customizable Fields
Email Campaign Management
Email Management Software
Event Triggered Actions
List Management
Real Time Notifications
Reporting/Analytics
Scheduling Software
Subscriber Management
Team Management Software
Jason
President in US
Verified LinkedIn User
Real Estate, Self Employed
Used the Software for: 2+ years
Reviewer Source
Almost too good to share!
Comments: Steamlined and simple. No frills or unnecessary options. Doesn't feel like they're trying to trick you into paying more and more like other software.
Pros:
It works and the free trial is very valuable!
Cons:
Navigating the reporting is a little clunky.
Bhushan
Marketing Lead in India
Verified LinkedIn User
Information Technology & Services, 11–50 Employees
Used the Software for: 6-12 months
Reviewer Source
Simple Email Marketing and Monitoring Tool
Comments: GMass helped me send multiple campaigns with ease and this tool has a higher value proportion as it has many features for very good price. Highly recommended for startups and small businesses.
Pros:
GMass is a simple online email marketing and monitoring tool, As it's been almost 7 months I started using this surprisingly I made the best use of this tool and got quality prospects using campaign reports from GMass. There are some significant features which are quite important for all marketers to understand their target audience and get higher open and conversion rates. They are: 1. Campaign Report: Here I can understand how many people have opened my mail and clicked the links inside it, this feature helped me filter my relevant target audience to generate quality leads. 2. Automated Followups: This feature saved me lot of time by scheduling followup messages to all the prospects with a customized email message with different time intervals. 3. Send as a new message: This helped me show my message to my customer without being left out in followed message in the thread, this helps marketers to use a various unique subject line with similar content to make user open the email ( A effective way to A/B test mail campaigns )
Cons:
There is nothing much I didn't like about the tool but while I was running some email campaigns I have tried adding First Name script to send the emails with my customer's first name but most of the times the script didn't work and because of that some of my emails went to spam. This is the one thing I want GMass to fix.
Alternatives Considered: Mailchimp
Reasons for Switching to GMass: I have compared several services like MailChimp and other CRM services but I found gmass very cost-friendly and very easy to use.
Marketing & Advertising, Self Employed
Used the Software for: 1-5 months
Reviewer Source
Simple and Easy to Implement
Comments: Love it. Simple and easy to use tool for what it is.
Pros:
The email verification tool that automatically runs when you add a google sheet with email addresses.
Cons:
Just the natural limitations it has to work with inside gmail... 400-500 emails a day is not really a "Campaign" in the current state of email marketing.
Alternatives Considered: lemlist
Reasons for Switching to GMass: Price... and I don't need the additional functionality of Lemlist.
Entertainment, Self Employed
Used the Software for: 2+ years
Reviewer Source
Terrible Customer Service
Pros:
The program works ok. I realized that I'm basically double paying for mass email and GMass felt like it clogged my inbox. It works for plain text emails, however I didn't really find much other benefit personally. And, I regret spending the money on it. Other people have found it really useful and leaving high reviews. I'm just feeling I could have done without it.
Cons:
The customer service is awful and the website is a little bit of a run around to find your help/support answers. There is no chat function on the site nor a way to contact them. I didn't realize my subscription was still going until I got a card ping today. I immediately canceled the account and went to find customer service to ask them to stop payment since. In order to get a refund, I had to search the site. Then, you can only connect with customer service if you have GMass attached to your emails. I'd already pulled the chrome extension off my computer. Without the GMass extention, you cannot get a hold of customer service. To me, this is dishonoring to the customers that pay money monthly to use a product. For this reason, I wouldn't recommend GMass.
Anastasia
Talent Partner in Ukraine
Human Resources, Self Employed
Used the Software for: 1-5 months
Reviewer Source
great productivity tool
Comments: GMass has made my email outreach efforts more efficient, effective, and rewarding. It's a valuable tool that has significantly benefited my recruitment process.
Pros:
GMass is solving the problem of managing large-scale email campaigns effectively. With its Gwarm feature, I can send personalized emails to a large number of prospects without any fear of my Gmail account being blocked or suspended. This has been a game-changer for my recruitment outreach campaigns.The service allows me to set up auto follow-up campaigns, ensuring that my emails aren't lost in crowded inboxes. The insightful analytics provided by GMass also helps me track the performance of my campaigns and make data-driven decisions to improve engagement.Using GMass has saved me time and helped me reach a wider audience and increased my chances of connecting with potential candidates.
Cons:
Honestly, I haven't encountered anything that I dislike about GMass so far. My experience with the service has been overwhelmingly positive. The features are intuitive and easy to use, and the results have been fantastic. I appreciate how seamless and efficient GMass makes my email campaigns. Keep up the great work!