What Is Reputation?
Reputation has changed the way companies improve their customer experience (CX) through customer feedback. Our platform translates vast amounts of solicited and unsolicited feedback data into insights that companies use to learn from and grow - including CX, Operations, and much more. We refer to this process as Reputation Experience Management, a category we created.
Who Uses Reputation?
Not provided by vendor
Where can Reputation be deployed?
Cloud-based
On-premise
---
About the vendor
Reputation.com
Located in Redwood City, US
Countries available
Canada, Germany, India, United Kingdom, United States
Reputation pricing
Starting Price:
Reputation does not have a free version.
About the vendor
Reputation.com
Located in Redwood City, US
Countries available
Canada, Germany, India, United Kingdom, United States
Reputation videos and images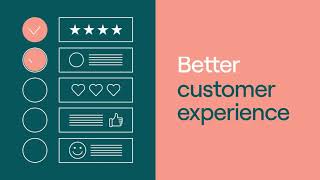 Features of Reputation
Activity Dashboard
Brand Tracking
Campaign Management Software
Collaboration Tools
Content Management System (CMS) Software
Customer Engagement Software
Customer Experience Management
Customizable Templates
Dashboard Software
Data Import/Export
Data Visualization Software
Engagement Tracking
Feedback Management
Multi-Channel Data Collection
Multi-Channel Distribution
Negative Feedback Management
Offline Response Collection
Post Scheduling
Reporting/Analytics
Response Management
Review Generation
Review Monitoring
Sentiment Analysis
Social Media Monitoring Software
Survey Builder
Survey/Poll Management
Surveys & Feedback
Text Analysis Software
Third Party Integrations
Trend Analysis
Alternatives to Reputation
Matthew
Digital Marketing Manager in US
Automotive, 501-1,000 Employees
Used the Software for: 2+ years
A Solid Partner For Your Business
Comments: We've had a very positive experience with Reputation.com since inception. That is why we continue to open the door to new rooftops using this platform. It's easy to set-up, easy to use and they continue to look for progress with their platform. It's not a stale/static product by any stretch of the imagination.
Pros:
Reputation.com has been a part of our portfolio for 6+ years and has expanded across multiple rooftops over those years. It's an easy to use and understand platform that continues to update and evolve its offerings to include the latest relevant information to help you monitor and manage your online listings, customer sentiment and social media pages.
Cons:
As they expand the platform, it's become very built out versus what it was just a few years ago. Moving around in the platform isn't as easy as it once was, but that's most likely due to user error and comfortability with new features.
Alternatives Considered: Digital Air Strike
Reasons for Choosing Reputation: Price, features, contract terms.
Switched From: Digital Air Strike
Reasons for Switching to Reputation: Price, promised support, features, manufacturer recommendations.
Tyler
Social Media Specialist in US
Marketing & Advertising, 10,000+ Employees
Used the Software for: 2+ years
Wonderful Product with Great Flexibility
Comments: I have had amazing experiences with Reputation. Sometimes there can be some small quirks or glitches in the software, but the benefits have absolutely outweighed the negatives. I have had other social media management platforms reach out, but no one has yet been able to offer everything that Reputation has.
Pros:
I love the content library and user system! This makes Reputation stand out from all the other third-party social media softwares. This has allowed us to truly create content that is easily accessible to all users to be able to share with their social media audience. Reputation is always ever-expanding and constantly implementing new features!
Cons:
The software can be glitchy every now and then, but overall this isn't such a detrimental issues.
Alternatives Considered: Sprinklr
Reasons for Switching to Reputation: Reputation has had a large focus on making social media content accessible and easy to use. Other softwares have basic and limited functions, but nothing can touch the social media content management features that Reputation has.
Ryan
SVP, Integrated Search in US
Verified LinkedIn User
Marketing & Advertising, 201-500 Employees
Used the Software for: 1+ year
Reputation.com Is The Best MarTech Software for All-in-One Listings and Rating/Review Management
Comments: The level of service, flexibility, and full-service offerings is a breathe of fresh air compared to my experience with other major players in the listing management and rating/review space. I never feel pressured or forced into a contract. I always feel comfortable providing honest feedback that will be taken to heart. I feel confident knowing I can trust this platform and their staff to help my department specialists deliver on our clients' high expectations. I'd recommend Reputation.com over any other software in these spaces (1) listing management (2) ratings & review software and smart data services (3) surveys (4) Local SEO reporting The fact that they also have modules that cover Social and more is value-add for me and my team.
Pros:
1. 3rd party review integration that isn't offered by other providers 2. Google Seller Ratings for my client's SEM and paid search efforts 3. Organic search performance reporting, scheduling and customization 4. Add-on solutions for any client need - surveys, review requests, listing management, ratings/review management 5. Scaleability for multi-location businesses and franchise-based businesses with unlimited users and customizable user roles to limit platform access to various enterprise stakeholders (i.e. franchisees, managers, etc.) 6. Direct access to the technical product managers for software feedback
Cons:
The Reputation.com training program is intuitive and helpful, but it could be much more robust to help specialists tap into advanced features offered by the platform faster than learning on their own.
Automotive, 51-200 Employees
Used the Software for: 2+ years
Reputation.com Makes the grade
Pros:
How it is organized, and how it helps me be more efficient by allowing me to manage all of my your social media activities easily, across all my locations, from a single platform.
Cons:
Reputation.com is a very extensive product, so it can be overwhelming to learn it all at the adoption level. But as I used it more and more I have learned to make it my tools, and they have become invaluable! The integration with all the platforms - had a couple of glitches with a couple of the Social Media platforms at the beginning, but its functionality and the support team made sure it all came together.
Alternatives Considered: Podium
Reasons for Switching to Reputation: It was a decision made at a higher level - but it was the more completed program, and I am glad they chose it.
Adam
Digital Marketing Specialist in US
Automotive, 501-1,000 Employees
Used the Software for: 1+ year
Review - Car Toys
Comments: Being able to schedule posts and see them on the calendar is a big help to us. We are a retail company, and during the holidays things can become a bit overwhelming. With the calendar we can set up or social posts weeks in advanced when we are not super busy. By looking at the calendar we make sure that all of our posts are in order and whether they have been approved or not. Another big plus it having Reputation handle our store hours. A great deal of our locations have different hours, so just being able to send a spreadsheet to our CSM and everything gets updated is a huge plus. Lastly, I need to mention that whenever I did have an issue, I brought to my CSM rep and she was on it right away and had the issue resolved in a acceptable time frame. Could not be happier with the customer service that she provides.
Pros:
Currently I am the only person that posts to our social media channels. We are planning on granting our 48 locations access to their social pages. We could not do this without the Approval functional that your site provides. So that has to be my #1. I also like the Calendar, it allows to see all the posts for the month in one place.
Cons:
My biggest issue with the software is not being able to post more than one image or videos on Instagram. I currently have to send the post/content to my phone and post. A bit of an inconvenience.