Local product
What Is Alcea Helpdesk?
Alcea HelpDesk is part of a complete tracking system that will give companies a competitive advantage. It isn't just a Help Desk tool, it is an all in one tracking platform to give your organization the ability to provide faster response times, increase productivity, and ensure that reported issues are being handled. Using Alcea's powerful workflow rules to flag incidents that fall below performance standards, Alcea HelpDesk ensures that emergency notifications cause the item to be escalated.
Who Uses Alcea Helpdesk?
Ideal for companies who have a requirement to track reported items, and helps improve customer service and the performance of internal teams. It serves small to midsize enterprises.
Where can Alcea Helpdesk be deployed?
Cloud-based
On-premise
---
About the vendor
Alcea Technologies
Located in Ottawa, Canada
Founded in 1997
Alcea Helpdesk pricing
Starting Price:
US$20.00/month
Yes, has free trial
No free version
Alcea Helpdesk does not have a free version but does offer a free trial. Alcea Helpdesk paid version starts at US$20.00/month.
get a free trial
About the vendor
Alcea Technologies
Located in Ottawa, Canada
Founded in 1997
Alcea Helpdesk videos and images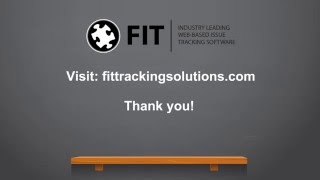 Features of Alcea Helpdesk
Alerts / Escalation
Interaction Tracking
Knowledge Base Management
Reporting/Analytics
Ticket Management
Alternatives to Alcea Helpdesk
Reviews of Alcea Helpdesk
Reviews by company size (employees)
<50
51-200
201-1,000
>1,001
Lisa
Director of Customer Experience in US
Verified LinkedIn User
, 1,001-5,000 Employees
Used the Software for: 2+ years
FIT is a good name for the tool as it truly "FITs" into every need you may have for a ticket system.
Comments: Easy to set up and maintain. A price effective solution.
Pros:
By far what I like most about FIT is the company that makes the software. Without exception they are all professional, experts in their field, extremely responsiveness and easy to do business with. They feel like an extension of your company. The tool itself is basic and that is what works so well. You can add to it using user defined fields, and workflows that truly enable you to build the experience you want in your particular organization or department. We implemented 5 different versions all doing something different to meet specific department requirements. All worked as we would have hoped and then some.
Cons:
The "pro" of easily adding fields and workflows to this software is also its con. You need to have strict governance or you get out of control really quickly. My team loved that they were not forced to have a "customer" already existing before entering a ticket. However, that removed the possibility of having customer "360". If you don't need that and only want a quick and easy to use ticket system, then that would not be a problem for you. I am also sure that Alcea could figure out a way of helping a company set something like this up if required.
FIT Tracking Solutions Response
5 years ago
Thank you Lisa for those very kind words. We strive to provide excellent service along with an easy to use solution.
Justin
IT Manager in Sint Maarten
Retail, 51-200 Employees
Used the Software for: 2+ years
Task Management, Project Management, Knowledge Base. Post ERP data via SOAP. Anon Email Retrieval
Comments: A solution that fit the needs of our team
Pros:
Setup, implementation and customization was straightforward. Super flexible, can accommodate any of our workflows. Dashboards and reports were easy to do. I have no current users on mobile devices, but the mobile app could be interesting for others. We used anonymous email retrieval to add email capability. Support was great. Tough questions were always answered quickly by a developer.
Cons:
It can be a bit verbose. As with any customizable solution careful thought is needed in the design phase
FIT Tracking Solutions Response
5 years ago
Thank you Justin! It is always great to hear how the FIT solution made doing business a little easier.
Haylie
Finance Administrator in UK
Used the Software for: 1+ year
Easy to use and stay on top of tasks
Pros:
This software, once you get used to it and know your way round it, is great to use. It has been a huge benefit to our company with keeping our support desk up to date and organised. Fit Support have been excellent and very quick to respond to requests - very impressed.
Cons:
Getting to know the system in the beginning. Even though there is a User Guide, I wasn't always able to find what I was looking for in the manual. This became easier once I knew my way round the system.
FIT Tracking Solutions Response
5 years ago
Thank you for your review Haylie. We always appreciate when our customers sing our praises.