15 years helping Canadian businesses
choose better software
What Is OneSignal?
OneSignal is the market-leading customer messaging and engagement solution, offering email, mobile and web push notifications, in-app messaging, and SMS. Our omnichannel platform enables one million businesses to deliver over 11 billion messages daily. Powered by superior architecture, OneSignal is designed to scale with your business and deliver messages more quickly and reliably. OneSignal offers tools such as customer journeys, A/B testing, analytics, personalization, segmentation, and more.
Who Uses OneSignal?
OneSignal serves mobile-first companies seeking to leverage modern customer messaging technology for growth and transactional notifications.
Where can OneSignal be deployed?
Cloud-based
On-premise
---
About the vendor
OneSignal
Located in Mountain View, US
Founded in 2015
OneSignal support
Phone Support
24/7 (Live rep)
Chat
OneSignal pricing
Starting Price:
US$9.00/month
No free trial
Yes, has free version
OneSignal has a free version and does not offer a free trial. OneSignal paid version starts at US$9.00/month.
About the vendor
OneSignal
Located in Mountain View, US
Founded in 2015
OneSignal support
Phone Support
24/7 (Live rep)
Chat
OneSignal videos and images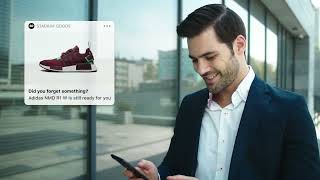 Features of OneSignal
AB Testing
Activity Dashboard
Alerts/Notifications
App Notifications
Campaign Analytics
Campaign Management Software
Campaign Scheduling
Communication Management
Customer History
Customer Segmentation
Customizable Templates
Drip Campaigns
Email Management Software
Email Marketing Software
Engagement Tracking
Interaction Tracking
MMS
Marketing Automation Software
Mass Texting
Mobile Alerts
Multi-Channel Communication
Multi-Channel Marketing
Multi-Language
Notification Editor
Push Notifications Software
Reporting & Statistics
Reporting/Analytics
SMS Marketing
SMS Messaging
SMS Notifications
Scheduled Messaging
Third Party Integrations
Visual Analytics
Visual Workflow Management
Web Notifications
Alternatives to OneSignal
Victor
Head of Digital Intelligece in Panama
Verified LinkedIn User
Newspapers, 51–200 Employees
Used the Software for: 2+ years
Reviewer Source
Using One Signal to increase user retention
Comments: We are using One Signal to engage visitors of our site and mobile apps.
Pros:
I like the user friendly admin panel for non tech-savvy users and the integration with many services/platforms.
Cons:
I tThe pricing model has a big jump between the free version to the next tier. I will think in a mid-cost plan for small and medium size business.
Alternatives Considered: Firebase and Gravitec
Reasons for Choosing OneSignal: At the moment of the evaluation Pushwoosh doesn't had SDK for mobile apps and doesn't offered free tier for testing or small projects
Switched From: Pushwoosh
Reasons for Switching to OneSignal: The support for many platforms/services and the ease to use
Janie
Deputy editor of growth, audience in US
Newspapers, 51–200 Employees
Used the Software for: 2+ years
Reviewer Source
Longtime heavy user, company just switched to another vendor
Comments: They were quick, helpful. Good platform but I didn't know what others were capable of, too. The deployment was reliable to different segments. And the carry-over due to new vendor's back-end was a flop. OneSignal was more stable. But the AI auto-fill, A/N test ease and Web alert CTA "button" are nice. Also I had a real vendor onboarding with new vendor. But that might be on my company, not OS fault, at time of onboarding.
Pros:
Ability to send to segments and know it will deploy. Setting / using segments is wonky with new vendor.
Cons:
Our new vendor lets you enter the link and it will pull in image address, headline and blurb that you can just tweak. Much faster. Also A/B testing is easier too. Does not need some turn-on from OneSignal. Also, I could never maneuver our audience segments to adjust, combine, audit. Maybe that's across all vendors.
Marketing & Advertising, 2–10 Employees
Used the Software for: 1+ year
Reviewer Source
Onesignal - The Popular Among All
Comments: Initially, it was good, i integrated one signal with App and web but when they announce it's not free things got very difficult and I moved to Truepush
Pros:
Onesignal has wide support to almost all kind of platforms, So if you want to use Onesignal for App/Website at the same time this is the best option because they have SDK for every platform and the detailed documentation will help you to implement is quick, They have a WordPress plugin to make your task easy if you are a blogger
Cons:
They promised that it will be free for lifetime when I started using OneSignal. It was I think 2016 and since then I gained 70K subscribers then they set the limit of 3)K and then 10K so it just they offered fake promise I guess, If I move to any other platform I lose 70K users otherwise pay for it.
Jared
Marketing Specialist in US
Verified LinkedIn User
Machinery, 10,000+ Employees
Used the Software for: 2+ years
Reviewer Source
Source: GetApp
The best software for marketing.
Comments: It is a much needed software as we are able to maintain a great connection with our clients, we have increased our client database, our clients are now attracted to our services, the interaction is very good and it has very good email automation and receptive on the part of our clientele.
Pros:
It is a simple software to configure, sending notifications is very fast, it makes it easy to always offer the best to our customers, we attract our customers thanks to the multiple functions that OneSignal offers, it is a very fast system, it has powerful customer segmentation, It is essential for us and for attracting new customers.
Cons:
On one occasion notifications were delayed, we don't know why, but it has been a great concern for which we have not received a response. They must provide an answer to concerns that we are generally unaware of.
Computer Software, 2–10 Employees
Used the Software for: 1-5 months
Reviewer Source
OneSignal is robust, well-though through and easy to integrate
Comments: Before using OneSignal we were relying one emails to get a notification. This is annoying when you just want a quick message to say something is happening, without having to go in and read it and then delete it. Now both us and our users have a quick and easy way of being notified about exceptions and support ticket updates.
Pros:
We needed to get browser notifications up and running for an in-house support portal web-app we were developing. After a little research I quickly settled on OneSignal as the best solution. The API was well documented and easy to use. I got the integration written within a few hours, and it has worked flawlessly ever since. I especially like the ability to click on a notification and have the correct URL open up to deal with the issue / ticket. Also the ability to brand the notifications is a great feature.
Cons:
At this point I really don't have any criticisms. We've only used OneSignal for browser notifications, and have not used the vast majority of features. Our notifications are pushed out to specific subscribers rather than groups. If the rest of the platform is as well written and documented as the parts we use, then I'm sure it is as pleasure to work with.
Alternatives Considered: Firebase
Reasons for Switching to OneSignal: I can't remember all the platforms I looked at, but OneSignal was the most reasonably priced, with the cleanest API and good documentation. It was also recommended by others in various forums and discussion groups.