15 years helping Canadian businesses
choose better software
What Is Supermetrics?
All your marketing data, wherever you need it. Supermetrics streamlines data delivery from 80+ sales and marketing platforms into various analytics and reporting tools marketers use to make better decisions.
With Supermetrics, businesses can aggregate siloed data from marketing and sales platforms, such as Facebook Ads, Google Analytics, and Instagram, into their go-to reporting, analytics, and storage platform.
+700k marketers use Supermetrics in over 120 countries.
Who Uses Supermetrics?
Digital marketing agencies, e-commerce, publishers, startups, any company or organization looking to get a better understanding of their marketing data.
Where can Supermetrics be deployed?
Cloud-based
On-premise
---
About the vendor
Supermetrics
Located in Helsinki, Finland
Supermetrics pricing
Starting Price:
US$99.00/month
Yes, has free trial
Yes, has free version
Supermetrics has a free version and offers a free trial. Supermetrics paid version starts at US$99.00/month.
Pricing plans
get a free trial
About the vendor
Supermetrics
Located in Helsinki, Finland
Supermetrics videos and images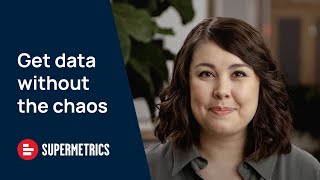 Features of Supermetrics
API
Ad hoc Analysis
Ad hoc Query
Ad hoc Reporting
Alerts/Notifications
Auto Extraction
Campaign Analytics
Campaign Tracking
Conversion Tracking
Customizable Dashboard
Customizable Reports
Customizable Templates
Dashboard Creation
Dashboard Software
Data Aggregation and Publishing
Data Capture and Transfer
Data Connectors
Data Extraction Software
Data Import/Export
Data Integration
Data Management Software
Data Mapping
Data Storage Management
Data Synchronization
Data Visualization Software
Data Warehouse Software
ETL - Extract Transfer Load
ETL Software
Engagement Tracking
Forecasting
Functions/Calculations
In-Database Processing
Integrations Management
KPI Monitoring
Multi-Channel Attribution
Multi-Channel Data Collection
Multiple Data Sources
Performance Metrics
Query Builder
ROI Tracking
Reporting & Statistics
Reporting/Analytics
Scheduled/Automated Reports
Search/Filter
Third Party Integrations
Trend Analysis
Visual Analytics
Web Data Extraction
Website Analytics
Alternatives to Supermetrics
Andrea
Digital Advertising Team Leader in Italy
Verified LinkedIn User
Marketing & Advertising, 11–50 Employees
Used the Software for: 2+ years
Reviewer Source
The easiest solution to import digital advertising data in data visualization tools
Pros:
Supermetrics is the go-to industry solution for extracting metrics and dimensions from online marketing platforms and pulling them into spreadsheets or data visualization platforms. We use it to connect data from Google, Meta, LinkedIn, Shopify and many other vendors to power Google Data Studio dashboards and to send data to Google Sheets in order to perform analyses and create reports. Supermetrics is simple, effective and reliable.
Cons:
The Data Studio connector can get slow when connected to multiple ad accounts at once. Supermetrics is also kind of expensive compared to some competitors, and doesn't offer bundles for professionals or agencies looking to connect a data source to multiple tools - for example, we use Google Data Studio to create dashboards and Google Sheets to analyze campaign results, and we need to buy two separate Supermetrics products to be able to do so.
Jack
Senior Paid Media Specialist in US
Music, 51–200 Employees
Used the Software for: 2+ years
Reviewer Source
Great for Visualizing Data via Google Data Studio
Comments: I having been using Supermetrics for many years in my various marketing roles. I find it essential in making good marketing decisions by utilizing actionable reports with clean visualizations.
Pros:
Pulling data with ease to Google Data Studio
Cons:
Paying extra for more data connectors and occasionally some connectors seem to pull in correct data.
Alternatives Considered: Funnel
Reasons for Switching to Supermetrics: Pricing and a plan with the data connectors I needed.
Dr David
Director in Vietnam
Verified LinkedIn User
Transportation/Trucking/Railroad, 51–200 Employees
Used the Software for: 2+ years
Reviewer Source
Terrible customer service, refusing to refund a billing error
Comments: Problem with Supermetrics billing. This year, we were billed in error because of a miscommunication with the team. The entire year we have not used the service, not even once. Now, Supermetrics (PIC) is refusing to provide a refund for the fee that was charged. When you sign up for a service, you place trust in a company that any issue like this will be solved easily and fairly. And with many SAAS companies that is the case. However, with Supermetrics it's different. I am now sharing this experience in the hope my experience will help other customers to make a good decision and not use this service, but instead choose a company that puts customers first and will agree a refund in a clear case of mistake when the service was not used.
Pros:
Functionality mathes what we were expecting
Cons:
Billing policy - unclear, some option for Auto-renew but it shows next to the previous year not the current year so easy to trick into a renewal in error. Customer service - when I approached with a problem, no energy to solve it [Sensitive Content ]and just pushing the problem around, refusing to solve and trying to drag terms out of the small print to support their inaction. Trust - treating me as someone trying to cheat the company when in fact we paid in error due to unclear billing portal (experiences shared by many customers just look at their facebook page). General stupidity - for some reason they feel like clinging on to the $828 they owe us as a refund is somehow good for Supermetrics, when clearly taking advantage of a customer that shared their card details and placed trust in Supermetrics. Well now is the final chance for Supermetrics to put this right. I can't force them to provide a refund but I can ensure the story is shared in full detail so that other customers don't fall into this trap and that will no doubt be 100x more expensive to Supermetrics than treating us with respect and providing the due refund with a smile when we asked.
Supermetrics Response
2 years ago
Hi David, Thank you for your feedback. We understand your frustration and apologize for your bad experience. We have reviewed your specific case and reached out to remedy the situation. We hope that we can come to an agreement that works for all parties involved. If you would like to share your experiences with us in more detail, we'd be happy to sit down and chat. Feel free to reach out to me directly at [email protected]. Best, Aleks
Chris
SEO Specialist in UK
Package/Freight Delivery, 5,001–10,000 Employees
Used the Software for: 2+ years
Reviewer Source
Ideal for any media campaign dealing with mass data
Comments: Overall, its smooth easy to use and well support across reporting platforms. But I would benefit from more guides and support documents
Pros:
The best things about Supermetrics is the simple connection to Looker Studios and Google Sheets. It can fetch Google Analytics data right to that platform, no exports or playing around with formats.
Cons:
There is not the most robust set of guides or support available on all functions. Maybe this is because they would need constant updating, but I do feel I don't know what I don't know about the platform.
Nonprofit Organization Management, 201–500 Employees
Used the Software for: 2+ years
Reviewer Source
Review on API
Comments: Great
Pros:
Query builder, easy to authenticate and connect to any social networking accounts, adopter to connect BI tools
Cons:
Based on our requirement I found this tool a perfect solution
Alternatives Considered: Funnel and Zoho Expense
Reasons for Switching to Supermetrics: Other products do not have all connectors, and not easy to connect, high maintenance