ELMO Software
What Is ELMO Software?
ELMO Software is a cloud-based solution that helps thousands of organisations across Australia, New Zealand and the United Kingdom to effectively manage their people, process and pay. ELMO offers a
Read more
comprehensive suite of cloud HR & payroll software solutions that can be configured to whatever your organisation requires, and are available within a single dashboard and single user interface. Automate and streamline your operations to reduce costs, increase efficiency and bolster productivity.
Read less
Who Uses ELMO Software?
HR and finance professionals, business owners and C-suite executives who are looking to automate and streamline their operations to reduce pain points around managing people, processes and pay.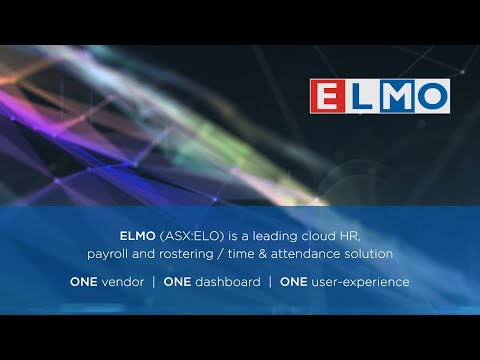 Not sure about ELMO Software? Compare with a popular alternative
Not available in your country
Alternatives to ELMO Software
Tom
OT Engineer in Australia
Verified LinkedIn User
Transportation/Trucking/Railroad, 201-500 Employees
Used the Software for: 6-12 months
A happy user
Pros:
Dashboard, online form and online course.
Cons:
None
ELMO Software AU Response
last month
Thanks so much for your review, Tom. We hope you continue to enjoy using ELMO Software. Kind regards, ELMO
Varun
Service Delivery Lead - ICT & Cloud in Fiji
Telecommunications, 201-500 Employees
Used the Software for: 2+ years
360 Employee Management
Comments: ELMO provides you a platform to manage your daily HR operations through a system driven governed process. From on-boarding, recruitment, leave management, performance tracking and internal workflow management to handling employee exit.
Cons:
Some fields require manual addition to sections. Option for duplicates not present.
ELMO Software AU Response
last month
Hi Varun, Thanks for your review and for your feedback. We've passed this on to our Product Development team. We hope you continue to enjoy ELMO's Performance Management. Best wishes, ELMO
Seanne
Recruitment Officer in Australia
Individual & Family Services, 51-200 Employees
Used the Software for: 1-5 months
ELMO Software Review
Comments: Easy to use - good
Pros:
This product is easy to learn and easy to use.
Cons:
The onboarding section and having to go to a different section when onboarding and offboarding. It would be good to have it in the same section.
ELMO Software Response
last month
Thank you for the review, Seanne. We're so glad to hear that you find ELMO's cloud-based solution easy to use. We will pass your feedback regarding the onboarding and offboarding sections on to the Product Development Team. Thanks again, ELMO Team
Clinton
Digital Health Advisor in Australia
Health, Wellness & Fitness, 51-200 Employees
Used the Software for: 2+ years
Elmo has a modern, clean interface, and can be highly customised
Comments: We use Elmo for our Leave applications, personal leave, Annual leave etc., as well as keep us updated on what documents/certificates/checks are needed for our employment.
Also Elmo enables us to provide some onboarding modules for our new staff, so it's great to have that in one place, and means the new staff become familiar with it's operation from the start.
Pros:
Ease of use is high. Clean layout within the software is helpful. Customisation means we are not forced to use pre-defined templates as with some other apps, so we can tailor the forms to suit our business processes.
Cons:
The other side of the customisation coin, is that the forms seem to need creating from scratch. At least that's the feedback I have had, as a user, from the staff who are creating the forms, but this might be a gap in their knowledge so might be good to look at Elmo/talk with a rep to see what pre-defined templates they may have available.
ELMO Software Response
4 weeks ago
Hi Clinton. Thanks so much for your detailed review. It's great to hear your feedback about ELMO's Leave Management and Onboarding. Please do not hesitate to reach out regarding pre-defined templates, your system administrator or your Account Manager here at ELMO can help. Thanks again, we really hope you and your organisation continue to benefit from using ELMO Software to streamline your HR processes! Best wishes, ELMO Team
Verified Reviewer
Board Advance Partner in Australia
Verified LinkedIn User
Education Management, 201-500 Employees
Used the Software for: 2+ years
User review
Comments: ELMO has been used by our HR team for over five years. It has gotten progressively better and easier to use. Now, I know exactly where to go in ESS, how to request information or support and have more clarity around my performance management, than ever before.
Pros:
I use ESS ELMO software nearly every day in my role; for requesting leave, undertaking mandatory training, keeping an eye on performance KPI's and measurement.
Cons:
Finding a payslip from my company is difficult.
ELMO Software AU Response
last month
Thanks so much for your review. We really appreciate the time you've taken to share your positive experience when using ELMO's Employee Self-Service module. Kind regards, ELMO Team