What Is ELMO Software?
ELMO Software (ASX:ELO) is a cloud-based solution that helps thousands of organisations across Australia, New Zealand and the United Kingdom to effectively manage their people, process and pay. ELMO solutions span the entire employee lifecycle from 'hire to retire'. They can be used together or stand-alone, and are configurable according to an organisation's unique processes and workflows. Automate and streamline your operations to reduce costs, increase efficiency and bolster productivity.
Who Uses ELMO Software?
HR, payroll and finance professionals, business owners and C-suite executives who are looking to automate and streamline their operations to reduce pain points around managing people, process and pay.
ELMO Software Details
ELMO Software
Founded in 2002
ELMO Software Details
ELMO Software
Founded in 2002
ELMO Software videos and images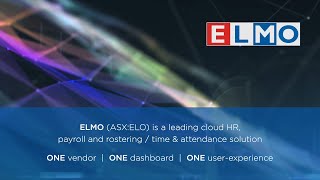 Compare ELMO Software pricing with similar products
Starting price
N/A
US$7.00/month
N/A
N/A
ELMO Software deployment and support
Support
Email/Help Desk
FAQs/Forum
Phone Support
Chat
Deployment
Cloud, SaaS, Web-based
Mac (Desktop)
Windows (Desktop)
Android (Mobile)
iPhone (Mobile)
iPad (Mobile)
Training Software
In Person
Live Online
Webinars
Documentation
Videos
Features of ELMO Software
Cheryl W.
Internal Review Officer in Australia
Government Administration, 10,000+ Employees
Used the Software for: 2+ years
ELMO is great
Pros:
Ease of use, easy to navigate, we do all of our learning on Elmo and it is easy to use, navigate.
Cons:
I like it just fine. Don't change what's not broken.
ELMO Software Response
last month
Thank you for the review, Cheryl. It's great to hear that you find ELMO's cloud-based solutions easy to use. Kind regards, ELMO
Helen S.
National HR Manager in Australia
Facilities Services, 501-1,000 Employees
Used the Software for: 6-12 months
Change your life with ELMO
Comments: Time to Onboard has been dramatically reduced and is now no longer a labour intensive process.
I am looking forward to providing meaningful reports to the business.
Pros:
This software is so simple to implement and once implemented it has saved myself and other managers so much time. In particular having project based work our Onboarding process has become so streamlined now we can onboard high numbers of employees at the same time. As a Performance Appraisal system we found ELMO easy to develop and roll out. Our company had not been keen on Performance Appraisals in the past but ELMO was so well embraced we had 100% update on the first appraisal round. We also find the more you use the system the more proficient you become. The support provided by ELMO during the project implementation phase has been extremely supportive. We are now using the Help Desk and our issues are usually resolved within 24 to 48 hours.
Cons:
If an employee has not completed all their documentation we would like an automatic alert. At this stage we need to manually check on this.
ELMO Software Response
5 months ago
Hi Helen. We really appreciate the time you've taken to provide such a great review, and thank you for your continued support. Our customers are at the heart of our business, and feedback like yours is invaluable. We have passed your feedback on to our Product Development team. We hope your organisation enjoys the benefits of ELMO's cloud-based solutions. Best wishes, ELMO Software.
Kseniya I.
People and Culture Director in Australia
Health, Wellness & Fitness, 51-200 Employees
Used the Software for: 1+ year
ELMO HRIS: Review Snap-shot
Comments: Overall, our feedback is very positive and staff across all levels are happy with the introduced HRIS
Pros:
Great customer support team: very responsive and efficient
Cons:
Some visibility features are yet to be improved (e.g. display of data, attaching additional data, etc.)
ELMO Software Response
2 months ago
Hi Kseniya. Thanks so much for taking the time to leave us a great review. Your feedback has been passed on to our Product Development team. Kind regards, ELMO
Verified Reviewer
Administration Assistant in New Zealand
Verified LinkedIn User
Hospital & Health Care, 201-500 Employees
Used the Software for: 6-12 months
Good system - more suited to Offices than Hospitals
Comments: Easy to use, just have to put in more effort on our part to make it work for us.
Pros:
Visually ELMO is easy to navigate and logical to use. Suits us for performance reviews and new starters.
Cons:
Reporting. We would like to be able to get learning hours in a report that is "good looking" not having to download a csv file only to then have to filter, sort and "make pretty" for use. This is important to us because learning hour are required for Nurses to keep their qualifications and certifications. Also, most of the help received by ELMO System Experts could do with some improvement. They don't seem to understand the needs of the client/customer when working with them to come up with solutions.
ELMO Software Response
2 months ago
We really appreciate the time you've taken to write a review. ELMO's Dashboards feature, under Analytics, can help you create user-friendly charts that can be easily exported. Your system administrator can reach out to your Account Manager to work out solutions specific to this feature. Kind regards, ELMO team
Darren C.
Lender in Australia
Banking, 201-500 Employees
Used the Software for: 1-5 months
Great System
Comments: I think the system albeit in its infancy allows great connections across the organisation.
It also allows our staff to take advantage of great discounts. Great system.
Pros:
Great features and useability. The interactive nature of the system together with the ability for staff to build credits and cash backs is a fantastic incentive.
Cons:
Nothing at the moment. We have only been using the system for a short time however it seems to be very good.
ELMO Software Response
2 weeks ago
Thanks so much for taking the time to leave us a review, Darren. It is great to hear that you have had a positive experience. Best wishes, ELMO