15 years helping Canadian businesses
choose better software
What Is Smoobu?
Smoobu is the All-in-One Software for Short-Term & Vacation Rentals.
Smoobu syncs all your booking portals, such as Airbnb, Booking.com, VRBO, Trip.com, Agoda etc, automatically, so you no longer need to worry about double bookings and manual prices.
One subscription, all tools. Channel Manager, PMS, Website Builder, Booking Engine, Unified Inbox, Online Check-In, as well as a Dedicated Guest Guide that will make your reviews go up.
Try Smoobu Pro for 14 days. No credit card required.
Who Uses Smoobu?
We are serving vacation rental owners all over the world. We are focussing on independent landlords and agencies with up to 50 units.
Where can Smoobu be deployed?
Cloud-based
On-premise
---
About the vendor
Smoobu
Located in Berlin, Germany
Founded in 2014
Smoobu pricing
Starting Price:
US$23.62/month
Yes, has free trial
No free version
Smoobu does not have a free version but does offer a free trial. Smoobu paid version starts at US$23.62/month.
About the vendor
Smoobu
Located in Berlin, Germany
Founded in 2014
Smoobu videos and images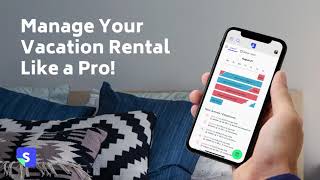 Features of Smoobu
Accounting Software
Availability Management
Billing & Invoicing
Booking Management
Booking Notes
CRM Software
Calendar Management
Campaign Management Software
Channel Analytics
Channel Management Software
Communication Management
Contact Management Software
Customer Database
Customer Support Software
Document Management Software
Dynamic Pricing
Employee Management
Financial Reporting Software
For Vacation Rentals
Front Desk Management
GDS/OTA Integration
Guest Communications
Guest Experience Management
Incentive Management
Inventory Control Software
Inventory Management Software
Lead Management Software
Maintenance Management Software
Marketing Automation Software
Multi-Channel Management
Multi-Channel Marketing
Occupancy Management
Online Booking
Online Payments
Opportunity Management
Order Management Software
Partner Management
Payment Processing Software
Point of Sale (POS)
Rate Management
Ratings/Reviews
Reporting & Statistics
Reporting/Analytics
Reservations Management
Tenant Portal
Tenant Tracking
Third Party Integrations
Vacancy Management
Stefano
Owner in Italy
Verified LinkedIn User
Hospitality, 2–10 Employees
Used the Software for: 1+ year
Reviewer Source
best management software around for vacation rentals
Comments: made my life easier, and automatized many processes that were manual before. and it's still cheap!
Pros:
The simplicity of setup and use, great performances, money for value, made life easier Exceptional Italian customer support!
Cons:
some minor features, compared to other software, were still missing, but they are minor and I know the Dev team keep working to improve
Alain
President in Canada
Leisure, Travel & Tourism, 2–10 Employees
Used the Software for: 2+ years
Reviewer Source
easy to use,
Comments: Overall, very good experience, almost no panic in the almost 3 years.They have a good staff, and can communicate with us in several languages.In this example, French is my preference, and I never had a problem.
Pros:
In fact, when I chose Smoobu, only few channel manager allowed us to rent Rooms and the whole house in the same software.What I wanted was if I rent a room, Smoobu automaticly block the whole house and if I rent the whole house, the 5 rooms are automaticly booked.For the moment it does the job very well and I am under using all other features. (my fault)
Cons:
The time zone, Smoobu is located in Berlin, Germany and I am in Canada.So if I want to reach then, they are quite responsive in the morning (from 3 am to 11 am) but after 12:00h we have to wait the next day.They seem to have a telephone number in USA , but on one in Canada.
Alternatives Considered: Cloudbeds and Guesty For Hosts
Reasons for Choosing Smoobu: Because it could not (elloha) automaticly block the whole house and if I rent one of the 5 rooms.and could not block automaticly block the 5 rooms if I rent the whole house.
Switched From: elloha
Reasons for Switching to Smoobu: Features and black Friday special
Verified Reviewer
Verified LinkedIn User
Hospitality, 2–10 Employees
Used the Software for: 2+ years
Reviewer Source
Good for small company
Comments: Overall a good experience. We used Smoobu, untill we started hiring Customer Service staff and they needed a centralized communication terminal that when we switched. For most entrepreneurs who runs Airbnbs it works great, in many wasy more simple than other solutions on the market. I wish they did make the SMS automation work, I wish full API integration with VRBO worked as well. But you cant get everything.
Pros:
Price is the best. It does basic things like it will keep all your listings in sync. Forget about centralized messaging, because certain things just won't sync like VRBO. But for small operators 1-5 peroperties it works great, and price you can't beat
Cons:
no full API integration with VRBOlack of SMS automationsCustomer Service doesn't existi, you can create a ticket they will answer next week
Hospitality, 2–10 Employees
Used the Software for: Free Trial
Reviewer Source
Did not work for my Vacation Rentals
Comments: I used this software about every minute of the free software trail, switching both my airbnb and vrbo 5 listings from current software to Smoobu. what a nightmare. I've been using Bookerville which is loaded with features, but doesn't quite have the smooth look of Smoobu. Instead of throwing my efforts into Bookerville, I thought all Softwares were the same.... No they are not. My Smoobu experience had be fall in LOVE with Bookerville and take the effort to expand my use of their numerous fully developed features. Describe my overall experience with Smoobu? Above all it convinced me that I had the best vacation software in Bookerville over all its competition.
Pros:
Very attractive. It has a very clean feel to it and nicely visual
Cons:
There were quite a few issues that I thought they may over time address, but I'd have to say the absolutely most shocking shortcoming of this software was an inability for guest who comes to your website to get an itemized quote. I actually called and arranged a VERY early morning conference call with this European based company.... and this is just one of the crazy, head scratching things about this software. It allows you to imbed a link from them to your own company website for guests to get a quote; but this is a total quote.... No itemized quote. So if you've got a $1000 refundable deposit, guests don't know that, its just this HUGE total, without details on cleaning fee, taxes, options, refundable deposit, etc. From here, the guests can contact you for the itemized quote and book. What the heck? why can't they book on line? why can't they see an itemized quote? This is just one of the things that Smoobu knew hosts would want, but that they didn't bother to do right.... and unfortunately one of so many half way done things .... I guess so they could add it to their feature list, but it is completely useless. Just having an itemized quote and booking the guest later would have been a huge help, but they couldn't be bothered to do this.... and with refundable deposits in one HUGE total ... hosts will have to clutter their websites with explanations.
Smoobu Response
3 years ago
Dear Patricia, thanks for your review! I quickly checked all your tickets and I understand where you are coming from. What you are looking for is a high end agency solution that can cover all your details for your business. we are however targeting owners and we are providing a very affordable solution. So indeed our software may not be what you need. But please also note that a product you are looking for will cost you a multiple of Smoobu. Also e.g. if you want to put a deposit you can add it to the extras that will not be displayed in the overall costs of the booking. So for your main point there is actually a solution we can offer. Wishing you all the best Philipp
Polas
Administrator in Lithuania
Real Estate, 2–10 Employees
Used the Software for: 2+ years
Reviewer Source
Source: SoftwareAdvice
27+ rental properties in Smoobu
Comments: There are many cons and pros to this chanel manager, but we are still planing to use it as moving from it with a lot of properties would not be worth our time. The chanel manager offers us stability majority of time and a website integration.
Pros:
Smoobu app is a good starting point for anyone who want to give a chanel mannager a try.We currently have 27 properties and all of them are managed through smoobu. Website is built through smoobu (you can check it - www.poloapartments.lt)As a user for more than 3 years, I can recommend this program as it is easy to use, responsive and gives us a lot of functions.The price is very good compared to all other chanel managers.
Cons:
However, there are flaws. For example, our website is built on 3 different languages, while smoobu check-out is only in one language. I have personally been requesting this change for more than 1 year. No progress. (To add, they do boast that they adapt their program to their clients needs).Some times there are maintanances that make the smoobu completely offline. If it happens in a busy period, you might get double bookings.The invoices just as the check-out page is only in English with no other language choices.When uploading a property to smoobu, there are only a few ammenities to select. There is no free parking selection window. It is very important to have.To add, smoobu engine does no allow to select the amount of children or pets. It only allows selecting adults.There a