15 years helping Canadian businesses
choose better software
What Is Guesty?
Guesty is the all-in-one platform for hospitality businesses to automate and optimize every aspect of their operations. With purpose-built technology, industry-wide expertise, and an R&D team of 200+ engineers, Guesty ensures that hospitality businesses can streamline and achieve growth while delivering the best value to guests. With a complete suite of features and 170+ industry partners, Guesty is transforming the hospitality industry with innovative solutions.
Who Uses Guesty?
Hospitality business managers with 4+ listings seeking to streamline operations, get more exposure and scale their business.
Where can Guesty be deployed?
Cloud-based
On-premise
---
About the vendor
Guesty
Located in Walnut, US
Founded in 2014
Guesty pricing
Starting Price:
Guesty does not have a free version.
About the vendor
Guesty
Located in Walnut, US
Founded in 2014
Guesty videos and images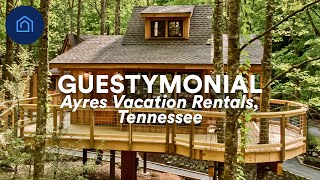 Features of Guesty
Accounting Software
Activity Dashboard
Availability Management
Booking Management
CRM Software
Calendar Management
Campaign Management Software
Channel Analytics
Channel Management Software
Communication Management
Contact Management Software
Document Management Software
Dynamic Pricing
Employee Management
Financial Management Software
Financial Reporting Software
For Property Managers
For Vacation Rentals
Front Desk Management
GDS/OTA Integration
General Ledger
Group Reservations
Guest Communications
Guest Experience Management
Housekeeping Management
Inventory Control Software
Inventory Management Software
Lead Management Software
Maintenance Management Software
Marketing Automation Software
Multi-Channel Distribution
Multi-Channel Management
Occupancy Management
Online Booking
Online Payments
Order Management Software
Partner Management
Partner Portal
Payment Processing Software
Point of Sale (POS)
Portfolio Management
Rate Management
Ratings/Reviews
Rental Property Management Software
Reporting & Statistics
Reporting/Analytics
Reservations Management
Revenue Management Software
Tenant Management
Tenant Tracking
Mike
Owner in US
Verified LinkedIn User
Hospitality, 2–10 Employees
Used the Software for: 1+ year
Reviewer Source
Guesty has everything we need and more...
Comments: Guesty provides everything essential for running an efficient, well-rounded, and professional short-term rental enterprise. Although it may not be the most affordable software out there, its robustness is unparalleled. They collaborate with the top distribution partners and boast a committed customer success team that keeps us updated with best practices and insights into the platform's latest enhancements. Our representative, [sensitive content hidden] Jamero, is delightful to collaborate with and always delivers solutions for our evolving needs. In essence, if you're keen on establishing a thriving short-term rental business, Guesty is an invaluable asset.
Pros:
Guesty has one of the most robust platforms for managing and entire short-term rental business whose goal is professionalism and breadth of channel distribution.
Cons:
The price. It's far from the cheapest option on the market.
Alternatives Considered: Hostfully Property Management Platform
Reasons for Choosing Guesty: MyVR was sunsetted as a product, and we had to transition to something else.
Switched From: MyVR
Reasons for Switching to Guesty: Ease of transition.
Hospitality, 11–50 Employees
Used the Software for: 1+ year
Reviewer Source
Guesty Top Tier Software
Comments: Guesty has been a one stop shop for us. It makes our teams experience much easier and listing on all platforms a breeze. We love that they are adding new features and always improving. Our team sucess rep Taylor, was great. Our team loved meeting with her on our calls and each meeting was so productive and a lot of fun. Top notch service!
Pros:
Calendar ViewChannel IntegrationUnified Inbox
Cons:
The one negative is being the payment processor for VRBO. We have to authorize security deposits and through Stripe can only be held for 7 days. If the booking is 7 days, youre out of luck and have to put a high security deposit for safety which leads to not a ton of bookings.
Alternatives Considered: Hostfully Property Management Platform
Reasons for Choosing Guesty: Needed a better channel manager that was not based off the airbnb listing
Switched From: Guesty For Hosts
Lydia
Director in Sint Maarten
Hospitality, 2–10 Employees
Used the Software for: 1+ year
Reviewer Source
False Advertisement simply.
Comments: Guesty does NOT have SUPPORT. Though the sales team are "escalating the issue" or "handling it" or "contacting support on our behalf". All we have are messages saying to put a payment processor. We asked for a direct call with support to address these serious issues. The Answer: Support is "evaluating the best way to get back to you regarding that" . Yup...They don't know about phones, direct emails, Google Meet, Zoom, Face time, Whatsapp Video etc...They're evaluating!One thing that DOES WORK though...is INVOICING. We've been invoiced:1- An integration that still has not happened2- Monthly invoices for a software that is costing us tons of time and moneyAnyway.. Now with HOSTAWAY and they are honest and know their product.
Pros:
The advertising was great but reality did not measure up.
Cons:
Simply put...False advertisement.I have been a Vacation Rental Manager for the last 15 years and have used a large array of channel software. We decided the switch to Guesty in October . It was a tight decision between Hostaway and Guesty. We do not use a payment pocessor.We went with Guesty. It has now been a few months and nothing we were told about the aspects of the software is true in our case.Guesty does NOT have a UNIFIED INBOX. Website and Vrbo not covered.Guesty does NOT manage BOOKINGS. You cannot set up reminders for upcoming balance based on your booking schedule. It has to be done manually. Guesty is NOT SAFE. While on a chat with a guest, the chat of another guest appeared! So guest information is not even safe.Guesty is NOT a CHANNEL MANAGER . Special price variations like short stays do not populate to all channels. Only to our website and not other channels. Bummer. Guesty does NOT work without a payment processor. Even though we precised this and were assured it would work.Guesty does NOT CALCULATE booking payments. INTEGRATION does NOT take 5 weeks.
Hospitality, 11–50 Employees
Used the Software for: 6-12 months
Reviewer Source
Guesty is the gold standard for vacation rental property managers
Comments: There is a reason Guesty is one of the most funded PMS companies in the vacation rental industry. They are the trail blazers and gold standard when it comes to property management software. From the amazing hands on support, to the stability of the software, I am so happy we made the decision to use Guesty.
Pros:
- Dedicated account rep (shout out [sensitive content hidden]🤘) and great around the clock support team - Guesty has all the features a professional property manager needs. We have vetted and used countless other solutions and all of them were missing or weak in at least one area. Guesty has everything we need and more. - The Analytics addon is great and gives our business the clarity we have been looking for on a number of metrics from financials to reviews.- Onobarding onto the Guesty from our previous providor was also great. We were able to easily export our existing reservations and move them over.- The mobile app is great as well, our reservations team lives there and is able to answer guest messages from anywhere. - We have not had any calendar syncing issues acrosss multiple platforms and can rely on having up to date calendars as well as integrating with other softwares like Wheelhouse for our pricing or Breezeway for cleans.
Cons:
- The Guesty team has already been made aware and is pledging to roll out some updates, but currently we do not have as much control over reservaiton financials as we had with other platform. We are excited for some updates here. - We came into the relationship knowing about it, but for the unsuspecting user, there is an upsell on every turn. I'm not mad about it, Guesty is a venture backed company that needs to show returns, but just be aware there will always be an upsell, even for some things that other platforms may include in the core package.
Hospitality, 2–10 Employees
Used the Software for: 6-12 months
Reviewer Source
Great software
Comments: Great product and very happy with it
Pros:
Great software and works seamless. Our account manager [sensitive content hidden] is very helpful and always acailsbr
Cons:
Tech Support is a little slow to resolve queries
Alternatives Considered: Uplisting, Zeevou and eviivo
Reasons for Choosing Guesty: Tokeets system was glitchy and the api connections where poor
Switched From: Tokeet
Reasons for Switching to Guesty: Am all Roy d better product