Zoho Social
What Is Zoho Social?
Zoho Social is built keeping in mind the needs of growing businesses -- those that are starting to get serious about social media marketing. We've built the product to help you build your social
Read more
media presence, without having to worry about setting things up, getting trained, variable costs, etc. We're working hard to keep things simple and offer value for your money. Easy enough for you to understand and get started within minutes.
Read less
Who Uses Zoho Social?
Mid Size Business, Small Business Supported Countries - Asia, Australia, Canada, China, Europe, India, Latin America, Middle-East and Africa, UK, US.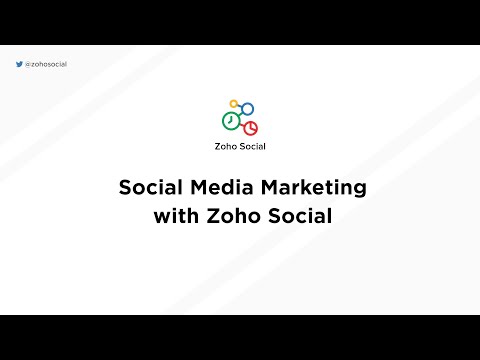 Not sure about Zoho Social? Compare with a popular alternative
Alternatives to Zoho Social
Jose J
CTO in US
Verified LinkedIn User
Market Research Software, 2-10 Employees
Used the Software for: 2+ years
Alternatives Considered:
A Great Solution to Manage and Keep track of your Social Networks Channels
Comments: Just one word: Wonderful.
Pros:
Zoho Social is an extensive platform. It has many features we love and use on a daily basis, like scheduled posts, follow global trends, publish quick content to Twitter, advanced reports and more. We really enjoy using Zoho Social.
Cons:
I have been using Zoho Social in my agency for quite a while. I have been noticing that the Zoho Social subscription price increased a lot recently. Anyways, still I believe Zoho Social is the best solution for us after having experience with other platforms that didn't fulfill our expectations.
Amit
Digital Marketer in India
Marketing & Advertising, 2-10 Employees
Used the Software for: 2+ years
Alternatives Considered:
Excellent and best platform for managing social networks, All in one social media scheduling tool
Comments: It's easy to use and it keeps all my social media organized and updated. I have been using Zoho Social for about two years now and I absolutely love it! It has made managing my social media accounts so much easier and more efficient. Overall, my experience with Zoho Social has been great!
Pros:
I love this tool. There are many similar tools out there, but this is the best one I have come across. I use it for managing all my social media posts, especially scheduling. It has a great calendar management tool, as well as an easy-to-use interface. The ability to schedule all my posts at once, on all platforms is a huge time saver. I also love that I can review reports for each platform and see which posts are performing well.
Cons:
Tagging people on WhatsApp Business is a pain because there is no integration for it. This is a big issue for me since WhatsApp is the main form of communication where I live.
Verified Reviewer
Digital Marketing Manager in US
Verified LinkedIn User
Computer Software, 11-50 Employees
Used the Software for: 2+ years
Good and Getting Better
Comments: Zoho products usually drive me nuts but Zoho Social is pretty good - to the point I've jumped with excitement as a new feature was added and actually took the time to write them and thank them. In the last, I've used SproutSocial, HootSuite, and some others. This is pretty close but way more affordable. The downside is that we have Zoho One and I can only run one brand. I have to pay to add a second and that's a bummer.
Pros:
It was pretty stripped down when I started using it, but they've been adding lots of features, like the ability to set up a post and then customize it by network and being able to add network-specific mentions in one post. The calendar tool is also quite helpful, though I wish I could look at historical posts the same way. I don't think I've ever had a post fail either. It's a pretty smooth experience.
Cons:
The reports page is a little funky. Even when you customize, you still can't create a single display of your chosen metrics for all networks in one place. They also have a feature that shows you if you're scheduling at the right time. It says something like "this post is likely to reach 70% of your most engaged followers." The platform I used before would suggest times and tell you when to post - you don't get that here - only a notice if you guess it right. It can also be a bit glitchy. For example, if you add an emoji or link (I don't recall which), it'll jump the cursor around while you type. It doesn't always play nice with Grammarly. Sometimes I catch my spelling errors after I've scheduled something and then have to go edit each post individually instead of fixing them all in one place when it's being written. It also doesn't have all available emojis. I usually look up emojis elsewhere and then copy/paste. These things don't really distract from usability though… you just learn to work with the quirks.
Pamela
Owner in US
Verified LinkedIn User
Professional Training & Coaching, 2-10 Employees
Used the Software for: Free Trial
Source: GetApp
I've kicked the tires on several programs and decided to go with Zoho
Comments: I've been kicking the tires of Zoho Social for the past 14 days. I have dived into its many features and compared it to other platforms that I have also been testing out. First, let me say that there are some extremely good platforms out there, but I've chosen to go with Zoho Social for a few reasons. I don't want to make this too long, so I'll just mention the features that won me over: I can grab photo and video content directly from not only Canva, but also Dropbox. As I build up my content library, I will need to store all of this content somewhere, and I already had a Dropbox account so decided to use it for that purpose. Out of the platforms I tested (which was by no means all of them) I found Dropbox integration missing, but Zoho has it. For some reason on other platforms, when I post video content to LinkedIn, a viewer of my post has to click over to the 3rd party platform to watch the video, rather than watching it natively on LI. This issue didn't happen on Facebook, only LI -- but it is not an issue at all with Zoho. Not sure why this happens, but that was not a good feature IMO and was one of the reasons I went with Zoho over another platform. Zoho's UI could be a wee bit better architected - again my opinion - but it is lightyears ahead of another platform that I had been using and came to dislike because it is just too kludgey. In comparison, Zoho's UI is lightyears better -- and it has the advantage that you can keep multiple brands separate from each other
Pros:
Dropbox and Canva integration, Multiple brands managed separately, analytics on my dashboard, the ability to customize posts per-platform, excellent customer service
Cons:
The only thing I would improve a bit is the UI/menu options. I found Buffer's UI more intuitive and clear, but Zoho's brand management and scheduling options won out over Buffer
Bailey
Consultant in US
Verified LinkedIn User
Management Consulting, 2-10 Employees
Used the Software for: 2+ years
Alternatives Considered:
Best Social Scheduler of Them All
Comments: Zoho Social is an essential part of my business and I couldn't function without it.
Pros:
Zoho Social has been the best social media scheduler I have ever used. It can actually post to Instagram. It has specific brand management and makes reporting for my clients super easy. The pricing is awesome! I can build the package to my news and reduce as needed. The clean design works great and the app makes things really mobile. I think my favorite part though is that I've experienced the improvements they've made so they are actively looking on improving and making it even better.
Cons:
They updated and fixed most of the cons. I couldn't use it for one of my clients for awhile because it didn't have Facebook Group posting but now it does so that's not really an issue. I do wish that if I was linking a video it could take a thumbnail for Instagram the way it does for Twitter.