15 years helping Canadian businesses
choose better software
Local product
What Is AgencyAnalytics?
AgencyAnalytics is the #1 no-code marketing reporting software for agencies. Save time, boost revenue and impress your clients with insightful reports and live dashboards that show your full marketing impact.
Monitor all of your marketing channels in one place. AgencyAnalytics integrates with more than 75 platforms to report on SEO, PPC, call tracking, social media, email marketing, and more. All fully white labeled for your agency. Full suite of SEO tools included.
Who Uses AgencyAnalytics?
Serving digital marketing agencies, media companies, brands, multi-location franchises, and freelance marketers in all industries.
Where can AgencyAnalytics be deployed?
Cloud-based
On-premise
---
About the vendor
AgencyAnalytics
Located in Toronto, Canada
Founded in 2009
AgencyAnalytics pricing
Starting Price:
US$12.00/month
Yes, has free trial
No free version
AgencyAnalytics does not have a free version but does offer a free trial. AgencyAnalytics paid version starts at US$12.00/month.
Pricing plans
get a free trial
About the vendor
AgencyAnalytics
Located in Toronto, Canada
Founded in 2009
AgencyAnalytics videos and images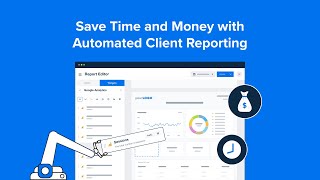 Features of AgencyAnalytics
Activity Dashboard
Ad hoc Reporting
Audit Management
Backlink Monitoring
Campaign Analytics
Campaign Management Software
Campaign Tracking
Client Management
Collaboration Tools
Competitive Analysis
Conversion Tracking
Customizable Dashboard
Customizable Reports
Dashboard Creation
Dashboard Software
Data Import/Export
Data Visualization Software
Drag & Drop
Engagement Tracking
Goal Setting/Tracking
Keyword Rank Tracking
Keyword Research Tools
Keyword Tracking
Link Management
Multi-Account Management
Multi-Campaign
Multi-Channel Attribution
Multi-Channel Data Collection
Multiple Data Sources
Performance Metrics
Project Management Software
ROI Tracking
Reporting & Statistics
Reporting/Analytics
Social Media Integration
Social Media Monitoring Software
Time on Site Tracking
Web Traffic Reporting
Website Analytics
Alternatives to AgencyAnalytics
Reviews of AgencyAnalytics
Glenn
Chief Client Advocate in New Zealand
Verified LinkedIn User
Used the Software for: 6-12 months
Reviewer Source
Best overall SMB Reporting tool hands down
Pros:
We are a consulting business with many small to medium business clients. One of the biggest challenges they face is a lack of visibility of their online marketing. The agency analytics platform beautifully and simply consolidates data from all the major platforms that our clients utilise. This saves them (and us) from having to receive, find or generate multiple reports from multiple platforms. Let's face it most SMB's won't even bother! The increased visility has massively increased the trust and value seen in our relationship and that is an integral part of our business.
Cons:
ONly a single white-label option for logos etc. Rather than constantly promoting ourselves with the images and logos etc we would much rather personalise it to each customer so they then get an even stronger sense of ownership of the data. if they saw it as THEIR reporting platform i strongly believe that the length of contract and LTV of each client would be much greater AND they could even keep the reporting platform on if they move agencies.
Colin
Managing Director in UK
Verified LinkedIn User
Marketing & Advertising, 2–10 Employees
Used the Software for: 2+ years
Reviewer Source
Efficient reporting saves time, core part of business
Comments: We have been using AA for 4 years now and in that time Agency Analytics has become a core part of our business offering, allowing us to provide real-time reporting to our SEO clients. A lot of agencies only send monthly reports, often late - whereas with Agency Analytics our clients can always see their results and ROI anytime of the day or month without having to wait. The dashboard and reports can be fully customised to only show the info that clients want to see, and there are dozens of different integrations with other platforms.
Pros:
Saves me time every month, automated reporting, live reporting dashboard, dozens of integrations
Cons:
Haven't had any significant issues, and the features we requested were implemented
Alternatives Considered: Semrush
Reasons for Choosing AgencyAnalytics: Agency Analytics reporting system is magnitudes better and of course includes rank tracking which is essential for SEO.
Switched From: Raven Tools
Reasons for Switching to AgencyAnalytics: Significantly better and more developed product offering.
AgencyAnalytics Response
2 years ago
Thanks for your feedback Colin!
Sarfaraz
SEO Manager in India
Verified LinkedIn User
E-Learning, 1,001–5,000 Employees
Used the Software for: 6-12 months
Reviewer Source
Very Responsive SEO Tool For Data & Reports
Comments: My overall experience with AgencyAnalytics is truly excellent. I have been using their software for many years, and it has been instrumental in streamlining some of my business processes. The user interface is easy to navigate, making it suitable for both inexperienced and experienced users alike. The reporting capabilities are second-to-none, allowing me to pull meaningful insights from the data quickly and easily. Support is highly responsive and incredibly helpful when needed. Furthermore, the pricing is quite reasonable compared to other similar solutions on the market. I would confidently recommend AgencyAnalytics to others without hesitation!
Pros:
I have used AgencyAnalytics for a significant period of time and I must say, it is an exceptional piece of software. Its performance tracking feature allows me to quickly gain insights into how well my campaigns are performing, making it easy to identify which ones need further optimization. With its intuitive and user-friendly design, I am able to set up projects and monitor key metrics with minimal effort. Finally, another perk I really appreciate is the automated report generator that creates professional reports in a matter of seconds. All in all, these features make AgencyAnalytics an essential tool for any marketing team or agency that is serious about gaining an advantage over their competition.
Cons:
One part of AgencyAnalytics software that I found the least enjoyable was the inflexibility of the reporting. It was difficult to create reports with more robust analytics, such as multiple metrics and detailed segmentation, without having to manually input data sources. The platform had limited capacity when it came to configuring report dimensions and tracking custom dimensions, which severely limited my ability to gain the insights I wanted from our performance reports. Furthermore, there were quite a few occasions where I encountered bugs in their software or had difficulty getting technical support for my issues. All these things combined led me to have a less favorable experience with AgencyAnalytics compared to other analytical platforms I have used before.
Nicole
Director of Brand Marketing in US
Marketing & Advertising, 2–10 Employees
Used the Software for: 1-5 months
Reviewer Source
The Ultimate Time-Saver
Comments: We came to Agency Analytics for better monthly reporting, but the dashboards have completely transformed our analytics processes. The report templates and auto-send feature cut my monthly reporting time in half, and the reports also look really nice!
Pros:
I LOVE the customizable dashboards. Being able to select the data points I want - and removing what I don't need - is a huge pro for me. It's so streamlined, clean and easily digestible.
Cons:
This is small - and I'm digging for a con, because I think it's a nearly perfect platform - but it would be nice to be able to add a manual page to the monthly reports, where I could upload images (such as screenshots of notable social media engagement).
Alternatives Considered: Sprout and Hootsuite
Reasons for Choosing AgencyAnalytics: I wanted a cleaner-looking report, with more customizable options. Traject offered the same data options, but I didn't like how it was presented. It was difficult for our clients to understand.
Reasons for Switching to AgencyAnalytics: The customizable dashboard, pricing and beautiful, clean-looking reports that can be auto-scheduled.
AgencyAnalytics Response
2 years ago
Thanks for your feedback Nicole! I will pass your suggestion along to our team.
Verified Reviewer
Verified LinkedIn User
Marketing & Advertising, 2–10 Employees
Used the Software for: 2+ years
Reviewer Source
Perfect Software for Marketing Agencies Handling Multiple Clients
Comments: Overall, I'm generally pleased with Agency Analytics.
Pros:
I really like the organization of this software and the vast amount of integrations. I also like that the Agency Analytics team takes feedback and makes updates based on the feedback. They've had a few updates with my feedback implemented.
Cons:
They don't offer grid tracking for Google maps which means we have to use another software for that.