Kustomer
What Is Kustomer?
Kustomer is the top-rated CRM, helping top brands deliver modern customer service that creates customers for life. Powered by AI, Kustomer scales to meet the needs of contact centers and businesses,
Read more
enabling companies to deliver effortless, consistent and personalized service and support through a single timeline view. Founded in 2015 by serial entrepreneurs Brad Birnbaum and Jeremy Suriel, Kustomer has raised over $174M in venture funding.
Read less
Who Uses Kustomer?
Mid-market and Enterprise. Retail/etail, Marketplaces, Subscription companies, Healthcare, Financial, Professional services, Software/tech, Wholesalers, Logistics and transportation services.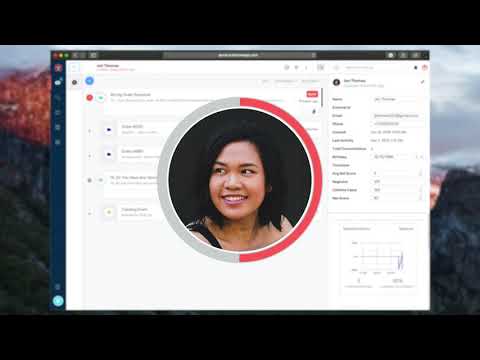 Not sure about Kustomer? Compare with a popular alternative
Not available in your country
Jisselle
Director of Customer Success in Trinidad and Tobago
Verified LinkedIn User
Food & Beverages, 11-50 Employees
Used the Software for: 2+ years
Alternatives Considered:
Kustomer is a great omnichannel CRM!
Comments: I love that Kustomer is so sleek and well-designed. It isn't clunky, or hard to use. It's really streamlined. The reporting is A+, it's very in-depth for not just the customers but also your team. It works really well in tracking team performance and productivity, as well.
Pros:
I love the VERY in-depth reporting! No other HelpDesk or CRM has such thorough reporting. Having full visibility of the customer insights, help with retention and growth!
Cons:
It's on the expensive side. They only take on companies that can purchase 8+ seats, so it's not suitable for smaller businesses.
Verified Reviewer
CTO in US
Verified LinkedIn User
Financial Services Software, 11-50 Employees
Used the Software for: 1+ year
Alternatives Considered:
Highly Configurable Customer Chat Tool
Comments: Overall it's a great tool for our customer support and in-app chat use case. They are generally responsive to
issues that we have with the tool. Their SDKs leave a bit to be desired though.
Pros:
Kustomer is a great tool for customer support and chat interaction. We were previously using Intercom but felt left behind as they started to focus more on being an inbound sales tool. Kustomer allows is highly configurable in terms of features/functions and in its integration with outside tools.
Cons:
The web interface has a bit of a learning curve as it's not the most intuitive UI. Additionally, their SDKs can be difficult to integrate due to poor documentation, unusual integration patterns. Their iOS SDK is written in Objective-C which is quite dated at this point.
Ahmed
SME Mentor Support in Egypt
Health, Wellness & Fitness, 201-500 Employees
Used the Software for: 2+ years
I think that Kustomer is one of the best softwares used for customer service
Pros:
How easy is it to use to help Customers either through calls emails or chats and that we can integrate it with too many different softwares to help the customers quickly with their inquiries
Cons:
that it sometimes takes time for the report exported to be sent to your email and sometimes I have to export it again as it may not arrive.
Mariam
Partner vertical lead in Georgia
Verified LinkedIn User
Consumer Services, 51-200 Employees
Used the Software for: 2+ years
Chats, Emails and data - together
Comments: Overall, it is a good platform, you can have access on past data with customers, couriers and partners profiles chats,emails and calls. Thats really good.
Pros:
I like that I can control daily KPIs and it is easy to track it. Also, you can track surveys, quantities and also integration with other platforms.
Cons:
I think that it could be better if it does not have some bugs. Also, it will be great if we were able to save Team pulse on a channel which we use (every move clears it).
Emily
Communication Operations Manager in US
Leisure, Travel & Tourism, 51-200 Employees
Used the Software for: 6-12 months
Alternatives Considered:
Intuitive, Easily Customizable, Kustomer has been a great solution for our company.
Pros:
With Kustomer, personalization and customization is incredibly easy. Overnight we were able to set up chatbots, FAQ pages, contact forms, and other features we had been relying on our engineering team to create for us with our previous CRM platform. The team loves how tickets are centered around the customer so we have a full picture every time we need to help someone.
Cons:
Filters for new searches can be a bit tricky to set up to ensure that you're not missing any customer communications. Reporting can also be a bit tricky to set up as there are a lot of parameters to filter through.