Local product
What Is iGMS?
iGMS is the only vacation rental software that automates up to 90% of daily hosting tasks & management. Easily control all OTA accounts like Airbnb, Booking.com, & Vrbo from one multi-calendar. Grow direct bookings with our intuitive Website Builder. Automate your guest communication & cleanings management, accept payments and monitor your financial performance with ease. Collaborate with your team & use rich direct integrations to grow your revenue. Try 14 days for free (no credit card).
Who Uses iGMS?
Short-term rental managers, hosts, and companies with 3-500+ properties who want to simplify their daily operations, save time, and scale business with easy-to-use vacation rental management software.
Where can iGMS be deployed?
Cloud-based
On-premise
---
About the vendor
iGMS
Located in North Vancouver, Canada
Founded in 2015
Languages
English, Italian, Japanese, Spanish
iGMS pricing
Starting Price:
US$20.00/month
Yes, has free trial
No free version
iGMS does not have a free version but does offer a free trial. iGMS paid version starts at US$20.00/month.
Pricing plans
get a free trial
About the vendor
iGMS
Located in North Vancouver, Canada
Founded in 2015
Languages
English, Italian, Japanese, Spanish
iGMS videos and images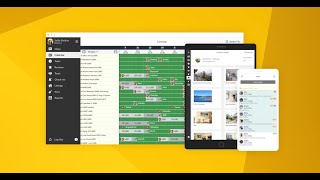 Features of iGMS
CRM Software
Channel Analytics
Channel Management Software
Contact Management Software
Dynamic Pricing
Employee Management
For Vacation Rentals
GDS/OTA Integration
Guest Communications
Guest Experience Management
Housekeeping Management
Inventory Control Software
Lead Management Software
Maintenance Management Software
Online Booking
Order Management Software
Owner Statements
Payment Processing Software
Rate Management
Reporting/Analytics
Reservations Management
Third Party Integrations
Vendor Management Software
Work Order Management
Pat
Owner in U.S.
Verified LinkedIn User
Real Estate, 2-10 Employees
Used the Software for: 6-12 months
Great Features & Value
Comments: I had completely outsourced the management of by vacation rental to a national firm, but the results were horrible. iGMS helped me grow by over 50% AND add 3 new units with LESS effort than I had put in before I went with the national firm.
Pros:
Simple integration to both AirBNB & VRBO, templatized & ad hoc guest communication, and seamless notification to our cleaner.
Cons:
When I started with iGMS, it was AirGMS and only for AirBNB. They quickly added VRBO, so my 2 primary channels were covered. I'm looking forward to the direct booking and Booking.com features coming later in 2020.
Alternatives Considered: FantasticStay, Hostaway, Guesty and Lodgify
Reasons for Switching to iGMS: I have a seasonal rental business and iGMS only charges me when I have rentals. It also has all the features I needed and a roadmap to add ones that I'd like. It's a tremendous value!
iGMS Response
3 years ago
Hello Pat, Thank you for the time you took to review your experience with us in such detail. We really appreciate that. It is a great honor to hear that your business has grown bigger with us and that our onboarding, Unified Inbox and cleaning management tools have been of significant aid to you. As for the pricing, we are always glad to offer any help possible to support member of hosting community. And just remind you that Booking.com along with the direct booking engine are on their way to be released in Q2-3 2020. Looking forward to hearing from you! Best, iGMS Team
Tina
Website Developer in U.S.
Online Media, Self Employed
Used the Software for: 1-5 months
My client is tickled pink with IGMS
Comments: It takes time to get it down pat but once the lightbulb comes on you kick yourself that it was that easy. Overall it is a delight to have it done and how great it works. My having a very happy client is all that counts and he is tickled.
Pros:
Combines almost all aspects of the business into one area of management. It was also very easy to set up the widgets on the website's reservation page. If one has a phone order, it's nice to just do it from within IGMS's channel manager software and no longer have to invoice or keep accounting records, since we can now do that with Stripe. (no more quickbooks!)
Cons:
The could clarify the two different types of direct booking, one in using the calendar to block off time and one being the widgets on the website. Calling everything Direct Booking on their help pages, was very confusing. Also, they need to explain upfront that one must group their properties. For some reason, I only ran across that information by happenstance. One overall document of help is needed from step one to step 100. Too many help documents is consuming.
Alternatives Considered: Guesty and Hospitable.com
Reasons for Switching to iGMS: I was working with my other client and we started talking about the various channel managers out there, each of us testing each one and IGMS was best suited for this new client.
iGMS Response
6 months ago
Hello Tina, We are thrilled to receive such an incredible review from you. Thank you for your useful feedback. We will definitly look into your suggestions. We pride ourselves in listening to our customer's needs to make the journey with us as streamlined and uncomplicated as possible. Thank you for using iGMS and if you have any further feedback, please share it with us at [email protected] Best, iGMS Team
Bryce
Policy Manager in Australia
Hospital & Health Care, 1,001-5,000 Employees
Used the Software for: Free Trial
Really wanted this product to work - Customer support makes this product terrible
Comments: Program = awesome
Customer service and support is a deal breaker. Overall, very poor experience
Pros:
The features and ability to edit your products pricing, content is above the rest The reports are awesome and the dashboard is easy to use The calendar is good visually
Cons:
As other users have mentioned setup is a challenge however being reasonable tech savvy I got it all together....however a lot of the guides are dated and lack detail therefore this process was slower than it should have been. Finally I ran into issues which were beyond my control and repeatedly requested customer support to look into it, however all they did was repeat the same answers over and over without identifying a solutions. In the end I cancelled my subscription and only then did they come back and say 'ah actually it is an issue on our end, but before you have now cancelled we cannot fix it' I really did want to use this program but even after replying to that message they still had no accountability or wiliness to provide proper support and customer service - If this company starts investing in proper customer support they will trump their competition, until that happens beware if you use this system.
Hospitality, 2-10 Employees
Used the Software for: 2+ years
clunky software that gets the job done
Comments: so-so, better than nothing but i've moved on to Guesty
Pros:
it at least physically worked and was cheap when I was starting out
Cons:
clunky, couldn't edit my direct booking site at all, pricing never integrated with airbnb properly
Ruth
Owner/ Primary host in Trinidad and Tobago
Hospitality, 2-10 Employees
Used the Software for: 1-5 months
Seamless integration with various short term vacation rental platforms
Pros:
Having seamless integration across the major short term/ vacation rental booking channels is critical when dealing with several properties. IGMS has help me, as a host, have a clear view of the operations of my business from inquiry to housekeeping and maintenance management.
Cons:
The mobile application is sometimes slow to load or lagging.
Alternatives Considered: Smoobu and Guesty For Hosts
Reasons for Switching to iGMS: Features available for the price. The look and feel of the software.
iGMS Response
2 months ago
Dear Ruth, Thank you for your review! It's great to know that our platform is helping you improve your business management and make your life easier! If you have any questions, you know where to find us at [email protected] or via Live Chat. Best, iGMS Team