What Is Donorbox?
Donorbox is a powerful fundraising software that is simple to set up and attracts more recurring donors. Start fundraising with a fast, optimized donation payment system in 15 minutes. Our platform, available in 9 languages and 28 currencies, makes the donation checkout process quick and effortless by supporting donations via cards, PayPal, ACH bank transfers, and Apple and Google Pay. Quickly embed a customizable recurring donation form in your website or utilize our campaign fundraising pages.
Who Uses Donorbox?
Donorbox supports over 50,000 global organizations and individuals, including non-profits, charities, schools, churches, open-source projects, and medical research groups.
Where can Donorbox be deployed?
Cloud-based
On-premise
---
About the vendor
Donorbox
Located in San Francisco, US
Founded in 2014
Donorbox pricing
Starting Price:
Yes, has free trial
Yes, has free version
Donorbox has a free version and offers a free trial.
Pricing plans
get a free trial
About the vendor
Donorbox
Located in San Francisco, US
Founded in 2014
Donorbox videos and images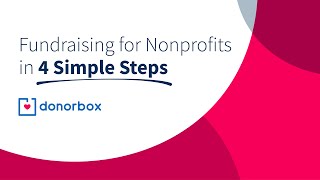 Features of Donorbox
CRM Software
Campaign Management Software
Contribution Tracking
Dashboard Software
Donation Tracking
Donor Management
Event Management Software
For Nonprofits
Membership Management Software
Online Giving
Payment Processing Software
Pledge Management
Receipt Management
Recurring Giving
Austin
Development Director in US
Nonprofit Organization Management, Self Employed
Used the Software for: 2+ years
No brainer!
Comments: It's been a breath of fresh air. Prior to Donorbox I have used Classy, Salsa and Network for Good. Each have annual fees and yearly contracts, if you move from one of them then your monthly donors don't transfer, lame! Donorbox was made with the nonprofit in mind. It has all the functionality I need and it's easy to customize and manage donors. I wish I would have switched to them earlier.
Pros:
- Best reoccurring giving. - Use of partners that do it better. Unlike other CRMs that try to do it all. Donorbox has API's already set up with Mailchimp and they use Stripe and Paypal. If you have used (and struggled with) Salsa or Network for good then you know the significance of this. Donorbox provides a powerful set of tools where the small nonprofit can thrive and continue focusing on their mission. - No annual cost or contract and low processing fee. - Forms are easy to create and customize.
Cons:
You can make the crowdfunding and donation form a Peer-to-peer fundraiser. Which is cool. I think it would be better if I could just create a peer-to-peer form and be able to customize it a little bit more. Still functional but I bet it could improve.
Alternatives Considered: Kindful
Reasons for Choosing Donorbox: Network for good seems good on the surface and those salesman can deliver a good presentation. It wasn't until a month into the contract that I started to see all of the flaws and when I would suggest edits to the developers, nothing ever happened. I used them for two years. Stagnate, stuck in the early 2000s. There were three major reasons I switched. I'll only share one of those reasons; with NFG, when a donor signs up to give monthly it gives them the option to select how long (ex. 6 months, 1 year, forever ...). Even though it is easy to cancel a reoccurring donation, "forever" is a serious word so everyone selects a different option. Then their payment processor isn't smart so when a CC expires or when the billing address changes then the reoccurring donation stops. So lame and unnecessary (built for the donor not the nonprofit). I found myself doing a lot of work just to get donors to sign back up. With the correct technology, thank you Donorbox, this isn't a struggle. Contract and annual fee was a big turn off. Salsa: Contract and annual fee can be a killer. Salsa has some cool tools. I ultimately switched from Salsa because I lost a $15,000 online donation from someone in Hong Kong. Their payment processor wouldn't allow it in that area. The donor got sketched out. Gone. Lame.
Switched From: Network for Good and Salsa Engage
Reasons for Switching to Donorbox: Cost, features and customer service.
Gwendellin
Educator in US
Education Management, Self Employed
Used the Software for: Free Trial
Happy Donorbox User
Comments: It's efficient, simple, and American. Makes me feel more secure about payments.
Pros:
The tools are easy to navigate and simple. User friendly and intuitive.
Cons:
I haven't seen anything I don't like about the software.
Katie
Lead Team in Germany
Religious Institutions, 11-50 Employees
Used the Software for: 2+ years
Good Care Support
Pros:
Customer Support is very quick and pleasant to work with. From our experience they are also open to feature improvement suggestions.
Cons:
The events/ticketing option doesn't have Euro option yet
Emily
Administrative Assistant in US
Religious Institutions, 2-10 Employees
Used the Software for: 1-5 months
Donorbox Review
Comments: I appreciate the clean looking form and the results we have achieved so far. I recommend using Donorbox!
Pros:
I like the price and the quick set-up. It is very easy to set up and use.
Cons:
I did have trouble getting my embeddable code formatted in the way I liked it. Donorbox employees responded quickly, but it would be helpful if code formatting documents (like the ones already written) could be requested based on the website host.
Alternatives Considered: iDonate and Snowball
Reasons for Switching to Donorbox: Price, formatting, function
Nonprofit Organization Management, 2-10 Employees
Used the Software for: 2+ years
Highly recommend
Pros:
Easy for users to pay and checkout, easy to use on the administrative side. We like the ability to customize each campaign, the donation meters, and the ease of downloading lists of donors. It's been particularly helpful for peer-to-peer fundraising: we set up a campaign for each fundraiser, making it possible to customize each fundraiser's goal, donation increments, colors, thank-you notes, everything. It's been a great addition to our website and one we're happy to recommend.
Cons:
No issues or complaints. Easy to use, easy to implement.
Donorbox Response
3 years ago
Hi Erin! Thank you so much for your awesome review of Donorbox! We really appreciate your feedback and we're thrilled that you're enjoying your experience with us. If you ever need our help or have any ideas on features you'd like to see, please feel free to contact us on https://donorbox.zendesk.com/hc/en-us/requests/new. We'd love to hear from you!