Gladly
What Is Gladly?
Gladly is a Radically Personal Customer Service Platform. Unlike legacy customer service platforms that are case centric, only Gladly is designed with people at the center and uniquely enables a
Read more
single lifelong customer conversation from voice to modern messaging. Gladly powers some of the most innovative consumer companies like Crate&Barrel, JOANN, and TUMI to deliver exceptional customer experiences and makes customer service a competitive advantage.
Read less
Who Uses Gladly?
We partner with SMBs and large Enterprise B2C companies in Retail, eCommerce, Travel and Hospitality as well as contact centers to keep up with today's customer needs.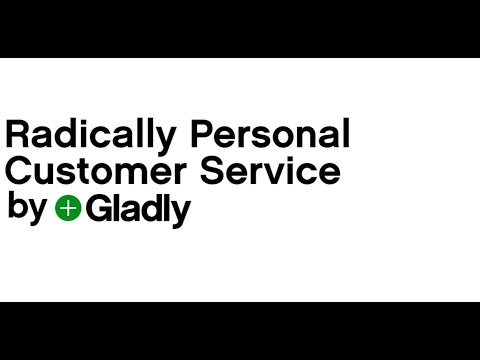 Not sure about Gladly? Compare with a popular alternative
Drew
Director of Operations and CX in US
Verified LinkedIn User
Retail, 10,000+ Employees
Used the Software for: 1+ year
Gladly - You'll be glad you did!
Comments: Gladly is a phenomenal company to partner with. Their software is a leader in this space and the team supporting it truly partners with their customers for success. From the sales process, to implementation and even post install support I have always felt like I was the most important customer to Gladly. My guess is all of their customers feel the same way I do!
Pros:
Gladly is an easy to use, all in one software that allowed us to eliminate multiple, fragmented products we used previously to support our customers. Gladly offers a true 360 degree view of our customers in a UI that is as easy as using a smartphone to text with.
Cons:
No real cons to report as anything I felt would make my teams experience better on Gladly they implemented shortly after I recommended it.
Rica Mae
Quality Assurance Specialist in Philippines
Consumer Services, 501-1,000 Employees
Used the Software for: 6-12 months
QA Specialist POV of Gladly
Comments: I am specialize to check for every interaction of our representatives with the customers to ensure that we are providing quality conversations while performing the correct processes and following the policies of the company.
Pros:
What I like about this product is we can close out a ticket once we finished the conversation. We no longer need to go to a different tab to close a ticket. Additionally, I love that it has SMS and can track history of the member's purchases.
Cons:
We cannot see when and who updated the Gladly Profile of the member.
Consumer Goods, 501-1,000 Employees
Used the Software for: 1+ year
Review
Comments: 6 out of 10
Pros:
Gladly is pretty reliable and easy to use
Cons:
The ringtone of calls is horrible. Should be customizable
Benny
Director of Customer Experience in US
Food & Beverages, 51-200 Employees
Used the Software for: 2+ years
Alternatives Considered:
Would not use any other Platform
Comments: Great! This helps us be more efficient and put our customers first.
Pros:
It creates a great Omni-channel experience for our team. We can work seamlessly through all of our channels and understand how everything is performing.
Cons:
Not anything I would call out. I have been an Admin for years across two companies and have no complaints.
Giamae
Billing and Fraud Prevention Team Lead in Philippines
Health, Wellness & Fitness, 1,001-5,000 Employees
Used the Software for: 1+ year
The Most User-Friendly Tool
Comments: So far after our transition from the previous tool,
Pros:
The feature I like the most is the Task. We are able to tag and set due dates on tasks which is really helpful for us to be more efficient. Conversations from different channels from the same user also show in one conversation only. Lesser tickets for us
Cons:
The least favorite thing for me is that when the tool is idle it does not auto close or keep open