Salesmate
What Is Salesmate?
Salesmate helps businesses close more deals faster. Our easy-to-use interface and automated workflows let your sales team focus on the right deals at the right time. Never miss a beat and start
Read more
closing more deals. Some of our hottest features: - Built-in Calling w/ Power Dialer - Customer Journey Automation - Email Drip Sequences - Workflow Automation - Meeting Scheduler - Web forms Give us a free test ride today and our friendly staff is ready to help you!
Read less
Who Uses Salesmate?
We help businesses of all sizes to help grow their sales teams with fun and easy to use CRM that sales teams love to use.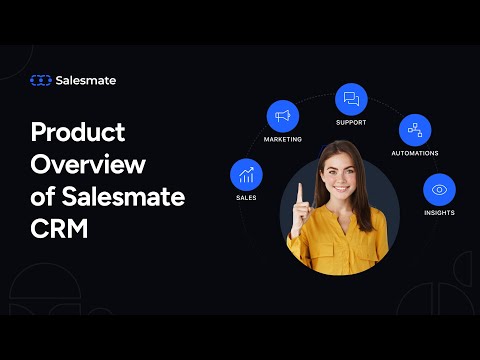 Not sure about Salesmate? Compare with a popular alternative
Alternatives to Salesmate
Steve
Owner in US
Verified LinkedIn User
Marketing & Advertising, 11-50 Employees
Used the Software for: Free Trial
Alternatives Considered:
After trying EVERY CRM I could find on Google THIS IS IT!
Comments: Amazing. Simply awesome. All I needed was a CRM that could 1. Send and receive emails in 2. Contact new leads from 3. Track email opens 4. Have a pipeline tracking feature 5. Have a way to create tasks 6. Allow me to use my signature. Those aren't crazy requests I don't think but out of allllllll the CRM's I tried they all either wanted way too much money for 1 of those features or didnt do them right. Ill say more about this in the next section.
Pros:
I tried literally every CRM I could find on Google and nothing worked until I found Salesmate. I'm honestly struggling to write this review only because I keep rambling on about features I love that it gets way too long. Bottom line for me is this just works! It's so easy to use, easy to set up, every feature works (which may sound weird but I have had at least 10 other CRM's that features didn't work right or I had to do some kind of workaround to have a basic email workflow), the layout is fantastic, the mobile app works great, the price is good - I can't fault this! And when I say I tried every other CRM I could find, I mean it. I didn't try Salesmate sooner because I couldn't find it sooner. I can't recommend Salesmate enough and again - I have tried SO MANY other CRM's including Hubspot, Zendesk Sell, Nutshell, Pipedrive, Keep, Salesforce, Monday.com, ClickUp, Airtable, the list goes on and on and on. This is honestly the best. Just sign up for Salesmate. If you are still reading, just do it!
Cons:
The only thing I can say is within the deals page when you click on a deal I wish that was laid out a little better. But I am truly nitpicking here. You can work everything just fine, I have had no issues, it's so easy to keep track of everything, I just wish this one page was a little easier but in my opinion that is not a reason to avoid this platform. Again, just sign up. I love everything about this platform. I will say, I haven't experienced the customer service yet but there is a chat icon right at the top of the screen and already that is better than a lot of other CRM's I've tried.
Jason
Owner in US
Verified LinkedIn User
Education Management, 11-50 Employees
Used the Software for: 6-12 months
Alternatives Considered:
Absolutely a lifesaver!
Comments: Love it. Before this we were logging things manually and doing SO MUCH copying and pasting. It's just fantastic.
Pros:
Integrated SMS, Email, etc. I tried many different CMS's. This one is by far the best for our situation. We just log in, go through the notifications, etc. Just works. Great follow up features, etc. The templates are such a lifesaver!
Cons:
Email isn't perfectly reliable. SMS needs to be less than 160 characters to be 100% reliable.
Alex
Business Development Manager in US
Health, Wellness & Fitness, 2-10 Employees
Used the Software for: 6-12 months
Review of Salesmate
Comments: Utilitarian
Pros:
Pipeline Graphic is easily accessible and digestible
Cons:
The data sharing capabilities could be improved.
Music, 2-10 Employees
Used the Software for: 2+ years
SalesMate = Excellent 24/7 Customer Service
Pros:
The agents who provide excellent 24/7 Customer Service, fully addressing every question or concern.
Cons:
With so many features, I simply cannot find the time to learn them all.
Faith
Client Relationship Manager Lead in US
Staffing & Recruiting, 11-50 Employees
Used the Software for: 6-12 months
Salesmat
Comments: Our sales and retention department use Salesmate. Sales have an easier time tracking presentations and deals along with a number of contacts made with the client while tracking calls, too. Our retention department uses Salesmate to schedule calls with current clients. Helps with scheduling follow-ups and activities in order to contact our current clients multiple times.
Pros:
Salesmate allows you to run campaigns through the platform to help with tracking the number of clicks along with your open rate. It's easy to use for follow-ups and scheduled activities. The deal pipeline is easy to use and easily viewed. Salesmate also syncs well with Google calendar.
Cons:
The adopting of Salesmate was easy to transfer. Our company had an easy time integrating with Google Calendar. Salesmate often has trouble with syncing with RingCentral so there are multiple times that you have to re-authorize in order to track and log calls/ recordings.