What Is bob?
Bob is a modern HR platform for modern business. For HR it delivers automation of processes, allows greater oversight, and centralizes data in a secure, user-friendly environment. For managers, it gives access to insights to lead more effectively. For employees, it's the tools and information they need to connect, develop, and grow. In a short time, Bob can be deployed to enable communication, collaboration, and connectivity that drives stronger engagement, productivity, and business outcomes.
Who Uses bob?
Bob helps modern, mid-size, fast-growing companies increase performance and retention, leading to healthier and more productive teams.
Where can bob be deployed?
Cloud-based
On-premise
---
About the vendor
Hibob HRIS Software
Founded in 2016
Countries available
Canada, Israel, Netherlands, United Kingdom, United States
bob pricing
Starting Price:
Yes, has free trial
Yes, has free version
bob has a free version and offers a free trial.
About the vendor
Hibob HRIS Software
Founded in 2016
Countries available
Canada, Israel, Netherlands, United Kingdom, United States
bob videos and images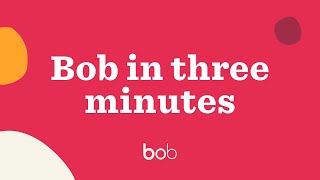 Features of bob
360 Degree Feedback Software
API
Access Controls/Permissions
Activity Dashboard
Alerts/Notifications
Applicant Tracking Software
Benefits Management
Budgeting/Forecasting
Calendar Management
Collaboration Tools
Compensation Management Software
Compensation Plan Modeling
Compensation Statements
Continuous Feedback
Create Subtasks
Customizable Reports
Dashboard Software
Data Import/Export
Deduction Management
Electronic Forms
Email-to-Task Conversion
Employee Benefits Administration
Employee Database
Employee Management
Employee Onboarding
Employee Portal
Employee Profiles
Goal Setting / Tracking
HR Management
Individual Development Plans
Mobile Access
On-going Performance Tracking
Onboarding Software
Online Benefits Enrollment
Orientation Workflow Management
Payroll Management
Peer Appraisals
Performance Management
Performance Metrics
Performance Review Management
Progress Tracking
Provider Management
Reporting/Analytics
Review Cycle Tracking
Salary Planning
Search/Filter
Self Assessment
Self Service Portal
Skills Assessment
Surveys & Feedback
Task Editing/Updating
Task Scheduling
Third Party Integrations
Time & Attendance
Time Off Management
Time Tracking Software
Timesheet Management
Training Management
Vacation/Leave Tracking
Workflow Management Software
Elena
Chief People Officer in Hungary
Verified LinkedIn User
Human Resources, 51-200 Employees
Used the Software for: 1+ year
I've chosen bob over another great product I was using in the past and haven't regretted!
Comments: ease of HR management, also our finance team benefits from easy holidays/absenses management, payroll reports and such.
I'm doing all admin in bob, from contracts to onboarding, org structure, salary changes etc
Pros:
It's very easy to use - user friendly interface, intuitive navigation, you can find whatever you need in the matter of seconds even if it's your first experience with the platform It's beautiful - our employees love it too The support team is amazing - they not only resolve any issues quickly, but they also listen to suggestions and implement them within reasonable time. I love getting product updates as I know that there will be something I asked about. The system features everything you'd want from a modern HRIS and even more - we love club feature and about section - it helps employees learn more about each other and find common interests. There's some functions that I'd love to have but they are not yet there (such as pre-boarding or e-signature) but the guys are constantly working on them and I've seen that for example e-signature is coming within next few weeks.
Cons:
If we are talking about bob as HRIS there's very few things that I don't like, or rather I would like to have and they are not yet there - prebording being one example. I'd love performance module to be more sophisticated but the guys have just introduced it and I see that it gets updated constantly, which is great. also, it's not a separate platform for performance management so I wouldn't expect it have all the features that other platforms dedicted to performance only have. There are other small things (such as I can't send a survey to 1 person only), but they are small compared to all the benefits and again, I know that sooner or later those will be resolved too.
Kate
People & Office Manager in UK
Used the Software for: 2+ years
Easy to use. Comprehensive. Great support. Feedback is acted on. Know you are valued as a client.
Pros:
Being able to feedback and see your feedback quickly acted on influencing the growth of the product. You feel valued and part of the journey. I am a 1 person HR/office team helping out a small finance team for a company of 50 and this software has saved me hours of time and stress. I am not even using it to its full potential yet due to finite time. It has also helped give power to employees where as an example they can see their annual leave so I don't have to keep spreadsheets and constantly update individuals. It is just their. Managers can see their teams, Org charts are great. adding photos so people can see who's who in a growing team and that is just the very tip of the iceberg that is bob. Fantastic.
Cons:
The performance review section. I know when bob developed it they developed a product I was super excited about and holding out for. They, as any business would do, sought feedback and ended up releasing a much lighter touch performance review section based on the feedback. As a result I am going to use another platform which is more suited to my companies needs. However I am sure it will be a very suitable process for many companies, as their own research shows.
Kat
Motion Picture Solutions in UK
Motion Pictures & Film, 51-200 Employees
Used the Software for: 6-12 months
Best HRIS on the market
Comments: Implementation of automation across HR department.
Pros:
1. Very easy to customise and use. 2. Really high standard of cutomer service. 3. Continuous improvements and new features.
Cons:
Some limitations around different shift patterns and rota roastering.
Alternatives Considered: IRIS HR Professional
Reasons for Choosing bob: Previous software was really old fashined.
Switched From: IRIS HR Professional
Reasons for Switching to bob: Promide to meet all requirements
Tory
People Operations in Canada
Financial Services Software, 51-200 Employees
Used the Software for: 6-12 months
An HRIS that does it all and then some!
Comments: Great all around HRIS. I would and have recommended to others.
Pros:
Bob is intuitive, easy to use and gets ahead with all its features. It's not only an employee data management software, it's a one-stop-shop for all-things-employee lifecycle (performance, surveys, compensation, org charting, reporting, etc.). Employees love to use it because it provides value to them outside of simply storing their data with things like shout-outs, company announcements, clubs, interests, demographics, etc. It's also very beautiful to look at!
Cons:
Hard to pick something to dislike. I will say that sometimes it takes longer to hear back from chat support. I wish they had an implementation team or person to work with you to set the tech up appropriately according to your use case. The implementation is very self-lead, and for someone that is maybe the only person in their department, this can be overwhelming if you can't find the time to dedicate to it. Other than that, I'm very happy with the software and each team member I've had the pleasure of chatting to has been more than helpful and lovely.
Sally-Ann
Senior HR Manager in UK
Management Consulting, 51-200 Employees
Used the Software for: 6-12 months
Intuitive, time saving and effortlessly engaging for everyone who uses it.
Pros:
They are constantly listening to their customers and adding functionalities to Hibob. The rate of innovation to their product is something that I have never experienced before in the HR world. Normally you buy the software and once a year an element of it is updated. With Hibob they very regularly update and improve the system, constantly working on an even better experience for the user and admins. Compared to Hibob our pricey payroll system (from a global market leader) feels like a system from the dark ages! We use HIbob for our 'Pulse' questions to check in with how the company is feeling, we use it for our appriasal process, the reporting is great, booking holidays on it and reporting on holiday is very simple. Love the dashboard for quick answers that in the HR Team we so regularly get asked. The workflows for new joiners and leavers have saved so much team time! We are complete Hibob lovers! The 'Club View' is a great quick way at looking at salaries, who drinks red wine and everything in between!
Cons:
Ummmmmm.....I really can't think of anything...it really is a revolutionary and essential piece of HR kit!