Local product
What Is Supportbench?
Supportbench is a complete customer service management tool that helps you deliver exceptional customer support. We are razor focused in helping teams that have to support other businesses (B2B) in helping to manage all of the complexities that arise when supporting these high volume environments.
Features include survey engine, NPS, CSAT, knowledge base, true data synchronizations to Salesforce, dashboards, analytics, scheduling tools, team scorecards, and customer success health scoring.
Who Uses Supportbench?
Created for teams that are medium to the very large that support external customers, vendors, and partnerships in SaaS, Manufacturing, Startups, Enterprise, and more. We do a lot...
Where can Supportbench be deployed?
Cloud, SaaS, Web-based, Mac (Desktop), Windows (Desktop), Linux (Desktop), Android (Mobile), iPhone (Mobile), iPad (Mobile)
About the vendor
Supportbench Services
Located in Vancouver, Canada
Founded in 2015
Phone Support
Chat
Countries available
Canada, United States
Supportbench pricing
Starting Price:
US$35.00/month
Yes, has free trial
No free version
Supportbench does not have a free version but does offer a free trial. Supportbench paid version starts at US$35.00/month.
Pricing plans
get a free trial
About the vendor
Supportbench Services
Located in Vancouver, Canada
Founded in 2015
Phone Support
Chat
Countries available
Canada, United States
Supportbench videos and images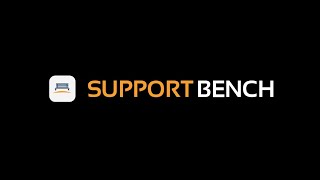 Features of Supportbench
Access Controls/Permissions
Activity Dashboard
Alerts / Escalation
Alerts/Notifications
Appointment Management
Assignment Management
Automated Routing
CRM Software
Cataloging/Categorization
Chatbot Software
Collaboration Tools
Commenting/Notes
Contact Database
Contact Management Software
Content Library
Content Management System (CMS) Software
Customer Database
Customizable Branding
Customizable Templates
Dashboard Software
Discussions / Forums
Email Management Software
Feedback Management
File Management
Full Text Search
Interaction Tracking
Issue Auditing
Issue Tracking Software
Knowledge Base Management
Live Chat Software
Macros/Templated Responses
Multi-Channel Communication
Multi-Language
Performance Metrics
Prioritization
Queue Management
Reporting/Analytics
Routing
Self Service Portal
Service Level Agreement (SLA) Management
Support Ticket Management
Task Management Software
Text Editing
Third Party Integrations
Ticket Management
Widgets
Workflow Configuration
Workflow Management Software
Alternatives to Supportbench
Kevin B.
Business Analyst in Canada
Verified LinkedIn User
Financial Services Software, 51-200 Employees
Used the Software for: 6-12 months
Transitioned from Salesforce Service Cloud, and are never looking back!
Comments: Better workflow in less time, with quicker results. Simply an amazing product, and am excited to see what features are coming down the pipeline.
Pros:
Supportbench was made for and by someone who knows how to support customers, and isn't just a product bolted on top of a sales platform. The workflows presented for support agents is very intuitive, and the ability to log multiple touch points from different platforms is incredible. It has an incredibly bright, visual interface which informs an agent's workflow, not just showing them a backlog of cases or tickets to work on.
Cons:
Supportbench has an abundance of features, with more being added seemingly daily. While you can easily get setup quickly, it can take some time to activate some of the more powerful features, such as workflows/automation; however, with Supportbench's amazing support team, these cons are easily overcome.
Jason M.
Supply Chain Development Manager in Canada
Wholesale, 1,001-5,000 Employees
Used the Software for: 6-12 months
Support Bench - Case Management
Comments: Support Bench does a great job and consolidating cases (emails in regards to my companies data). It allows the teams to understand what cases require immediate actions and what cases are less important. (prioritization). And this prioritization is very flexible and can be tuned to our specific company and team on the platform.
Pros:
Very flexible - Support Bench can be tuned to work the way I want it to. There are different teams within my organization that use Support Bench and they have different needs. We are able to customize workflows based on each teams' needs. The interface is clean and can be modified to suit each user. There are many functions that allow quick handling of cases. Cases are grouped together to keep things clean and concise and saves time when questions arise. The environment is highly collaborative and has allowed the teams to work closer together now than ever before. This has also allowed the teams to provide faster and better support. We can very quickly and easily expand the use of Support Bench within the organization. It is incredibly scalable and there are no concerns about adding users or teams.
Cons:
The learning curve can be a bit high. I think this depends on what you want to accomplish. Because Support Bench is so configurable, it can be easy to add complexity. There was no 'manual' to explain the basics. This would be helpful when getting onto the platform. However, it is a fairly easy system so this is not a big deal.
Maximiliano O.
Support team in Argentina
Information Technology & Services, 11-50 Employees
Used the Software for: 1-5 months
Good for sharing data sent to a distribution list
Comments: Not much, just having all support requests stored in the same place and shared between all team memebers
Pros:
It allows us to see what is going on with all requests sent to our support DL. We stopped relying on emails
Cons:
You can miss replies to already existing cases. Notifications are not good enough. Cases get insanely duplicated
Supportbench Services Response
4 years ago
Thank you Maximiliano for the valuable feedback as your happiness is our top priority. There are different ways to receive and deal with notifications and we will be reaching out to ensure that your system is optimized and your experiences are resolved.
Verified Reviewer
Technical Support in U.S.
Verified LinkedIn User
Information Technology & Services, 11-50 Employees
Used the Software for: 6-12 months
Next-level Customer Contact Management
Comments: Overall, this product has really changed my experience in IT/Helpdesk support. I can't recommend it enough, and hope other companies get on board with using it, as I feel it'll help many other support technicians simplify their time at work, just as it's simplified mine.
Pros:
This software has been incredible in helping us track ticket requests more accurately, with a wonderful interface, to boot. The notes have been a huge help in keeping track of the situations on each ticket, and it does this better than other software, in my opinion. I have yet to see any real errors, which I can't say for a large amount of other ticket-management software out there. The lack of limit on queues has been amazing for keeping things organized and flowing well during heavy-traffic business hours. The interface is also amazingly clean and simple in its design, while still having all the features easily accessible. It's astounding how well this software is designed, and I hope to see it grow. I've learned a lot about what support desk software is capable of without breaking the bank for the company. Every time I've needed help, they've always been able to fix it within a few minutes, as well. They provide truly top-notch customer support that I feel falls off a bit with the more expensive and higher-end software, such as Zendesk.
Cons:
There was a bit of a hiccup as I was learning how to use it, but it ended up being on me. Their customer support came to the rescue once again and helped me sort it out in no time, so I honestly can't say I have a con at this point.
Eilis B.
Customer Service & Process Improvement Manager in U.S.
Wholesale, 1,001-5,000 Employees
Used the Software for: 6-12 months
Working with Supportbench is a partnership
Comments: Supportbench is helping us support our customers as we always have done, but it is now giving us the ability to move to giving our customers a better service as we now have a better understanding of what they need through analytics and data rather then the 'gut feel'. The biggest asset Supportbench has is their team, they are responsive, they want to understand how your business works, and are continuously looking to add value to what they are offering so you in turn can offer more to your customer. When working with the Supportbench team it is a partnership, we are all working together to get the best for our customers and teams.
Pros:
1. The ability to view what types of communications are coming into my team, allowing for more specific and valuable coaching and training of the team. 2. Supportbench allows each 'case' to stay together, by that I mean all emails, phone calls, notes are all in one place, if you want the information you just have to go to one case, instead of looking at multiple emails, notes etc. This is a game changer for my team. 3. the ability to use specific words within the content of an email to prioritize or direct that case to specific team members 4.Ease of customization of the screens, drop downs, create mandatory fields etc 4.Detailed reporting of KPI's for the team, but also specific customer details, reasons for contact, number of contacts, time taken to respond etc.
Cons:
Initially my team were a little resistant to the change, having just used MS Outlook, but with the Supportbench team's support we were able to implement changes that made it more tuned into my teams needs and made it more 'comfortable' for them to use.
Alternatives Considered: Salesforce Sales Cloud, Dixa and Zendesk
Reasons for Choosing Supportbench: Visibility, duplication, reporting
Reasons for Switching to Supportbench: Demo support, presentation by the team, available features, cost