What Is Zoho CRM?
Zoho CRM empowers small to large-sized organizations with a complete customer relationship lifecycle management solution for managing organization-wide Sales, Marketing, Customer Support & Service and Inventory Management in a single business system.
Who Uses Zoho CRM?
Zoho CRM can be used by small, middle and large businesses. You can even build your own version of Zoho CRM. Sell smarter and faster with Zoho CRM.
Zoho CRM Details
Zoho
Founded in 1996
Zoho CRM pricing
Starting Price:
US$20.00/month
Yes, has free trial
Yes, has free version
Zoho CRM has a free version and offers a free trial. Zoho CRM paid version starts at US$20.00/month.
Pricing plans
get a free trial
Zoho CRM Details
Zoho
Founded in 1996
Zoho CRM videos and images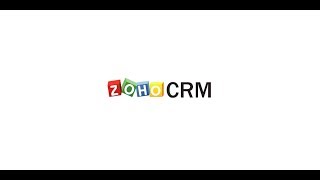 Zoho CRM deployment and support
Support
Email/Help Desk
FAQs/Forum
Knowledge Base Software
Phone Support
24/7 (Live rep)
Chat
Deployment
Cloud, SaaS, Web-based
Android (Mobile)
iPhone (Mobile)
iPad (Mobile)
Training Software
In Person
Live Online
Webinars
Documentation
Videos
Aminuddin B.
Information Technology Manager in Malaysia
Verified LinkedIn User
Telecommunications, 1,001-5,000 Employees
Used the Software for: 2+ years
The best CRM we have use
Comments: Zoho CRM help us to easily managing our customer support and interaction with customer. It is so easy to learn all the features and has help us managing leads coming from the marketing funnel.
Pros:
Zoho CRM is cloud based platform, which mean it can be access from any device with internet connection. Managing a customer relationship tools like emails, quick chat, bot chat, sales call, marketing funnel and social media is very possible with Zoho CRM and the tools is well build with no problem to integrate it with third part service.
Cons:
The are some bugs and glitches that are still not fixed. Sometimes, i can even login to the platform and keep showing an error for the Captcha. Other than that, the email template that are provided is difficult to edit and not many option to customized it.
Damian C.
Consultant in U.K.
Verified LinkedIn User
Management Consulting, 11-50 Employees
Used the Software for: 2+ years
A functional CRM that does the basics and more, well. Fits a business of any size.
Comments: I think there are some very good functions and features in Zoho CRM. It is easy easy to use and also has a raft of potential add-ons in the Zoho Suite that can be used at a small cost such as Zoho Sign which is so simple to use along with Zoho Survey. It can be White Labelled which I like.
Pros:
It ticks our list as a Cloud-based solution after moving from a system on a shared network drive operation. You receive quite a lot for the price. It is built around the sales funnel/channel and does this well. It gives you all the functionality within the leads or accounts fields to record meetings, interactions, emails, phone calls, emailing directly from Zoho and calling from Soho if using a VOIP system. It's actually got good 3rd party cross-functionality with 365 or G-Suite, I use the former with excellent Outlook usage.. Chat functions or messages are easy and can be linked to a client or user and sometimes are a better way to record the customer record that on ordinary business email. I have only needed to contact the support team a few times but each time has been very quick and a swift resolution. I have used some of the automated marketing features and it is definitely something that I will utilise more with any web info request funnelled to Zoho.
Cons:
The UI can look a bit plain for some if you do not know how to customise. Downloading or collating data is not always straight forward. This is also to be said about uploading leads. It is not always clear which part of an upload has failed. However, when the upload does work it is a great time saver. The search function is not that intuitive; I found sometimes unless you type in an exact match it does not return anything.
Tarek B.
CEO in Canada
Verified LinkedIn User
Management Consulting, 11-50 Employees
Used the Software for: 6-12 months
Zoho CRM: A well known name in the industry, but implementation might be complex
Comments: The overall experience with Zoho was very average, in the beginning, we were amazed with the range of features, but in the end, we had to contact the customer service a number of times which added complexity and delays to achieve what our client wanted in the first place.
Pros:
Zoho has a number of interesting functions, including the marketing and the optimization of customer relationships online. The good news about Zoho is that it offers a good free plan to start with and familiarize with the platform, and also see immediate results in the business.
Cons:
With Zoho, you will quickly need to contact a great customer service team located in different countries of the world. This is not necessarily a good thing, although the technicians are very knowledgeable, because the idea behind having a software tool is to reduce the reliance on a third person, the automation of the process, and the independance from a technical talent in the business.
Alternatives Considered: Salesforce Sales Cloud
Reasons for Switching to Zoho CRM: Together with our client, the choice of Zoho CRM mainly relied on its positive reputation in the market, and the reasonable pricing it was offering. However, the choice should not only be based on the pricing, but rather on the actual needs of a CRM for the target business.
Jen W.
Sales Manager in U.S.
Management Consulting, 2-10 Employees
Used the Software for: 2+ years
Source: SoftwareAdvice
You get what you pay for
Comments: Unlike my other review, I only used Zoho as a user, not as an administrator. I can't comment on the customer service, as I never had contact with them. I'm aware of the pricing as I shopped them before choosing the CRM my team uses now. Basically, this is a great free database, accessible by multiple users. It is not a great pipeline tracker. It is not a great system for an efficient data entry process.
Pros:
The best thing about Zoho is that it's free for up to a number of users. Great for a small business who doesn't have a budget for CRM yet and needs somewhere to store information and search it later. It can be simple to use. I always look for a system that you can enter a very minimal amount of information into in order to store a lead or prospect. Zoho is definitely capable of that. I have used this in conjunction with inside and outside sales teams together. It was simple enough for the inside team to look up an account that calls in to see if they've had contact with an outside rep, and vice versa. It's nice that it has a mobile app, though when I stopped using it it was still the least intuitive/useful app I had on my mobile devices.
Cons:
I've used other CRMs, and I noticed that using both Zoho and another (Salesforce) it is very common to happen upon duplicate prospects in the system. It seems like the way an account is entered is not as intuitive in detecting that the account already exists. I've used others that will suggest any contact, address, phone number, name or business that already exist in the company's pipeline literally as you're typing them. With Zoho it's more like you look up each data field first on your own to be sure the account doesn't exist before entering it. That can be pretty tedious for an already tedious job like assisting our reps with data entry. The result is lost notes, because some are on one of the duplicates and some are on the other. I've seen this particular problem cause a lot of lost time and energy for outside reps in particular, who go out to an account not knowing the most up to date information about it. I also found the other tools to be less useful than in other CRMs. For instance, generating a report on your pipeline and what stage the accounts are in. Other CRMs in a similar price range are easily capable of telling a user how many prospects are in follow up or final stages of the sales process. While using Zoho, I actually tracked my pipeline on my own separately using a spreadsheet. It was easier and more intuitive than the CRM offered. Now, leading a team, I would not use this CRM and this would be a big reason why. I can't imagine trying to track the progress of our leads via a team using this CRM's tools.
Vincent M.
C.E.O. in U.S.
Information Technology & Services, 2-10 Employees
Used the Software for: 6-12 months
Zoho One User
Comments: As time progressed my vision has clarified on what I'd like Zoho to do for me. Click a button, send a quote, and simultaneously send me an email for parts and products to send to my distribution vendors for shipping. I can have that all tied into Zoho Books if I want, but we have not looked at Books as of yet. We're going to be utilizing the marketing campaign in the near future. Currently we're utilizing Zoho Sign (DocuSign) for contracts and we're utilizing Workspace (Share Point) where we have a collaborative repository for training materials spreadsheets for our projects that we want to keep track of anything we want to share amongst ourselves that's what we use.
Pros:
As advertised, you can run your entire organization from this enterprise platform that being Zoho One. We heavily use the CRM for generating quotes emailing templates email and quotes and proposals and contact management.
Cons:
Each module can speak to another but on a very limited basis directly out of the box. You'll need to customize each modules ability to speak to each other in the manner you want. This will take some time for you to discover.. be patient, the product is not a "Magic Genie" but could be when you program it to be. You'll discover what you need and want as your use and familiarity increase. I recommend paying for the support from Zoho, it's not expensive if you don't have a lot of people, it's a percentage of your overall licensing fee. You can use the Zoho one support crew to give you any assistance that you need. There are two levels of support you can choose a Zoho partner who has business sense and understands how you're going to use your Zoho product. These Partners are sharp, intelligent groups and know what their doing. Consequently your pricing matches their experience. the Zoho support group has no business sense they're not intuitive they will fix whatever problem you have they will answer your questions, but they do not have business insight
Alternatives Considered: Salesforce Sales Cloud and Dynamics 365
Reasons for Choosing Zoho CRM: We needed something more encompassing and flexible. ACT's firs failure was not being able to integrate with Ring Central. Zoho allows for a click to call and bingo, your on the phone with whomever you're calling.
Switched From: Act!
Reasons for Switching to Zoho CRM: 1. Chose Zoho One for pricing 2. flexibility 3. expandability 4. capability 5. functionality You can program this entire platform work together as one cohesive mechanism. It's truly an amazing platform once you get your head wrapped around the entire concept and you give yourself some time to work with it, I really think you will find it a very solid product. The downfall is it's all cloud based, it's not on premise. sometimes the website is a bit sluggish. Zoho on occasion takes a few moments to update. Salesforce priced themselves out of the market and I would have to hire a developer just to use the product. That's an immediate no go right out of the gate. Microsoft Dynamics I could manage on my own, however I still would be required to engage a partner and their minimum investment starts at $5000 another no go.