Local product
What Is ParagonERP?
Paragon is a full-featured, cloud ERP that handles your daily operations from order and inventory management, to advanced supply chain, manufacturing, BI, and more. Connect your ecommerce and accounting operations with integrations to Amazon, Shopify and QuickBooks Online. Paragon has all the features and functionality you expect from a custom solution for large and complex enterprises. ERP software designed for people, not users.
Who Uses ParagonERP?
Best for small to large apparel manufacturers, wholesalers, and retailers.
Where can ParagonERP be deployed?
Cloud, SaaS, Web-based
About the vendor
Jonar
Located in Montreal, Canada
Founded in 1986
Phone Support
Chat
Countries available
Canada, United States
ParagonERP pricing
Starting Price:
US$150.00/month
Yes, has free trial
No free version
ParagonERP does not have a free version but does offer a free trial. ParagonERP paid version starts at US$150.00/month.
About the vendor
Jonar
Located in Montreal, Canada
Founded in 1986
Phone Support
Chat
Countries available
Canada, United States
ParagonERP videos and images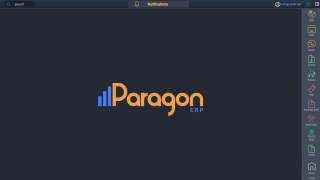 Features of ParagonERP
Alerts/Notifications
Barcoding/RFID
Billing & Invoicing
Bills of Material
Cataloging/Categorization
Contact Database
Cost Tracking
Enterprise Asset Management
Financial Management Software
HR Management
Inventory Auditing
Inventory Control Software
Inventory Management Software
Inventory Optimization Software
Materials Management
Order Entry Software
Order Fulfillment Software
Order Management Software
Order Tracking
Product Identification
Product Management Software
Production Management
Purchase Order Management
Purchasing & Receiving
Quotes/Estimates
Reorder Management
Reporting/Analytics
Returns Management
Search/Filter
Shipping Management
Supplier Management
Supply Chain Management Software
Warehouse Management Software
Alternatives to ParagonERP
Gaby B.
E.V.P. Operations & Finance in Canada
Verified LinkedIn User
Apparel & Fashion, 51-200 Employees
Used the Software for: 1+ year
Best In class ERP for SMB's
Comments: Overall, it was a very pleasant experience, from initial gap analysis, to implementation, Paragon/Jonar staff were with us and supporting us every step of the way. We managed to integrate our financials, our logistics, inventory control and customer/sales management all into one system. Thank you Paragon!!!
Pros:
Paragon is a user friendly, with a very pleasant user interface. All the features we needed were available or quickly added, while new features continue to be added twice a month. Not to mention the overall value, which at the current user pricing is fantastic, best value by far.
Cons:
Nothing so far. Everything very on point.
Daniel S.
co president in Canada
Apparel & Fashion, 201-500 Employees
Used the Software for: 6-12 months
Paragon
Pros:
I love the ease of use of the system. Really easy to pick up and to use. Easy to train on as well. Love that they are constantly improving the system. Love that new features are constantly coming out that make my life easier. I really like that they are looking to build integrations with great technology companies like 2Ship to make the process more seamless for my team
Cons:
Our implementation was a little longer than I would have liked. That being said, our business is extremely complicated and we were working on completely changing how our data is setup. Paragon was helpful in reshaping our data and making it much easier to use for the users and now we are in a much better position for the future.
Omnia A.
Data Analyst in Canada
Textiles, 11-50 Employees
Used the Software for: Free Trial
Review from Capital Garment Co
Comments: They gave us some demos and the UI looks polshied and soothing to eyes. Most of all Paragon is very user freindly. We are very excited about Paragon. We can not wait to go live.
Pros:
In Paragon, I can bulk upload anything which is really the best because it saves a lot of time rather than entering one by one.UI is polished and the color combination is eye soothing. Very user friendly and comfortable to use. It is not too complicated and anyone uses it. Can create as many as want which is pretty cool. Also can design our own module by creating as many attributes as we want which gives the user the flexibility to enter as much data as possible. It is a very cool feature for any ERP system. Their new AG grid system is mind-blowing. Personally, that is my favorite. The reporting features are very impressive especially the transaction logs.The support team is very professional and helpful. The project manager who is leading the project for migration very details oriented and optimistic.
Cons:
We are using Jas which is the older ERP system from Jonar, the same company that created Paragon. The team basically customizing the whole ERP system according to our business model and they are doing a great job.
Apparel & Fashion, 51-200 Employees
Used the Software for: 2+ years
I find this system user friendly easy to locate the data I am searching for to complete daily tasks.
Comments: On a day to day basis the system helps me search account information in a timely manner to best assist my accounts. It's pretty user friendly and easy to understand how to navigate and that helps make my job easier.
Pros:
User friendly can easily look up account details like previous orders,invoices, financial history and contact lists.
Cons:
It can be a little slow going from page to page as it runs from the cloud that can be an inconvenience.
Daniel S.
Finance in Netherlands
Accounting Software, 2-10 Employees
Used the Software for: 6-12 months
Great UX, brings ERP at the door step of the enterpreneur and start up :-)
Comments: Efficient and effective process, transparency, cost savings
Pros:
Simplicity, uniformity, ability to add attributes to shape your own business taxonomy in the package. The fact that it is cloud based helps to be an enterprise without complex pieces of iron and an minimal need for internal IT
Cons:
The fact that it runs in the cloud, could have the risk of making it a bit slower compared to something that runs on your machine, however, noticed a little effect
Jonar Response
4 years ago
Hello Daniel, Thank you for your feedback. We know speed can be a concern with a Cloud-based system. Our development team is working hard to find ways to improve the speed of ParagonERP and we are confident their efforts will ensure users don't feel a lag in their system. Kind regards, The Jonar Team