Local product
What Is ProShop?
A comprehensive web-based and 100% paperless shop management system for small to medium manufacturing companies. Built to manage the complex manufacturing environment better than anything else on the market - by an order of magnitude. Never before has there been a system that gives you such insight into every detail of your manufacturing company. ProShop is 100% paperless ERP/MES and QMS software. We typically replace 3-6 other software systems with ProShop for managing your whole company.
Who Uses ProShop?
Small to medium sized machine shops, fab shops, composites, assembly, in regulated industries requiring ISO-9000, AS9100, API, 13485, or other certifications.
Where can ProShop be deployed?
Cloud-based
On-premise
---
About the vendor
Adion Systems
Located in Vancouver, Canada
Founded in 2008
Countries available
Australia, Canada, Germany, United Kingdom, United States
ProShop pricing
Starting Price:
US$650.00/month
ProShop does not have a free version. ProShop paid version starts at US$650.00/month.
Pricing plans
get a free trial
About the vendor
Adion Systems
Located in Vancouver, Canada
Founded in 2008
Countries available
Australia, Canada, Germany, United Kingdom, United States
ProShop videos and images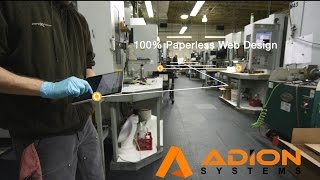 Features of ProShop
Accounting Integration
Audit Management
Automated Scheduling
BOM Creation
Bills of Material
CRM Software
Capacity Management
Capacity Planning Software
Change Management Software
Communications Management
Complaint Management Software
Compliance Management
Corrective and Preventive Actions (CAPA)
Document Coding & Control
Document Management Software
Downtime Tracking
ERP
Enterprise Asset Management
Equipment Management
Financial Management Software
For Small Businesses
Forecasting
HR Management
Integrated Business Operations
Inventory Management Software
Item Management
Job Costing Software
Maintenance Management Software
Material Requirements Planning
Order Management Software
Performance Metrics
Production Scheduling Software
Purchase Order Management
Quality Management Software
Quotes/Estimates
Real Time Monitoring
Reporting & Statistics
Reporting/Analytics
Risk Management Software
Scheduling Software
Supplier Quality Control
Supply Chain Management Software
Traceability
Training Management
Warehouse Management Software
What-if Analysis
Jeff
Director of Sales and Marketing in US
Verified LinkedIn User
Airlines/Aviation, 11–50 Employees
Used the Software for: 1-5 months
ProShop Software
Comments: Overall experience has been positive. I would highly recommend this software to any company small or large who want an easy to use software the will make them more efficient and better.
Pros:
The software is very user friendly for people at all levels of the organization. The single software manages all aspects of our manufacturing company beginning with estimating and ending with invoicing. It is completely paperless and eliminates many unneeded man hours for tasks like data entry or collecting out of rev prints from the shop floor. It also manages our entire QMS to ensure compliance with AS9100 and incorporates the requirements of the QMS into standard workflows for all employees. This makes audits very easy to prepare for. It also integrates easily with Quickbooks for ease of accounting functions. Finally, the cloud based approach makes the IT aspects so simple and worry free, plus I can easily access the software when I'm away from the shop! So many additional positives to list, I could go on and on.....
Cons:
I really don't have any cons to list. If I had to list one thing for improvement it would be to have just a little more flexibility of category fields in the estimating module so I could adopt costing for the composites industry easier. That being said, my implementation specialist was able to help me come up with some work arounds to accomplish what I need.
Adion Systems Response
3 years ago
Hi Jeff, You've made our day over here in the office! Thank you for this great review. Helping companies like yours is exactly why we're so excited to come to work every day. It's our mission and our passion to lift up manufacturers like Fort Ord Works - the backbone of our economy. You'll be excited about some new features we're coming out with this year specifically for composites companies. Stay tuned. And we'd love to get your feedback on them and how to make them better. Cheers and thanks again! The ProShop Team
Anthony
Director of Production in US
Aviation & Aerospace, 2–10 Employees
Used the Software for: 1+ year
Review
Comments: Proshop for me has been a game changer. No longer am I have to run a business off 3 or 4 spreadsheets. I have one central place to use as a hub and understand how our business/jobs are running.
Pros:
I like the easy of use of Proshop the best. It was built for a machine shop and all the processes are easy understandable. It give you 99% of everything you need to run your business from a QMS and ERP side in one package.
Cons:
I would like the see a Built in CRM in Proshop.
Alternatives Considered: JobBOSS² and SAP BusinessObjects Business Intelligence
Reasons for Choosing ProShop: We changed due to Mie track Pro not being able to schedule like Proshop. We were always having to find a work around to do simple task in Mie track Pro and in Proshop had a out of the box solution for each problem.
Switched From: MIE Trak Pro
Reasons for Switching to ProShop: I had purchased Proshop at my last company and 100% thought it was the best system out there for the money. We tested all the other systems and I just did not think they were to the level of Proshop.
Adion Systems Response
6 months ago
Thank you for the review, Anthony! We appreciate your feedback and are always looking for ways to improve the software. We are so happy to hear that ProShop has been a game changer for you!
Lynne
Business Process Lead in US
Aviation & Aerospace, 11–50 Employees
Used the Software for: 2+ years
ERP the way it should be.
Comments: This has changed how we do business. We're no longer burdened with the limitations of spreadsheets and paper documents. We can respond much quicker and increase throughput with better planning.
Pros:
I love how all the modules work in unison to provide the most accurate information possible in real-time.
Cons:
Cross-module queries are not easily accomplished without exporting to Excel.
Adion Systems Response
2 months ago
Thank you for this awesome review, Lynne!
Automotive, 2–10 Employees
Used the Software for: 1+ year
Source: SoftwareAdvice
Regret
Comments: Not satisfied and frustrated.
Pros:
The software includes many features that are difficult to navigate.
Cons:
Proshop is complicated to implement. It is not intuitive. Support has gone drastically downhill since we purchased 18 months ago. Easy tasks take way too long to accomplish. Training new employees is very time consuming and frustrating for everyone involved. The help menu is almost worthless. The software has many glitches you have to learn to deal with.
Adion Systems Response
9 months ago
Hi Luke, We're sorry that your experience hasn't been excellent. As you know, our team has been reaching out to you often to try to solve the issues you've been having. We've met, talked or responded to you on evenings and weekends, provided many hours of free training, phone calls, links to help topics, video training, and more. When we audited your system, it's actually impressive how much of the system you're using very well. Kudos to you! We will keep doing our best to help you be happy with ProShop. If you read through the other 5 and 4 star reviews we have, ProShop being very intuitive is mentioned time and time again. But until 100% of clients agree with that, we'll keep working hard to improve. We hope you'll consider revising your review as you make more progress and see the attention we're putting into helping your shop succeed. We do care deeply about your success. Humbly, The ProShop Team
Brett
Director in Australia
Mechanical or Industrial Engineering, 11–50 Employees
Used the Software for: 1+ year
Small Australian Job Shop invests in ProShop ERP - Reaps Rewards...eventually.
Comments: ProShop ERP has helped us level up as a small business. We now manage the business with real data to deliver work on time and improve our profitability.Our DIFOT numbers are significantly better.Our productivity is much higher - no need for afternoon shift and increased sales.
Pros:
The best thing about ProSHop ERP is that is was designed and developed by Machinists for Machinists.The workflow is continuous and each stage is linked with hyperlinks. Estimating>Quoting>Customer PO>create Part>create Work Order>Purchase Order(s) for inputs>Invoicing.Machinists and Programmers get everything they always wanted:1) Unlimited Setup Data - Places for Photos and Videos of setups, Tool Lists, Fixture numbers, GCODE in Part Folder2) Sequence Details, Operation Descriptions, Part Development for feedback, FAI and in Process Inspection Lists and tolerances, Print and Part Revisions, and Equipment Used.3) Inspection reports, Document lists, Carton Labels all add to the professional presentation of the job when the customer receives it.Easy to adjust the Schedule Live - Drag and Drop or change the work cell as required on Work Order.Although the software is massive - we can use all or just some of the features when it makes sense to do so. Eg. a Quick job can have a very basic Template that outputs a very simple Work Order - so no time is wasted on excessive data entry. The cloud based Database that is the core of ProShop is rock solid - we experienced no outages or lost data.ProShop ERP can handle a lot more than I was expecting of ERP. HR - skills & training matrix. Uers can create training requirements and track who has completed them. The ability to store GCODE, CAD CAM data and any documents securely.
Cons:
The GUI is not pretty. Graphics are under used, it is a text heavy interface.Reports are not intuitive for me, but my [SENSITIVE CONTENT] has mastered the Query System for custom reporting.The learning curve for our business was enormous. This was because we implemented ISO9001, Paperless/Cloud Computing, Time Tracking and ProShop ERP simultaneously. The culture shock of working as a team to collect data so it could become useful for costing and scheduling was uncomfortable.Expensive - It is a significant, long term commitment.
Alternatives Considered: DBA Manufacturing
Reasons for Choosing ProShop: DBA uses our local server which is due to be retired or replaced. It was poorly managed and needed considerable time invetsed to "clean up" the data. We decided that that time could be spent deploying a newer system.We wanted Live Data and the transition to a Cloud based system was identified as a solution to improve data, cybersecurity and included Industry 4.0 benefits..It was aligned withthe defence work we aspired to win.
Switched From: DBA Manufacturing
Reasons for Switching to ProShop: We were only going to choose to improve our DBA Mfg database or implement ProShop ERP.We had an independent firm (IQMS) evaluate ProShop ERP and they were impressed.Online reviews and forums favoured ProShop over other ERP.Podcasts promoted the software and the testimonials were strong.
Adion Systems Response
4 months ago
Thank you so much for your detailed review, Brett!