Local product
What Is ACE Retail POS?
Looking for a full-feature inventory management software together with a built-in POS? The ACE system is an installed software for Windows users with integrated inventory, customer and purchasing management. Designed with full offline capability. One-time cost with NO monthly licensing fees. Web-based mobile reporting tool available. Integrated with Google Shopping Ads, Sage50, QuickBooks, Shopify, WooCommerce, MailChimp, WorldPay, EVO, Cayan, Chase, Global, Elavon, Moneris, FirstData and TD.
Who Uses ACE Retail POS?
Small or Medium merchants who need robust inventory and customer management features that are fully integrated with their POS system. Built-in marketing tool to help attract local shoppers in store.
Where can ACE Retail POS be deployed?
Cloud-based
On-premise
---
About the vendor
ACE POS Solutions
Located in Toronto, Canada
Founded in 1981
ACE Retail POS support
Phone Support
24/7 (Live rep)
Chat
Countries available
Bahamas, Canada, Haiti, Trinidad and Tobago, United States
ACE Retail POS pricing
Starting Price:
US$675.00/one-time
Yes, has free trial
No free version
ACE Retail POS does not have a free version but does offer a free trial. ACE Retail POS paid version starts at US$675.00/one-time.
Pricing plans
get a free trial
About the vendor
ACE POS Solutions
Located in Toronto, Canada
Founded in 1981
ACE Retail POS support
Phone Support
24/7 (Live rep)
Chat
Countries available
Bahamas, Canada, Haiti, Trinidad and Tobago, United States
ACE Retail POS videos and images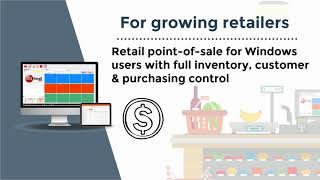 Features of ACE Retail POS
Accounting Integration
Barcode / Ticket Scanning
Barcoding/RFID
CRM Software
Customer Accounts
Data Import/Export
Discount Management
Electronic Signature
For Retail
Gift Card Management
Inventory Management Software
Multi-Location
Payment Processing Software
Point of Sale (POS)
Pricing Management
Purchase Order Management
Reporting/Analytics
Retail Inventory Management Software
Retail Management
Returns Management
Returns Tracking
Sales Reports
Supplier Management
Third Party Integrations
Touch Screen
eCommerce Management
Alternatives to ACE Retail POS
Reviews of ACE Retail POS
Building Materials, 2-10 Employees
Used the Software for: 2+ years
Source: SoftwareAdvice
It's ok but...
Comments: I've used this software in three businesses since 2009, seems the company changed hands a couple times. For those who see no reason the renew your yearly license make sure that if you have an install file, that when you install it, its fully functions especially the reports as with a couple years back the version they gave you to install had the reports feature broken and you needed to contact them for the update file. This worked for some time as you could install previous update files without a valid support license but then the system changed and you had to get a pr authorization for updates. I'd still recommend this software but if you buy software you expect it to be 100% functional and re-install able to 100% functioning even with out a support license.
Pros:
Pretty easy to use Easy to set up up Easy to configure Good reporting features for sales and tax Lots of options
Cons:
Never any updates to the software, there use to be until they changed the system. At least as of a couple years back demo install file had bugs in it or on purpose so if your license expired and you have to reload the software once you imported the back up DB the reports wouldn't work. You have to contact them to get an update but since your support license is expired you couldn't get help unless you renewed for another year.. Lots of GUI bugs that have been around for years and have been reported on several times.
ACE POS Solutions Response
3 years ago
Thank you for your feedback Arek. Yes, we are a different company now and we have invested in updating and maintaining the software so many of the bugs that were in the older versions supported by the last company have been fixed for the past several years now. We have also spent a lot of internal resources to develop and maintain new built-in and optional add-on features to help customers which is why updates are part of paid support plans. But rest assured, customers who are using versions of ACE maintained by our company can continue to use their software without an active support plan.
Used the Software for: 2+ years
Excellent support provided by ACE
Pros:
We have been using ACE POS since 2009. Since day one ACE has provided excellent support with the initial setup and continued maintenance of our systems. I like that ACE provides seamless integration with our accounting software. The ACE Sales screen and inventory accounts are easy to use for any level of staff. We also maintain our Customer accounts and email lists within ACE. We have been using the webstore integration feature since 2011. ACE will upload items directly to our website, including adding the pictures and descriptions that are included in ACE. We have recently upgraded our website to Shopify. ACE will automatically adjust inventory quantities within Shopify which has saved us a lot of time. The active support that they provided during our transition to Shopify was unbelievable. Don provided a hands-on approach and provided quick responses to my many questions. I would recommend ACE for any retail business environment.
Cons:
There are only minor issues that I can name as our overall experience has been positive. It would be great if there was a fast way to transfer inventory quantities between items. For example, if we have 1 PLU made up of a set of 4 widgets and I want to break this up into 4 individual PLUs, we are having to post this through the Purchasing/Receiving System so that the inventory cost values follow. Also, it would be nice in the Receiving system if backorders would automatically be shown for every item with zero items received. Right now we are having to scroll through each item in the purchase order so that the backorder number shows.
ACE POS Solutions Response
4 years ago
Thank you for your kind words and support Joe! From our ticketing system we can see that one of our specialists has already been in contact with you regarding back-orders and how to utilize the built-in packbreak function within ACE Premium to break-up items that are sold as a combo and also individually.
Retail, 2-10 Employees
Used the Software for: 2+ years
Great System, good customer service, Nine years and counting...
Comments: The main benefit was easing my accounting burden! That was my initial reason for searching for a POS system.
Pros:
I like how user friendly the sales screen is. Very quick to train someone to run the cash register, even someone who is not computer savvy. I like being able to block employees from different areas of the software, so they can only access what I allow them to. The reports are flexible and are great for assistance with re-ordering based on sales(if you don't already use the min/max qty option). Being able to quickly see which vendors products are selling the best is a huge asset to me. The easy connection with Quickbooks saves me a LOT of time in my bookkeeping. The customer service is good (and if for some reason you get someone who you may think is in training, they're honest and get someone else to fix the problem and do it in a timely manner). I have been enjoying this software for nine years.
Cons:
I find it time consuming to find some of the features that I likely should be using but are not utilizing because I can't find it or I can't remember where to find it. I would prefer the Help/user manual be part of the software not just online. When you don't have internet access on a computer that your employees are using, the help feature is inaccessible. The yearly updates are a bit more expensive than I feel they should be. I don't need new features and any "fixes" should come with the original purchase of the product, but if I want it to continue to run on newer computer systems and likely need it reloaded on a different computer down the line (ie. changing from windows xp to 7 or 10), I would otherwise have to pay the whole amount up front a second time( and third time etc...).
ACE POS Solutions Response
5 years ago
Andrea, thanks for taking the time to give us your feedback. We understand your wanting to have access to certain resources offline. We made the decision to move to online training resources as this way, we can maintain documentation more easily for customers. It also allows you to be aware of any updates. Besides new features, we need to maintain a development team to keep the software up-to-date for security reasons - e.g. Windows updates, PINpad upgrades, integrated solution updates. This is why updates are always included with annual support plans and include phone calls that you can use for support or training. We know that you don't always need the assistance but we have tried our best to keep our annual support plan pricing steady even though our costs of maintaining live support assistance around the clock and development in Canada continue to increase. Thanks again for your continued support!!
Nathan
President in Canada
Health, Wellness & Fitness, 11-50 Employees
Used the Software for: 2+ years
Wonderful product, easy to use software, with fabulous customer service
Comments: I've been using Ace Retail for 11 years, from when it first became available for Microsoft Windows (earlier versions were using the DOS o/s. There have been many improvements over the years, with the program just getting better and better. Some features are a challenge to use, including having a different shipping and billing address, but once you know how to use these features, they work well. In addition, many of my requests, including the ability charge local taxes for customers who live in other provinces, or the USA who visit our Winnipeg store, are greatly appreciated and functional. Recently the ability to process "card not present" transactions was added, which we love, for phone or Internet orders. I'm very happy with the stability and functionality of Ace Retail, and highly recommend it to any small to medium sized retail company. It may also work well for larger companies, but it's perfect for my company, Aviva Natural Health Solutions. Nathan Zassman,
President
Pros:
Easy to use interface, has all the features a small to medium size retail company would ever need.
Cons:
Some functions, like correcting errors, or having a different shipping and billing address, could be easier to implement, but once you know how to do it, it's ok.
ACE POS Solutions Response
6 years ago
Thanks Nathan! We appreciate and value your support. We have several exciting projects/features in the pipeline that should be of interest to you. We'll be sure to let you know once they are ready!
Retail, 2-10 Employees
Used the Software for: 2+ years
overall good experience
Comments: point of sale and inventory control are much improved!
Pros:
it is easy to use and easy to train new people on it. Customer support is very good with this product very knowledgeable!
Cons:
I wish there was an online manual to explore options that I don't use. Wish updates were automatic! and built into the software. like sage 50 accounting software is automatic within the program once you have paid your subscription!
ACE POS Solutions Response
5 years ago
Great to hear that you are happy with ACE Kathryn! And we're glad to let you know that there is an online knowledge base (general public one and exclusive portal for support plan members) similar to an online manual if you go to www.acepos-solutions.com > More > Support. Regarding updates, other ACE customers has also let us know that they prefer automatic ones. The reason why we have chosen to avoid this is because of the number of hardware and third-party integrations ACE works with. Many customers, like yourself, use other applications which can be mistakenly reset if updates are automatic (it happened a lot in the past). Currently when customers update, we make sure to double-check any integrations and hardware settings to make sure everything is smooth sailing. We will continue to try to find ways to improve this process for customers. Thanks again for your feedback.