What Is Gorgias?
Gorgias is the highest-rated customer service and live chat helpdesk for Shopify, Magento & BigCommerce stores.
See customer support requests from email, live chat, phone, and social media in one place. Edit/refund orders, cancel subscriptions, award loyalty points, and more in one click.
Use templates, automation, rules, and macros to cut support time. Your support team will be more productive and your customers will love you.
Get a demo today to see how it works.
Who Uses Gorgias?
Shopify, Magento, and BigCommerce stores that want to save time with a smart all-in-one helpdesk solution that helps drives revenue & streamlines the customer service experience.
Where can Gorgias be deployed?
Cloud-based
On-premise
---
Gorgias support
Phone Support
24/7 (Live rep)
Chat
Gorgias pricing
Starting Price:
US$60.00/month
Yes, has free trial
Yes, has free version
Gorgias has a free version and offers a free trial. Gorgias paid version starts at US$60.00/month.
Pricing plans
get a free trial
Gorgias support
Phone Support
24/7 (Live rep)
Chat
Gorgias videos and images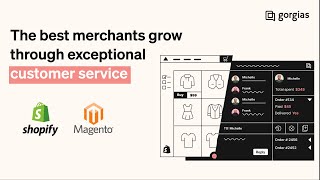 Features of Gorgias
Activity Dashboard
Alerts / Escalation
Auto-Responders
Call Center Management
Customer Complaint Tracking
Customer Database
Customer History
Customizable Branding
Email Management Software
Feedback Management
Interaction Tracking
Issue Tracking Software
Live Chat Software
Macros/Templated Responses
Mobile Access
Multi-Channel Communication
Offline Form
Performance Metrics
Personalization Software
Proactive Chat
Queue Management
Real-time Consumer-facing Chat
Reporting/Analytics
Routing
Support Ticket Management
Template Management
Third Party Integrations
Ticket Management
Transfers/Routing
Website Visitor Tracking
Workflow Configuration
Workflow Management Software
Muhammad yaseen
Saleman in Bahrain
Computer Hardware, Self Employed
Used the Software for: Free Trial
My best gorgias experience
Pros:
That allow you to work efficiently and organized and make it exactly what you need.
Cons:
The macro feature has become much more intuitive which is great.
Jisselle
Director of Customer Success in Trinidad and Tobago
Verified LinkedIn User
Food & Beverages, 11-50 Employees
Used the Software for: 2+ years
I absolutely LOVE Gorgias - it is the BEST HelpDesk Software.
Comments: I really enjoy Gorgias, so much so that I recommend it to any company that I consult with for Customer Success over the last 2 years. I've been in the CS industry for 17+ years, and this is the best. I've used Zendesk, Freshdesk, Kustomer, and Hubspot but Gorgias wins! It is user-friendly, easy to set up and deploy, AND has incredible sentient AI, and I love the social integrations. It's a fantastic omnichannel support system. Highly recommend! Also, the support staff is epic!
Pros:
I was an avid Kustomer user for years, and Gorgias lured me in with all of their incredible, easy-to-use features. I love the social integrations, especially the social lead segments, AND I love that they have integrated phone calls now!
Cons:
I can't think of anything, honestly. I've been in Customer Success for 17 years, and this is the best.
Alternatives Considered: Freshdesk
Switched From: Kustomer
Maria
Customer service department manager in Mexico
Consumer Services, 11-50 Employees
Used the Software for: 6-12 months
Very helpful for staying organized and consistent
Comments: Before we migrated to this platform, it would take almost 72 hours to respond to customer queries, but with this software, we cut that time down to just around 30 minutes on average within a few days after migration.
Pros:
The company's engagement with it's users. There's also a lot of helpful features that will optimize the customer service provided to our clients
Cons:
There's a lot of updates and it tends to interrupt the workflow sometimes. On boarding was slower than what we had been told also.
Alternatives Considered: Freshdesk and Zendesk Suite
Reasons for Choosing Gorgias: We needed to improve the customer experience when it came to reaching out to customer service.
Switched From: Gmail
Reasons for Switching to Gorgias: It seemed like the best option when it came to functionality. The other two options we were considering seemed more old school, where as Gorgias seems more modern by allowing us to fully analyze customer issues, returns, questions, and doubts while allowing us to speed up response and relsoution time.
Verified Reviewer
VP of Innovation in UK
Verified LinkedIn User
Food & Beverages, 1,001-5,000 Employees
Used the Software for: 1+ year
Very nice user friendly helpdesk package but limited marketplace integrations beyond shopify
Comments: User love it and very few headaches. Some integrations need better docs on how to use advanced functionality.
Pros:
Really nice interface, users love it. Very easy to configure. Powerful rules and macro engine, Seamless shopify integration. Support is proactive and good. Developer friendly with good API
Cons:
If you want to integrate ebay or amazon, you need a third party add on which is itself limited. Prepare for additional costs. Rules and Macro engine has some limitations when looking to fully automate processes. It could be easier to test rule logic before deploying.
Alternatives Considered: eDesk
Reasons for Choosing Gorgias: eDesk had better amazon / ebay integration but had severe limitations elsewhere. Gorgias a better all round fit.
Switched From: eDesk
Adrienne
Online & Marketing Manager in Australia
Retail, 2-10 Employees
Used the Software for: 6-12 months
Great price for all of the features we need.
Comments: Overall fantastic, we were recommended Gorgias and the features did not disappoint. Besides the forwarding issue the rest of our discovery and onboarding process was pretty quick & seamless.
Pros:
Creating across are simple and easy to implement and using them is really quick saving our team time. The deep integration with Shopify also allows our team to have instant visibility with customer information. Having the ability to also build rules to identify emails and help us prioritise has been fantastic and was definitely a selling point when moving over from our existing platform.
Cons:
Would love there to be a mobile app. I feel there also needs to be a stronger distinction/sound alert for chats as they're higher in priority and need to be actioned immediately. Unfortunately we did have some issues with email forwarding which the tech team weren't able to help find the cause so there were some teething issues moving over from our other platform to Gorgias & potentially missing some customer emails during that period. I'd also love if there was some type of help desk included in one of the app plans instead of using as add-on