Local product
What Is Keela?
Keela is a fundraising CRM that unifies fundraising and donor communications. Keela's uniquely powerful solution bridges the gap between fundraising and comms, allowing nonprofits to improve donor relations through targeted, multi-channel approaches.
Keela's platform allows you to pull critical donor information directly from your CRM into your donor communications, so you know who to ask for a donation, the best time to ask them, and the perfect amount to ask for.
Who Uses Keela?
Keela is the ultimate donor management & fundraising platform for nonprofits looking to grow. From valuable donor insights to effortless automation, it's ideal for nonprofits looking to raise more!
Where can Keela be deployed?
Cloud-based
On-premise
---
About the vendor
Keela
Located in Vancouver, Canada
Founded in 2013
Countries available
Australia, Canada, United States
Keela pricing
Starting Price:
US$99.00/month
Yes, has free trial
Yes, has free version
Keela has a free version and offers a free trial. Keela paid version starts at US$99.00/month.
Pricing plans
get a free trial
About the vendor
Keela
Located in Vancouver, Canada
Founded in 2013
Countries available
Australia, Canada, United States
Keela videos and images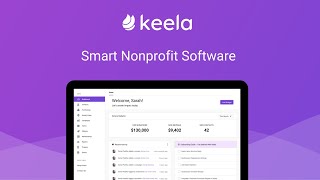 Features of Keela
Accounting Software
Activity Dashboard
Alerts/Notifications
Approval Process Control
Budget Management
CRM Software
Calendar Management
Campaign Management Software
Collaboration Tools
Communication Management
Contact Management Software
Contribution Tracking
Customizable Templates
Dashboard Software
Donation Tracking
Donor Management
Email Marketing Software
Event Management Software
For Nonprofits
Fundraising Management
Member Database
Membership Management Software
Mobile Access
Online Giving
Payment Processing Software
Pledge Management
Project Planning/Scheduling
Receipt Management
Recurring Giving
Reporting & Statistics
Reporting/Analytics
Reporting/Project Tracking
Task Management Software
Leigh
Principal in Canada
Verified LinkedIn User
Used the Software for: 1+ year
Reviewer Source
Keela has been highly responsive and quick to evolve to meet the practical needs of its customers.
Pros:
I like the simplicity of Keela however, it's important to point out that the simplicity doesn't compromise how useful the tool is. They've stripped down the CRM model to make it exactly what fundraisers at small and medium size charity need and got rid of all the extra widgets that just make tracking donor data unnecessarily complicated. We have also greatly appreciated the quick response time of the support team. Multiple features that we have suggested would be useful have shown up in new iterations of the product and the team regularly checks in with us to make sure that we are happy.
Cons:
The dashboard isn't the best. I would appreciate being able to customize it to be able to see the information that is important to you at a glance.
Keela Response
5 years ago
Thanks for your feedback! We are planning to make some improvements to the dashboard and we'd love to hear your ideas. Please get in touch with us here: http://bit.ly/2H0UvvM
Doug
Vice President/Treasurer in US
Religious Institutions, 2–10 Employees
Used the Software for: 2+ years
Reviewer Source
Very satisfied with Keela
Comments: Our experience with Keela has been amazing from the original sales presentation, to onboarding, to learning how to use the software, to ongoing customer support. Their team is fantastic and probably one of the main reasons that we continue to stay with them. The product is great but the customer support team is just as good. Always very responsive and helpful. Quick to listen to suggestions for improving existing features or adding new capabilities. The Keela DRM has also been extremely helpful to us as a small nonprofit because it puts every aspect of our fundraising, communication and donor management all in one powerful and easy-to-use tool.
Pros:
Keela provides all of the tools we need in one place. Not only can we manage all of our donors' information, interactions, and transactions, but we can also organize multiple donor campaigns, create various donor and subscription forms, send out all of our email newsletters and fundraising email blasts. Keela allows you to run just about any type of report that you can think of, set up multiple dashboards for monitoring various metrics, and gives us the ability to set up powerful multi-step automation sequences that can be triggered by various actions. Keela is very affordable and their customer service team is one of the best I've seen anywhere. They're very responsive and listen to their customers for new ideas, potential bugs, and much more. We are very satisfied with Keela and would highly recommend it to any other nonprofit that is looking for a DRM.
Cons:
There is not much that I do not like about Keela because whenever I encounter a problem or limitation, I just contact their support team and usually get a response very quickly. Probably my least favorite thing about Keela is their mobile app. It is good but is just a little limited in it's functionality.
Alternatives Considered: Neon CRM, Trail Blazer Non-Profit Manager, Eleo, Bloomerang, Salesforce Sales Cloud and Donorbox
Reasons for Switching to Keela: Keela had the most functionality for the best price. So many features and functionalities integrated into one tool with a simple-to-use and intuitive interface. It was a clear choice for us.
Rafael
Marketing & Fundraising Manager in Australia
Philanthropy, 51–200 Employees
Used the Software for: 6-12 months
Reviewer Source
A reasanably good software, with usability downfalls
Comments: It is positive, but definetely not ideal. The platform was sold to us as basic but powerful, in reality it is basic and need a lot of work, in some instances to get the basics correct (i.e. invoices, integration with payment gateways etc.). Keela lacks a lot of key features we already provided feedback on. We do feel that Keela priority has been in functionalities that are tertiary and not a necessity (i.e. have details of transactions going to stripe description, invoices being more customisable, being able to edit recuring donor accounts without having to recreate them etc ). Those can be very frustrating and we had went backwards in our internal processes, specially with accounts, due to the platform lack of basic business customisation, things we had in our previous software.
Pros:
Keela is happy to listen to customers. They are quick to provide support and the platform offer the basics needed.
Cons:
The basics are not well polished. Usability is a big issue and the navigation is clunky - we find ourselves going back and forwards a lot, some would be easily fixed with a simple "right click to open in new window" but that is not available. We end up using the export feature way more often than we should in order to get the data we need. We have provided a list of cons in the past.
Alternatives Considered: Kindful
Reasons for Choosing Keela: The usabily was even clankier than Keela, and the software was really old and had no updates.
Reasons for Switching to Keela: They never got back to us. The software seem to have more features we need and more complete, but their sales were terrible getting back to us so we assume, if the sales is bad imagine the support.
Keela Response
2 years ago
Thank you for your review Rafael, we appreciate the transparent feedback. Over the past year, you and your team have provided our Product Team with really insightful feedback and have suggested really great features to enhance the system. These absolutely do not go unnoticed! Our team is working super hard to make sure we continue to build a system that meets the needs of our users. While some features may take longer than others to build out based on the level of complexity, know that your ideas are being heard and discussed amongst our Product Team. We look forward to you and your team continuing to share innovative ideas with us to support us in building an even better system. Thanks for joining us along the innovation journey :)
Annastasia
Managing Director in Canada
Nonprofit Organization Management, 11–50 Employees
Used the Software for: 2+ years
Reviewer Source
User Friendly and Excellent Customer Service
Pros:
We love how easy it is for people to learn the system. New staff are up and running on it effortlessly. The customer service is also stellar. The team really listens to our needs and helps us find solutions.
Cons:
integrating our email provider with Keela's email function was difficult and managing unsubscribes has sometimes been a challenge.
Laura
Executive Director in Canada
Music, 2–10 Employees
Used the Software for: 6-12 months
Reviewer Source
Keela review to date
Comments: We have only just started using the software, so do not feel we have had enough time with it yet to review it. We have noticed a couple of glitches with the software which are unique to our two organizations, as mentioned earlier in this survey.
Pros:
We are very new to the software, so our focus so far has been on data entry and setting everything up and developing convention for entry to ensure consistency.
Cons:
We would love to see the ticketing software that integrates with Keela. We have been using TicketPeak and it is not a simply process to ensure we are accurately capturing contact info. One system for our CRM, fundraising and box office would be ideal. We would also like there to be a way in which we can issue tax receipts for each of our two charitable organizations without having to pay for two separate databases. They are essentially the same contact list, but donations are made to either or both organizations. It would be great to find a solution to this within just the one database.