15 years helping Canadian businesses
choose better software
What Is Uplisting?
Uplisting is the all-in-one solution designed specifically for short-term rentals. Its intuitive, reliable & can begin adding value to your business within 30 minutes of starting your 14-day free trial.
Automatically import your listings directly from Airbnb & connect to Booking.com & others in minutes. Instantly sync bookings, rates and availabilities with 0% commission, no setup costs and no hidden fees.
Save hours every week with automated messages, smart rates and much more.
Who Uses Uplisting?
Airbnb, Booking.com, Vrbo & Google VR property managers who need real-time syncing of bookings, prices, messages & availability - automation, team management, unified inbox & more, all-in-one tool.
Where can Uplisting be deployed?
Cloud-based
On-premise
---
About the vendor
Uplisting
Located in Otley, UK
Founded in 2016
Uplisting support
Phone Support
24/7 (Live rep)
Chat
Uplisting pricing
Starting Price:
US$50.00/month
Yes, has free trial
No free version
Uplisting does not have a free version but does offer a free trial. Uplisting paid version starts at US$50.00/month.
About the vendor
Uplisting
Located in Otley, UK
Founded in 2016
Uplisting support
Phone Support
24/7 (Live rep)
Chat
Uplisting videos and images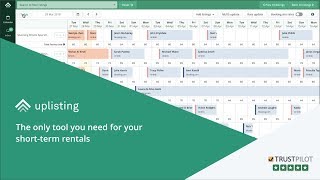 Features of Uplisting
Billing & Invoicing
CRM Software
Calendar Management
Channel Analytics
Channel Management Software
Contact Management Software
Customer Database
Dynamic Pricing
Employee Management
For Vacation Rentals
GDS/OTA Integration
Guest Communications
Guest Experience Management
Housekeeping Management
Inventory Control Software
Inventory Management Software
Lead Management Software
Marketing Automation Software
Multi-Channel Distribution
Multi-Channel Management
Multi-Channel Marketing
Opportunity Management
Partner Management
Partner Portal
Payment Processing Software
Performance Metrics
Rate Management
Rental Property Management Software
Reporting & Statistics
Reporting/Analytics
Reservations Management
Revenue Management Software
Third Party Integrations
Alternatives to Uplisting
Miguel
CEO in Canada
Verified LinkedIn User
Hospitality, 2–10 Employees
Used the Software for: 1-5 months
Reviewer Source
The Best I've Found
Comments: Phenomenal, I won't be going anywhere, they have really proved themselves to vacation property managers that they put us first. They are slowly trying to master each new feature without comprising the overall use of what makes them great.
Pros:
I love how uplisting connects with AirBnB & Booking seamlessly, the integrated all in one inbox absolutely amazing as well makes it easier for my team to access everything in one area. I'm happy with the support as of now, the team is always on it and from the start [SENSITIVE CONTENT HIDDEN] has helped our team from the beginning, to onboarding, questions, and any difficulties we've had. I've worked with so many other PMS/Channel managers and have been hopping around with massive frustration, I'm glad I can finally end the headache of timewasting of switching every 6 months to a new PMS with one I can finally call home. Thanks [SENSITIVE CONTENT HIDDEN].
Cons:
The onboarding with VRBO is slow but this is mostly issues with Homeaway rather than uplisting, also some third party pricing tools have to be tweaked around to be able to customized with uplisting so you don't get the full ability of some apps, also they don't have a widget for direct bookings on website (their new link payment makes up for this in some way but not if your a marketer wanting to send traffic) however, the [SENSITIVE CONTENT HIDDEN] has mentioned that this it is something that will be coming out soon so Im looking forward to seeing that and their app in action.
Alternatives Considered: Avantio
Reasons for Switching to Uplisting: integrated inbox, pricing, support, and the temptation of future new features like the app, and website widget.
Hospitality, 2–10 Employees
Used the Software for: 2+ years
Reviewer Source
Buy this instead of paying 20% to an Airbnb/VRBO manager
Comments: We are able to automate almost every aspect of the Airbnb/VRBO process from check-in to automated review asks and review leaving, cleaning, dynamic pricing etc.
Pros:
Uplisting makes our jobs coordinating guest check-ins/cleanings simple and allows us to only communicate with guests for nice things instead of routine things that Uplisting automates. Cleanings, door codes, communications, everything is automated through Uplisting and we love it for coordinating VRBO, Airbnb etc. Uplisting even lists you on VRBO automatically using your Airbnb listing info, which instantly gets you 20-40% more bookings!
Cons:
The previous messaging app was not very full featured, however since the new releases put out in the last year, the messaging app is amazing now.
Alternatives Considered: Hostaway, Hostfully Property Management Platform, Guesty and Lodgify
Reasons for Choosing Uplisting: Guesty was getting too expensive and Uplisting offered better options
Switched From: Guesty
Reasons for Switching to Uplisting: Uplisting offered to best options, stability and value
Hospitality, 2–10 Employees
Used the Software for: 6-12 months
Reviewer Source
Great Channel Manager
Comments: Very good - easy to onboard and has helped to offer our guests a seamless experience. The support team responds promptly.
Would recommend.
Pros:
Integrates with almost all of the big platforms and pricing engines. Great automated customer email system. Easy to update pricing and add different pricing to different platforms. Includes deposit protection (pre-authorisation) with Stripe so don't have to manage damage deposits any more. Can ask guests for ID verification - also very helpful.
Cons:
Only gripe - Managing payments and booking deposits for direct bookings (bookings outside of the main platforms) is their only weak point. Haven't had as many direct bookings through their web platform/portal as would have hoped. Phone app could be more user-friendly.
Emily
Property manager in UK
Hospitality, 2–10 Employees
Used the Software for: 1-5 months
Reviewer Source
Could be so good - but has too many issues...
Comments: I wish wish wish these guys improved their software. It has the potential to be amazing but there are some major flaws. We decided to go with uplisting as their price is so competative compared to Guesty - but it seems that you get what you pay for - a buggy, wannabe SAAS. Building a software that can't be used on a phone, for an industry that is often on its feet, is hard to understand. Uplisting's suggestion forum for is full of ideas from customers, but I believe this is precisely because their software doesn't do the trick for most. What makes the experience of this software so infuriating, is that you want it to be good, so invest loads of time in the set up, give the benefit of the doubt to customer service, hang on until everything is set up to evaluate it - only to find that it still doesn't work. I wish I could get back the time I've spent in trying to set up our Uplisting account (over 2 weeks). I don't recommend others waste their time like I have.
Pros:
This system has so much potential - lots of neat features like direct booking websites, deposit systems, automated messages (if it is working). Great integrations with platforms (except VRBO). Great pricing control. Really nice 'how to' videos by the founders for most setup needs...
Cons:
The design is not responsive - so we can't use any of the features of this software on our mobiles, that's right: none at all, not even when you're in a bind and can't get to a desktop. The mobile app that does exist is less than minimal only allowing you to message guests: BUT: - the saved responses don't work - it doesn't load previous conversations - you can't see when a guest has sent a messages (could be a minute ago, could be 1 day ago). The automated outbound messaging system doesn't work for last min bookings so guests are left without checkin details and info about their booking (!) The UI is really hard to read (tiny font, it's really hard to distinguish between properties on their calendar, the design is actually harder to read quickly than a spreadsheet would be). The customer service has real people (which I suppose is a plus) and they do try to help, but 9/10 they don't know how to help and even take around 1-2 days to respond to you. They don't run customer service for a hospitality software on the weekends, which to me makes no sense as their customers are all using their platforms on the weekend... All of this compounds to make it really hard to use. Leaves an awful lot to be desired.
Real Estate, Self Employed
Used the Software for: 6-12 months
Reviewer Source
Large BANG for the money
Comments: Overall it has been very good. Thankfully it is easy to use because Customer Service is a bit lacking.
Pros:
Managing all my channels in place is beyond helpful.
Cons:
Customer service is lacking. Can take up to an hour to get an answer via chat. Most times the answer they give is either a link to a page I have already read or so vague is of little value.