What Is Vagaro?
The #1 software to build your business. Get booked & paid 24/7. Manage your appointments & packages while on any device. Get a logo, website, online store & branded app to look like the pro you are. Attract new customers on the Vagaro Marketplace & with social media booking tools. Retain customers & boost sales via text & email marketing. Reduce costly no-shows with automated reminders. Easy to use POS hardware & payment processing. Prices start @ $35/month. Free 1 month trial.
Who Uses Vagaro?
Trusted by over 70,000 beauty & wellness business professionals. From powerful online bookings to secure payments, Vagaro handles your business so you can focus more on what you love.
Where can Vagaro be deployed?
Cloud-based
On-premise
---
Vagaro support
Phone Support
24/7 (Live rep)
Chat
Countries available
Canada, United Kingdom, United States
Vagaro pricing
Starting Price:
$35.00/month
Yes, has free trial
Yes, has free version
Vagaro has a free version and offers a free trial. Vagaro paid version starts at $35.00/month.
Pricing plans
get a free trial
Vagaro support
Phone Support
24/7 (Live rep)
Chat
Countries available
Canada, United Kingdom, United States
Vagaro videos and images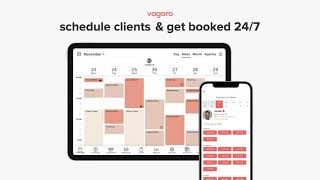 Features of Vagaro
Access Controls/Permissions
Activity Dashboard
Address Book
Alerts/Notifications
Application Management
Appointment Management
Appointment Scheduling Software
Attendance Management
Attendance Tracking Software
Automated Scheduling
Availability Management
Billing & Invoicing
Booking Management
Calendar Management
Calendar Sync
Calendar/Reminder System
Charting
Class Management
Class Scheduling
Client Database
Client Management
Client Portal
Client Profiles
Color Codes/Icons
Communication Management
Confirmation/Reminders
Contact Database
Customer Database
Customizable Branding
Customizable Fields
Customizable Forms
Data Import/Export
Data Security
Debit/Credit Card Processing
Drag & Drop
Dues Management
EMR/EHR
Electronic Payments
Electronic Signature
Email Marketing Software
Email Reminders
Employee Management
Employee Scheduling Software
Event Management Software
Faculty/Staff Management
File Storage
Fitness Plan
For Barbershops
For Chiropractors
For Dance Studios
For Gyms
For Martial Arts
For Medical Spas
For Physical Therapy
For Salons and Spas
For Yoga/Pilates Studios
Forms Creation & Design
Forms Management
Gift Card Management
Group Scheduling
HIPAA Compliant
Historical Reporting
In-Person Payments
Inventory Management Software
Loyalty Program
Marketing Automation Software
Member Communication
Member Database
Member Directory
Member Portal
Member Types
Membership Management Software
Membership Renewals
Mobile Access
Mobile App
Mobile Payments
Multi-Location
Multiple Payment Options
Online Booking
Online Payments
Online Registration
Patient Portal Software
Patient Records Management
Payment Processing Software
Payroll & Commissions
Payroll Management
Performance Metrics
Pet Grooming Software
Physician Management
Point of Sale (POS)
Practice Management
Progress Notes
Real-time Scheduling
Real-time Updates
Records Management Software
Recurring Appointments
Recurring/Subscription Billing
Reminders
Reporting & Statistics
Reporting/Analytics
Rescheduling
SMS Reminders
SOAP notes
Scheduling Software
Self Service Portal
Service Catalog
Social Media Integration
Staff Management
Template Management
Third Party Integrations
Treatment Planning
Waiver Management
Website Integration
Website Management
Federico
CFO in Brazil
Verified LinkedIn User
Banking, 2–10 Employees
Used the Software for: 1-5 months
Great tool to Manage your Appointments and Scheduling
Comments: The Vagaro solution has really exceed our expectations, we needed a solution to schedule, update and follow up our consultants appointments and this tools has become a part of our day to day operations.
Pros:
Excellent tool to book appointments online, very easy to use and implement. Saved us a lot of money increasing the efficiency from our consultants performance. Our [sensitive content hidden]receive confirmations and reminders, really supporting our business.
Cons:
The main issue is the price, I believe it could be a little lower, they charge per user. A free version would be awesome!
Alternatives Considered: Booker
Reasons for Choosing Vagaro: We changed from having our schedules in Microsoft Outlook because we needed a specialized tool that help us become more time efficient.
Switched From: Microsoft Excel
Reasons for Switching to Vagaro: While doing the cost-benefit analysis Vagaro otained the highest value.
Mohammad
Software developer in Jordan
Computer Software, 5,001–10,000 Employees
Used the Software for: 2+ years
Vagaro is the market place for the services you look for.
Comments: One of the great market places I have seen and dealt with. The support is really great when you have a complain.
Pros:
Lots of services are available in one place, the options are great, cost is very low, you get lots of discounts, interfaces are great.
Cons:
You might experience slowness in Vagaro at times and this is not due to internet. it could be because of the servers but this is rate to happen.
Alternatives Considered: TrueCoach and Weave
Reasons for Choosing Vagaro: Vagaro membership cost is much better, the support is better and it has more services.
Switched From: WellnessLiving
Reasons for Switching to Vagaro: Both systems did not have the requirements, not easy to learn how to go around, calendars do not sync. easily.
Health, Wellness & Fitness, 1,001–5,000 Employees
Used the Software for: Free Trial
Vagari
Comments: My overall experience with Vagaro would be good.
Pros:
What I like most about Vagaro is how easy it is to use.
Cons:
I didn't really dislike anything about Vagaro.
Health, Wellness & Fitness, Self Employed
Used the Software for: 2+ years
Over the past four years, Vagaro has been a huge help for me!
Comments: I have never had any problems in communications with Vagaro. They have always sent advance notice when they will not be in the office. Customer service has been excellent with rapid response any time that I have needed them. This is an excellent software to use for someone like myself, who is busy and running the business on my own.
Pros:
Vagaro is an excellent, simple, moderate-budget scheduling tool. There are add-on options that can improve your reach and your marketing, depending upon how much you need. They have improved their scheduling capabilities for fitness studio owners/administrators. As for set-up, on-ramping is simple and does not require long hours of education.
Cons:
I have had a lot of trouble getting the clients to use the software on their end. They haven't found it too user-friendly, but I do work with an older generation. I get about 50% compliance with account and scheduling tasks. It would be so helpful if a video were developed so they can easily set up on their own.
Alternatives Considered: Trainerize and WellnessLiving
Reasons for Choosing Vagaro: MindBody was getting outrageously expensive. And they had WAY too many features that I was not interested in using. It got very complicated, very quickly.
Switched From: Mindbody
Reasons for Switching to Vagaro: Vagaro had simplicity and pricing for a business owner that was trying to simplify her tasks and shrink her business at the same time.
Fadel
health care in Jordan
Verified LinkedIn User
Health, Wellness & Fitness, Self Employed
Used the Software for: 6-12 months
The best choice for anyone who intends to start and establish their own business
Comments: This program contributed well to the success of my own project represented in a store that provides massage, physiotherapy and physical health services, and since this field of work and the nature of the services provided depend mainly on organizing and scheduling appointments well and regularly and based on medical and scientific foundations, it saved me a lot of effort and time In terms of organization and punctuality to provide high quality services without delay, and it also helped me a lot in good communication with my customers that this program has become for me one of the most important tools used in my store.
Pros:
A pleasant user interface for setting up, easy to navigate, and the possibility of simplifying and customizing it. This ease of use gave the customer a comprehensive idea of the services we offer in a professional marketing manner and in a very simple way, devoid of any complications that may confuse the user, whether for the customer or the service provider. Most customers love how easy it is to book Appointments and get a text confirmation with just a few clicks and here lies the good marketing role of this feature in particular.The possibility of direct integration with the customer's Google Calendar is among the best that this program has to offer, as it has facilitated online reservations and appropriate appointments for people who are busy most of the time.The availability of electronic payment gateways by credit cards has provided many advantages, including ease of invoicing and documentation of payments. It also saved some customers the embarrassment of not paying a tip. By using the card, only the cost of the service will be deducted. With regard to customer service, I have sometimes felt that they may have the same amount of desire that I have for the success of my store, due to the amount of patience they possess. They are always keen to provide the best services despite the increased demand for them.The possibility of re-booking an appointment at the time you find it very appropriate to re-book.
Cons:
There are those who consider the program to have an exorbitant monthly subscription cost, but for me I find it acceptable compared to the services provided .It is not possible to set up multiple services within the store, as we had to set up physical therapy and massage under different employees with the same name as my store with two different Google calendars, which might make it a little messy.I fully understand that this program has a marketing aspect, but the frequent ads sometimes make it very annoying.The inability to print some important data that pertains to the client, such as contact information or my address list, which makes me compelled to copy them manually.The inability to allocate specific days incidentally during one week, in other words. For example, in the event that we have an emergency circumstance that made me compelled to close the store on this day, let us say that it is Wednesday, then when I block this day only specifically from this week only, that is, for once One, it will ban all similar days in the coming weeks, which may result in qualitative changes in appointments and reservations, or accounting errors, as there are many future prepaid reservations that may cause some serious problems , so I hope that Some flexibility will be added in the next updates. We need to add upgrades to the services in a branched way from the basic service without the need to add them separately, as this is better in terms of form and organization.