What Is Omnisend?
Trusted by 80k+ ecommerce businesses, Omnisend's all-in-one email marketing & SMS tool automates your marketing across the entire customer journey—reaching the right audience, with the right message at the right time. Capture and grow subscriber lists with landing pages & popups. Engage customers with ready-made email templates & newsletters. Boost conversions with pre-built automations like welcome + abandoned cart workflows.
Integrates easily in 1-click with Shopify, BigCommerce, Wix & more.
Who Uses Omnisend?
Omnisend—the ideal solution for growing ecommerce stores wanting to drive sales through email marketing. Benefit from a 1-click integration with platforms like Shopify, BigCommerce, Woocommerce & Wix.
Where can Omnisend be deployed?
Cloud-based
On-premise
---
About the vendor
Omnisend
Located in Western Gateway, UK
Founded in 2014
Omnisend pricing
Starting Price:
US$16.00/month
No free trial
Yes, has free version
Omnisend has a free version and does not offer a free trial. Omnisend paid version starts at US$16.00/month.
Pricing plans
About the vendor
Omnisend
Located in Western Gateway, UK
Founded in 2014
Omnisend videos and images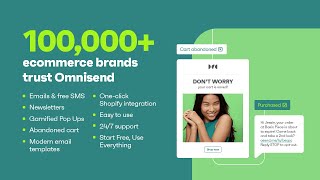 Features of Omnisend
AB Testing
API
Activity Dashboard
Alerts/Notifications
Auto-Responders
Automated Responses
CAN SPAM Compliance
Campaign Analytics
Campaign Management Software
Campaign Planning
Campaign Tracking
Channel Management Software
Contact Database
Contact Management Software
Conversion Tracking
Customer Segmentation
Customizable Fields
Customizable Templates
Dashboard Software
Data Import/Export
Drip Campaigns
Dynamic Content
Email Campaign Management
Email Management Software
Email Marketing Software
Email Tracking Software
Engagement Tracking
Event Triggered Actions
For Small Businesses
Landing Pages/Web Forms
List Management
Marketing Automation Software
Mass Texting
Message Personalization
Mobile Optimized Emails
Multi-Campaign
Multi-Channel Attribution
Multi-Channel Data Collection
Multi-Channel Marketing
Performance Metrics
ROI Tracking
Reporting & Statistics
Reporting/Analytics
Scheduled Messaging
Search/Filter
Segmentation
Social Marketing
Social Media Integration
Subscriber Management
Template Management
Text-to-Win
Third Party Integrations
WYSIWYG Editor
Website Visitor Tracking
Workflow Management Software
eCommerce Management
Amandine
Creator & CEO in France
Arts & Crafts, Self Employed
Used the Software for: 1-5 months
Amazing, beginner-friendly email marketing software with great customer support
Comments: Awesome! Great, friendly and quick customer support, easy to use pre-made automations and templates, free course to get started, useful contacts and segment lists. I wouldn't use any other software for my email marketing!
Pros:
I am a small business and I knew how important email marketing was. However, I struggled to understand how to implement it - how to create segments, how to send out relevant emails for my target audience, how to create automations, etc. It's has truly been so easy with Omnisend! First of all, they have a free course to get you started on their software and set up your first automations (welcome, abandoned cart). This course was very helpful. They have pre-made automations which was super useful for a beginner like me. I connected Omnisend to my website and with the right set up, I now have all my contacts put in segments that are relevant to their purchases and interests, which is great to send them THE email that will make them buy my products. Bonus points for their team, who is always super quick to respond to any questions you may have and is very friendly!
Cons:
The only thing that I don't really care for is email templates, but it's probably because I'm a Webdesigner and I'm used to creating my own. However, you can save pre-made layouts so that's the way I do it to gain some time when I create my emails. Their automatic branding tool could be better honestly, but it's not the main aspect of the software so I don't really care that much.
Alternatives Considered: Klaviyo
Reasons for Choosing Omnisend: MailerLite: not enough options, not professional enough.Mailchimp: too complicated to understand, set up and use as a beginner.
Switched From: MailerLite and Mailchimp
Reasons for Switching to Omnisend: Price and overall feeling of the brand. Omnisend seemed easier to use and their team answered my questions right away before I started using their software.
Verified Reviewer
Director in Slovenia
Verified LinkedIn User
Food & Beverages, 2-10 Employees
Used the Software for: 2+ years
Omnisend review
Comments: My overall experiance is very good. I would recomende the product to other people or should i say i already did. We are currently running 4 websites on it and we will be doing more. So in my book they have a loyal customer. And yes we have tried others.
Pros:
Price for performance doesn't come close to anyone. I think it is right there with Klaviyo but it is a lot cheaper. So that would be the part. Also i ti quite simple to use and to set up. The support is also very responsive but somethimes they don't have all ther right answers. But nevertheles they are there to help.
Cons:
My least favorite feature is that i can't search by phone number in the contacts but you have to create a segment. I think the search needs a little work.
Alternatives Considered: Klaviyo and Mailchimp
Reasons for Choosing Omnisend: Mailchimp is really awfull. I can't bare it.
Switched From: Mailchimp
Reasons for Switching to Omnisend: Best price/ performance
Ellie
Sr Digital Marketing Specialist in US
Food & Beverages, 10,000+ Employees
Used the Software for: 1+ year
Personalized Support & Ease of Use
Comments: Overall we have been very happy with our decision to switch to Omnisend. It gives us the ability to measure success of our campaigns and automations, create forms, and manage our contacts within one single platform. They are open to feedback and make platform changes accordingly.
Pros:
Our account manager is very reliable, responsive, and helpful. Client Support is also very useful when needed. The platform overall is intuitive and easy to use. Omnisend is always seeking feedback and implementing changes to improve the platform, which I very much appreciate!
Cons:
There are some reporting opportunities that could increase efficiency in evaluating metrics. Small features within the platform could be improved upon for a better UX, such as editing a campaign or sending a test email once it's been scheduled, scheduling automations in advance, and customizability of the new email builder.
Alternatives Considered: Klaviyo
Reasons for Choosing Omnisend: Personica was not able to integrate with Shopify and properly track sales.
Switched From: Personica
Reasons for Switching to Omnisend: Ease of use, pricing, platform navigation.
Retail, Self Employed
Used the Software for: 2+ years
Omnisend is great! Highly recommend!
Comments: Omnisend has been great! I have friends trying to get me to switch to their provider all the time but they haven't used Omnisend and I'm hesitant to move anywhere when it's so easy to use and the customer service is so great. If it's not broken, don't fix it - right?!
Pros:
The process of moving my emails over in the beginning was seamless. I love the copy feature so I'm not making a new email each week. I can just replace the content with relevant content to my new email campaign. Customer service is always very helpful and available through chat instead of waiting for an email that might not even answer the question I have (that's why I switched from my old provider).
Cons:
The only issue I ever had was trying to type inside the content box, but they have since fixed that so it's no longer an issue.
Verified Reviewer
Owner in US
Verified LinkedIn User
Design, Self Employed
Used the Software for: 2+ years
Source: GetApp
You're in for some billing surprises...
Pros:
The software itself is really intuitive and useful. I enjoyed it very much.
Cons:
This billing issue has really soured my feeling about this company. The monthly price that they show on their account page is wrong. They changed pricing over the years that I have been with them - which is absolutely fine. What isn't okay, however, is that where the pricing is shown on the account page is calculated completely wrong. That means, their website was showing that I would be billed $540 per month, and when the bill came in, it was $690. It's very upsetting to not know what to expect. I reached out to omnisend about this and spoke with [SENSITIVE CONTENT], but they showed me their pricing page, which still has a different number ($640). Their own team couldn't figure out what I should have been paying! Now they are not taking responsibility for updating their own website to match the real bill. If you value knowing how much something costs every month and transparency, I would not go with this company.
Alternatives Considered: Klaviyo and Drip
Switched From: Mailchimp