Prisync
What Is Prisync?
SMBs to Fortune 500's rely on Prisync's data to derive detailed C-level analysis and execute their A-game to increase sales growth and profit margins for more than 20% on average for less than a
Read more
week's worth of coffee money. Our 5-star 24/7 online customer support team is always available to answer any requests you might have in minutes and make sure that you get more than what you're paying for. We offer a free onboarding service to plan a long-lasting relationship with all our customers.
Read less
Who Uses Prisync?
E-commerce retailers, resellers, businesses. Shopify merchants. Magento stores. Brands, manufacturers, and suppliers.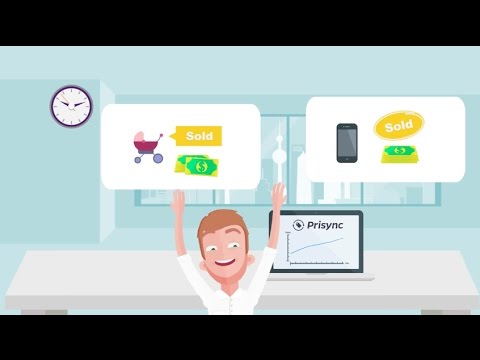 Not sure about Prisync? Compare with a popular alternative
Avraham
Digital marketing Manager in Israel
Verified LinkedIn User
Consumer Services, 11-50 Employees
Used the Software for: 6-12 months
A must have app for E-comm
Comments: They help me start earning money in E-comm, with great service and a very easy to understand and use app. I tried for a brief time another solution like Prisync (in the free period I tried another app in parallel) and Prisync was better at the interface and customer service and solution (Smart Match).
Pros:
TL;DR After many failed attempts in E-comm (security products), we started using Prisync and suddenly we are selling and with a profit. And for the long version - We were trying few times with few advertising agencies to start our E-comm business (selling products online that we buy in stock anyway and therefor have a good price for). Every attempt was finished after few month each on the losing side and each company gave us feedback for the failed attepts - feedbacl like "change the checkout", "change the design of the website" etc. We did and still no success. In the end we understood (after setting up presence in Amazon) that the main issue was pricing, we advertised for products we were not the cheapest in the shopping results so potential customers just went in (and we payed for that traffic), read about the product and went back to Google and bought the cheapest price that was presented. So after a small research we came across Prisync and after we set up the API conection and the Smart Match feature suddenly we start selling! What all the advertisers we had before didn't thought of or couldn't solve Prisync did - and in a very good way.
Cons:
Didn't found one yet but I started using the API only resently. As of now things work great from our side
Alessandro
Project Manager in Italy
Music, 2-10 Employees
Used the Software for: 2+ years
Alternatives Considered:
Competitor Price Tracking Software
Pros:
It is simple and functional and allows you to keep a considerable amount of articles under control by viewing the daily excel file that the platform sends
Cons:
Sometimes troubleshooting takes a long time for the support team
Roberto
oprichter in Netherlands
Construction, 11-50 Employees
Used the Software for: 2+ years
Doen;'t work and NO help to resolve anything
Comments: These guys work from Turkey and do not give anything for you company
Pros:
Overview price and competitors ................
Cons:
Repricing and brand match and rules do not work
Jeffrey
Director of Business and Development in US
Retail, 11-50 Employees
Used the Software for: 1+ year
Alternatives Considered:
Best Competitor Pricing Software available!
Comments: Amazing from the very first time I logged onto their site to look into the software. [SENSITIVE CONTENT] has been integral in getting our company set up and running with Prisync. She has made time available for questions or additional support everytime we have reached out to her.
Pros:
Dynamic Pricing and Daily reports automatically generated.
Cons:
Initial setup does take some time and man power if done at the organizational level instead of having Prisync manually scrape(Manual Scrape does deliver incredible results).
Caio
Corporate Sales Executive in Canada
Electrical/Electronic Manufacturing, 2-10 Employees
Used the Software for: 6-12 months
Alternatives Considered:
Delivers good MAP Monitoring
Comments: Great experience, especially the customer support, which is always there to help and do what they can to serve you.
Pros:
The SmartMatch is the best, the system keeps searching URLs on the web for you, which saves a lot of time.
Cons:
The MAP Monitoring has been surprising me, but still, there are maybe some accomplishments to deliver, such as a better report specific for MAP Monitoring. Today I still have to export the data and upload it to my own excel sheet, where I can manage the data the way I can see who is violating our prices and who is not, in a way that combines all competitors' violator listings together.