What Is Homebase?
Homebase makes work easier for 100,000+ small (but
mighty) businesses with everything they need to
manage and pay an hourly team: employee scheduling, time clocks, payroll, team communication, hiring, onboarding, and compliance.

Just don't call us "Human Capital Management." We're tools built for the busiest businesses, so owners and employees can spend less time on paperwork and more time on what matters.
Learn more at joinhomebase.com.
Who Uses Homebase?
Homebase works great for all hourly teams, including restaurants, retail, healthcare, beauty, home and repair, and professional services businesses.
Where can Homebase be deployed?
Cloud-based
On-premise
---
About the vendor
Homebase
Located in San Francisco, US
Founded in 2014
Homebase support
Phone Support
24/7 (Live rep)
Chat
Countries available
Canada, United Kingdom, United States
Languages
English, Spanish
Homebase pricing
Starting Price:
US$14.00/month
Yes, has free trial
Yes, has free version
Homebase has a free version and offers a free trial. Homebase paid version starts at US$14.00/month.
Pricing plans
get a free trial
About the vendor
Homebase
Located in San Francisco, US
Founded in 2014
Homebase support
Phone Support
24/7 (Live rep)
Chat
Countries available
Canada, United Kingdom, United States
Languages
English, Spanish
Homebase videos and images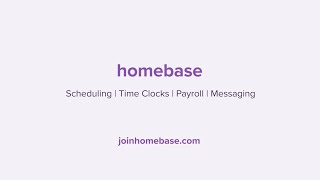 Features of Homebase
API
Activity Dashboard
Activity Tracking
Activity/News Feed
Alerts/Notifications
Applicant Tracking Software
Application Management
Automatic Time Capture
Availability Management
Calendar Management
Candidate Profiles
Candidate Tracking
Careers Page
Data Import/Export
Discussions / Forums
E-Verify/I-9 Forms
Electronic Forms
Email Management Software
Employee Database
Employee Handbook
Employee Management
Employee Onboarding
Employee Profiles
Employee Scheduling Software
File Sharing Software
For Cloud
Interview Scheduling
Job Posting
Leave Tracking
Mobile Access
Onboarding Software
Online Punch Card
Online Time Clock
Online Time Tracking Software
Orientation Workflow Management
Overtime Calculation
Payroll Management
Payroll Reporting
Real Time Notifications
Real-Time Chat
Real-time Updates
Reminders
Reporting/Analytics
Resume Storage
Scheduling Software
Search/Filter
Self Service Portal
Shift Swapping
Sick Leave Tracking
Task Management Software
Tax Compliance
Third Party Integrations
Time & Attendance
Time Tracking Software
Timesheet Management
Vacation/Leave Tracking
Workflow Management Software
Rain
Front Desk Supervisor in US
Hospitality, 11-50 Employees
Used the Software for: 6-12 months
Great simple scheduling and timecard system.
Pros:
Great simple scheduling and timecard system.
Cons:
Nothing that comes to mind, everything has worked well.
Verified Reviewer
Social Media Manager in US
Verified LinkedIn User
Retail, 10,000+ Employees
Used the Software for: 6-12 months
Great for Employee Scheduling
Pros:
Great for scheduling employees and keeping time sheets. Employees can also pick up shifts on the Homebase app and you can see everyone working at each location with a click of a button. Really great for organization.
Cons:
We did not run into any issues using Homebase and have no complaints.
Food & Beverages, 2-10 Employees
Used the Software for: 6-12 months
Manage your schedule from the comfort of your phone.
Comments: Overall this helped the communication throughout the team and allowed me to easily track my schedule and pay. It was super convenient and easy to use. I was skeptical at first when they had me download the app but then I was obsessed. I think every small business should use this software, it will help your team out tremendously.
Pros:
My team used Homebase as a scheduling and communication tool. If we needed a day off, there is a setting to where I can request a teammate to switch shifts with me or I can request cover. This made it super convenient if I needed a day off last minute. As for communicating with my team, this was the best! When sending out a group message, it allows you to message the people who are only scheduled for a specific day. So if you needed to let the team you're running late or that you need someone downstairs to bring up supplies, etc. I wouldn't need to take time to select the specific people I need to inform, it would automatically pull up those people from the schedule. This software not only lets you message the people you are scheduled with but it also allows you to see who is scheduled that day. I enjoyed this feature because it let me know when I was working with my bestie or my not so bestie. Another tool I loved on Homebase was the income tracker. This software was able to track when I worked and for how long and would provide an estimate on how much money I have made that pay period. It wasn't hard to find either. This helped my anxiety a lot because I knew if I had enough to pay my upcoming bills or if I needed to pick up an extra shift.
Cons:
There is only one thing that I have to say is a con and I think it's more my managers fault. There is a feature in Homebase that allows you to potentially get a small amount of your paycheck early. Unfortunately every time I tried it never worked, but I am pretty sure it's because my manager was against that feature and enabled it. I think this feature is so awesome for employees especially during this inflation period and living in an expensive city.
Danielle
General Manager in US
Restaurants, 51-200 Employees
Used the Software for: 2+ years
It's is a good app, but is constantly lagging, no matter what device and internet connection used.
Comments: See Above. I would like to say every time I have spoken with an employee from HB, they have been incredibly professional, polite, and knowledgeable. Homebase was also helpful during the early phases of Covid last year, with costs. I do wish there was an easier way than what I was told, to update myself to the admin of the account. Our current admin is an IT guy we used a few years ago, who does not have access to the email he used for HB anymore. I was told you'll need my [SENSITIVE CONTENT HIDDEN] to contact, and provide bills addressed to Firefly with his name listed as well, showing he is the [SENSITIVE CONTENT HIDDEN]. However, we are DBA, so nothing, not even our paystubs, state Firefly. Our DBA, is "Wes Pac Inc", which is what mail, licenses, and invoices state. If there is an alternate way to handle this, please contact me. Thank you all so much for everything you do.
Pros:
Asking for time off is simple for my employees, the message option is convenient.
Cons:
Homebase since the beginning is constantly lagging. Whether it be to load pages, send or receive messages, especially sending images. Whether I am using the url on a desktop, or the app on my iPad or iPhone, it is extremely slow. I get message notifications long before the messages actually show up. It is like this for all my employee's that use the app. The iPad version is difficult to use, it is as big as the size of a small phone screen, I don't understand why the app can't take up the entire screen of the iPad, like every other app I use on my iPad. I don't know if this is an option, but for my restaurant in particular, as I'm sure is the case with many establishments that use your app, we have several different departments. I'd for one like to be able to only see my FOH employee's on the schedule, and have a separate for BOH. It would also be convenient to not just limit the amount of employee's that can request off for a specific day, but to be able to limit by department. For example, to be able to say, 3 servers, 2 bussers, and 1 hostess is the limit for any particular day, rather than only being able to say 3 employee's in general is the max. I hope I explained that in a way it makes sense. Additionally, working in a restaurant that is open nights and weekends, your support hours are not reasonable at all. There has been numerous times we've needed support and you have been closed, so we are just hopeless.
Alternatives Considered: HotSchedules
Reasons for Switching to Homebase: It synchs with our Point of Sale System and pricing.
Michael
Office Coordinator in Canada
Construction, 11-50 Employees
Used the Software for: 1+ year
Best virtual timeclock for your money
Comments: Overall, my experience has been great with Homebase. Coming from manual punch clock, I've cut down my payroll process by at least 80%. It is easy to use (original software version is easy, new version is a little too messy so I haven't switched to the new view.) I still enter hours manually into QBO, because Homebase doesn't split regular and overtime hours. Not a big deal. *A couple wishes* 1. I wish there to be a button when employees punch out that says "Did you take a lunch break?" (Yes or No) Reason for this feature - I don't make our employees go to the iPad at lunch to "Take a break" when it's lunch time. I would have a line up of workers waiting to punch in and out because our entire company shuts down all at once for lunch. That way, when some employees DO work through their lunch break, they can just say "No" to the question "Did you take a lunch break" when they clock out at the end of the day. Currently, everyday I log into Homebase and manually add each employee's lunch break, except if they leave me a note saying "No Lunch". 2. It would be great if time card notes for a whole current pay period could be amalgamated into one document as I am processing payroll. I currently have to dig through each time card to find notes of employees asking for vacay pay, sick days, mileage etc. If I just had a list of all the notes and names for that weeks pay, I can check off each note as I add their request into QBO. Overall, I am still very happy with Homebase.
Pros:
What I like most about Homebase is that it doesn't break the bank to put in a virtual timeclock system. It integrates with Quickbooks online and it is easy to use.
Cons:
1. It does allow for a little customization, but not advanced enough for the way I run payroll. 2. It does not send separate regular hours and overtime hours to QBO.
Alternatives Considered: Timesheets.com
Reasons for Switching to Homebase: 100% for the price difference. Timesheets is so overpriced. Thank you for providing your software for such a reasonable amount of money. It makes a huge difference during this pandemic.