Local product
What Is Missive?
Team inbox and chat tool that empowers teams to truly collaborate around email, SMS, WhatsApp, Twitter, and other channels of communications. We redesigned the inbox with a business-first collaborative experience in mind. With Missive, teams focus on growing their business.
Who Uses Missive?
Small/medium businesses, digital agencies, consulting firms, logistics companies, design studios, e-commerce stores, rental agencies, marketing agencies, law firms, customer support departments.
Where can Missive be deployed?
Cloud, SaaS, Web-based, Mac (Desktop), Windows (Desktop), Android (Mobile), iPhone (Mobile), iPad (Mobile)
About the vendor
Missive
Founded in 2015
Chat
Countries available
Canada
Missive pricing
Starting Price:
US$14.00/month
No free trial
Yes, has free version
Missive has a free version and does not offer a free trial. Missive paid version starts at US$14.00/month.
Pricing plans
About the vendor
Missive
Founded in 2015
Chat
Countries available
Canada
Missive videos and images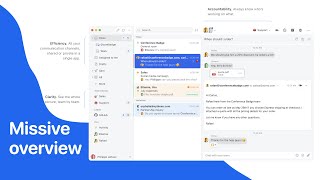 Features of Missive
Access Controls/Permissions
Activity Dashboard
Activity Tracking
Activity/News Feed
Alerts / Escalation
Alerts/Notifications
Auto-Responders
Brainstorming
CRM Software
Calendar Management
Calendar/Reminder System
Chat/Messaging
Collaboration Tools
Communication Management
Contact Management Software
Customer Database
Customer History
Customizable Templates
Document Management Software
Document Storage
Email Management Software
Employee Database
Employee Photos
File Sharing Software
Inbox Management
Issue Tracking Software
Live Chat Software
Meeting Management
Mobile Access
Multi-Channel Communication
Multiple User Accounts
Real Time Editing
Real-Time Chat
Reporting & Statistics
Reporting/Analytics
Routing
Search/Filter
Shared Inboxes
Signature Management
Social Media Integration
Support Ticket Management
Tagging
Task Management Software
Template Management
Third Party Integrations
Ticket Management
Video Conferencing Software
Workflow Management Software
Elizabeth G.
Freelance Social Media Writer in U.S.
Verified LinkedIn User
Commercial Real Estate Software, 11-50 Employees
Used the Software for: 6-12 months
Loving and Growing with Missive
Comments: Overall Missive has exponentially improved out workflow and operations. Our team is much more connected and communicative than ever.
Pros:
We love the collaborative email features, chatting, assigning, and observer features in Missive. Missive allows managers to supervise employees and make sure that no lead or email is missed but also isn't so intrusive that employees feel creeped out by it. Though we're sharing emails, everyone has their own Missive account and tasks they can have ownership of. The chatting allows our team to communicate so much better than before when we all had different google hangouts.
Cons:
Missive is still growing so sometimes we run into technical or feature limitations of things they haven't worked out yet. I also don't like how only the owner of the account can do certain things. As an administrator I hate to have to bother the owner of the company every time I need to add a new alias.
Alternatives Considered: Front
Reasons for Choosing Missive: Having new and different employees logging in to different Gmail accounts was too confusing and inconvenient. Managers could not oversee. Things were easily missed.
Switched From: Google Workspace
Reasons for Switching to Missive: Missive is true shared email, chat, and collaboration. Most other shared email platforms are also trying to shove their CRM features down your throats, which we definitely did not need.
Isaak D.
CEO in Australia
Verified LinkedIn User
Information Technology & Services, 2-10 Employees
Used the Software for: 6-12 months
Missive for the win!
Comments: Love, love, love Missive. The lads are excellent with their onboarding and support. I have no idea how such a little team does so much at such a high level - it is truly inspirational.
Pros:
We reviewed this alongside Front. It was attractive to me as it is a small team that is bootstrapped, and I like to support that. But most critically when doing the technical review of Missive v Front (and others) we found that they had the deepest integration with Gmail and an excellent API that allowed us to build a custom integration with our internal tooling. We were driven to find a common collaborative inbox tool for the team as Intercom wasn't working as well as we needed (we still use it for outbound messages), plus we get lots of messages from other channels and for other reasons beyond support - like sales. It also works well with PipeDrive - seeing that PD was using it themselves was reassuring, although it would be *excellent* if they shared some of the internal integration learnings with the PD integration off the shelf (it does the job, but only just)
Cons:
There is still some confusion about how to best handle closing and archiving with team emails - so it is closed from an individuals box but not the shared box and similar when trying to hand over an email and removing the email from your inbox - we still have a fear we will archive it for everyone. This is the most confusing part of the platform. We tend not to use Tasks as we have Pipedrive, Trello, TidyHQ all generating tasks which makes it confusing - I do wish we could push all tasks centrally to one of the above tools.
Alternatives Considered: Front
Reasons for Choosing Missive: Intercom's collaborative Inbox loses a lot of formatting and attachment when bouncing emails around. It isn't a genuine email handler and also didn't allow us to use it for emails and other incoming messaging gracefully.
Switched From: Intercom
Reasons for Switching to Missive: Front was tested for some months but it isn't a tight enough integration with Gmail - after some weeks of using it and then heading back into my Gmail Inbox, it was a mess, although my Front Inbox was neat, it wasn't being reflected in Gmail perfectly - very frustrating. Plus it's much, much more expensive than Missive.
Madelyn S.
Lead Placement Coordinator in U.S.
Management Consulting, 2-10 Employees
Used the Software for: 1+ year
Missive Has Increased Productivity
Comments: Missive has been phenomenal, and has changed the way our team collaborates. We are over the moon about the service that Missive provides for us, and are always excited to see the different updates and news letters that they provide. We recommend Missive to many friends in colleagues in all different industries.
Pros:
The collaborative nature of Missive creates easy and smooth connections between teammates, and productive workflows that we use daily to quickly connect with our clients. There are plenty of ways to assign/delegate/organize correspondences, and we could not provide the level of quality customer service we are able to without Missive being a part of our day-to-day. Missive's customer service team is top notch, and they are quick to get back and/or resolve any issues that I run into on a day to day basis, as well as help answer my questions. It's also a very visually appealing software, with simple icons and logos that clearly communicate their purpose.
Cons:
There are a ton of the features, a few of which seem to be somewhat similar or redundant, however, I think that is more than likely because I am not fully educated on all of the bells and whistles. So the cons that I find to be most prevalent are more so surrounding an overall lack of up front education on the software itself. I would appreciate the ability to hop on a call or get a quick run down on how things work. It's highly likely that I'm not aware of the fact that I could set something like this up, but to my memory I don't believe I've seen if it's possible to set up a Zoom or general talk through of Missive's program with a Missive team member to chat through the software, and see if they have suggestions on streamlining anything that we do on a day to day basis.
Laura B.
Design Coordinator in Canada
Real Estate, 201-500 Employees
Used the Software for: 6-12 months
Missive Review
Comments: A great resource when working with many different types of email platforms and communication platforms.
Pros:
My favourite part of missive was that we were able to integrate other programs and platforms into our Missive. Giving us more abilities than if we were just using one program.
Cons:
Because of the fact that we were integrate other platforms into our Missive use we would sometimes run into troubles if one platform upgraded and the functionality stopped between the two.
Patrick F.
App Wrangler in New Zealand
Computer Software, Self Employed
Used the Software for: 6-12 months
Missive is one of if not the best App I have ever used - and I test and set up Apps every day!
Comments: A total pleasure. If only every SaaS product/company was as awesome as Missive!
Pros:
The fact that Missive allows you to see and reply to comms received on pretty much any channel you can think of is a total game changer! And you can create message templates with custom variables that you can use in any of your messages on any channel! I was pretty blown away that for a really affordable price I could set up live chat on not one but two websites - and get it set up in 5 minutes!
Cons:
The only thing I think Missive could add to take it to the next level would be easy to set up email sequences with variables that stop sending automatically when the recipient replies (a la Mixmax). Apparently you can kind of do this via rules but it won't stop sending automatically if the recipient replies I believe.
Alternatives Considered: Front
Reasons for Choosing Missive: To bring all my communication channels into one place and save me a bunch of time and help me to avoid replying slowly to messages.
Reasons for Switching to Missive: Because it's "awesome-er" and also super affordable for it's feature set.
Missive Response
2 months ago
Thanks!