Local product
What Is Hostaway?
Hostaway has become a market leader in marketing, sales, management, reporting, and communication for vacation rental property managers. One of the largest marketplaces in the industry and deep integrations with Airbnb, VRBO, Expedia, Booking.com, etc, property managers can increase exposure while saving time and money. Have a unique business model? We are the most versatile solution available. Trusted by thousands of property managers, Hostaway is known for stability, performance, and service.
Who Uses Hostaway?
Growing vacation rental managers with 2-5000+ properties that want to seamlessly manage all rental channels, guest reservations, messages, and more with one software platform with great 24/7 support.
Where can Hostaway be deployed?
Cloud-based
On-premise
---
About the vendor
Hostaway
Located in Toronto, Canada
Founded in 2015
Hostaway support
Phone Support
24/7 (Live rep)
Chat
Hostaway pricing
Starting Price:
Hostaway does not have a free version.
Pricing plans
About the vendor
Hostaway
Located in Toronto, Canada
Founded in 2015
Hostaway support
Phone Support
24/7 (Live rep)
Chat
Hostaway videos and images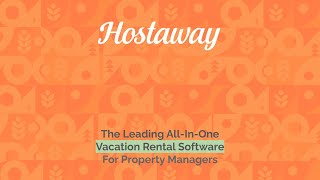 Features of Hostaway
Billing & Invoicing
CRM Software
Channel Analytics
Channel Management Software
Contact Management Software
Dynamic Pricing
Employee Management
For Vacation Rentals
GDS/OTA Integration
Guest Communications
Guest Experience Management
Housekeeping Management
Incentive Management
Inventory Control Software
Lead Management Software
Maintenance Management Software
Marketing Automation Software
Online Booking
Order Management Software
Owner Statements
Partner Management
Payment Processing Software
Pipeline Management
Point of Sale (POS)
Rate Management
Reporting & Statistics
Reporting/Analytics
Reservations Management
Third Party Integrations
Vendor Management Software
Justin
Accountant in U.S.
Verified LinkedIn User
Hospitality, 10,000+ Employees
Used the Software for: 2+ years
Hostaway Review
Pros:
Very easy to use and it is good to book rental vacations
Cons:
everything is good with this software but customer service does take a while.
Hostaway Response
last year
Hello Justin, thank you very much for your kind words. While we appreciate feedback, it can sometimes be subjective. Based on your feedback, we looked at our stats and found out the median response times had gotten longer. As a result of it, we immediately increased the size of our support team by 200%. As you can see in the other reviews, the outcome was excellent supprot with fast reponse times. Thank you again for helping us strive to become even better!
Hospitality, 11-50 Employees
Used the Software for: 2+ years
Hostaway the most versatile channel manager
Comments: I am very satisfied , some things I think has to be clarified from the beggining .For example some part of the features of the web have difficulties with some browsers so I consider that they have to make that point since the beginning and don't let the customer has an unnecessary problem to know that it is only a problem due to the browser . But this happens with a lot of software in the market , not only in hospitality.
Pros:
The web is very complete and allow a lot of features. The app is very good and friendly but has to include some other features that are only possible to use in the web . I know they are working very fast on that and will be ready soon.
Cons:
The software is ok but as any company works on the listings differently is difficult standardize everything and export the info to all the channels in one shot , that cause a loose of time and multiple revision at the beggining and any time there are changes.
Alternatives Considered: Guesty For Hosts
Reasons for Choosing Hostaway: I was having difficulties
Reasons for Switching to Hostaway: We saw that the product was designed pointing to the future and I liked the app very flexible which now I think has to implement much more features . C
Angad
Strategy Manager in Norway
Leisure, Travel & Tourism, 11-50 Employees
Used the Software for: 6-12 months
Ok Software, However lacks all the essential service and integration for seamless experience!
Comments: Overall experience with Hostaway is horrific. I strongly recommend people to look elsewhere! Hostaway have a wonderful idea, but no interest in achieving it nor ensuring customer satisfaction. Customer support is a joke as they do not help or have knowledge in solving your issue. There is no phone number, so if you are in a emergency please expect 5-15 days before you receive any notification from Hostaway.
Pros:
Easy to navigate and have clear view of dashboard, reservations, finances, customer list and integrations with varius thirdparty programs.
Cons:
When integrating with different channels, Hostaway tends to falsify its reports. That is, several accommodations were wrong dates and had the wrong sum/fee. This caused the financial report to be inconclusive with wrong data and history. This is one of the major issue of using Hostaway, make sure you stick to one fixed amount before integrating.
Alternatives Considered: Lodgify
Reasons for Switching to Hostaway: Most reviews, seemed to be impressive. However, we have decided to develop our own system. Until it is ready we are simply tolerating Hostaway.
Hospitality, 2-10 Employees
Used the Software for: 1-5 months
Critical choice in my business suceeding
Comments: The support and technology are top-notched. Hostaway enables me to communicate with my team and guests to provide outstanding service and enables me to optimize my business to run more efficiently, and effectively. I wouldn't be able to grow my business so fast without Hostaway and their excellent team
Pros:
when I initially decided to move forward with Hostaway, the decision was based on features and benefits. As I am getting more familiar with the value it offers, the support team is outstanding and hands down what I like about most. They are knowledgeable, quick, and responsive. They really do care about your business and how to help you become more successful
Cons:
there is a bit of a learning curve because of all the features and detailed reporting it offers. "Getting what you pay for" definitely applies here. with Hostaway you get a ton of support, a great product and the best value for a PMS.
Alternatives Considered: Uplisting
Reasons for Choosing Hostaway: Reporting was the initial reason
Switched From: OwnerRez
Reasons for Switching to Hostaway: Reporting capabilities. You can't manage what you don't track. I can do whatever I need with Hostaway and then some
Leisure, Travel & Tourism, 11-50 Employees
Used the Software for: 1-5 months
Great Management tool!
Comments: Hostaway is a timesaver for me and my staff!
Pros:
Just the messaging automations alone saves me tons of time. Having one place to handle all my properties and channels with makes life much easier. One calendar that showed everything, one place to message all guests for all the properties is GREAT! The support is fabulous! I am so pleased with the help I received setting up HostAway and integrating it with the channels such as Vrbo and Airbnb. Even the support after integration is amazing.
Cons:
It is a little complicated to setup and integrate, but luckily the support team is awesome and they help you with every step. In HostAway when you message guests that have a booking through Airbnb, you can also see those messages in Airbnb, Vrbo does not show the messages generated in HostAway. I understand this is something that HostAway is working on with Vrbo.
Alternatives Considered: Guesty For Hosts
Reasons for Switching to Hostaway: The platform looked more user friendly and they have actual people that you can call for support.