What Is Hive?
Hive is the only project management platform designed by its users. Because managing your work is a personal thing.
In Hive, we've got all of your key project management, task management, time and resource management, collaboration, and communication tools to manage all of your work. Hive also has flexible project layouts, native email, group messaging and so much more.
We guarantee that Hive is easy to use, integrates with your existing tools and is flexible for all ways of working.
Who Uses Hive?
Hive is the only project management platform designed by its users. Because managing your work is a personal thing.
Where can Hive be deployed?
Cloud-based
On-premise
---
About the vendor
Hive Technology
Located in New York, US
Founded in 2015
Hive support
Phone Support
24/7 (Live rep)
Chat
Hive pricing
Starting Price:
US$12.00/month
Yes, has free trial
Yes, has free version
Hive has a free version and offers a free trial. Hive paid version starts at US$12.00/month.
Pricing plans
About the vendor
Hive Technology
Located in New York, US
Founded in 2015
Hive support
Phone Support
24/7 (Live rep)
Chat
Hive videos and images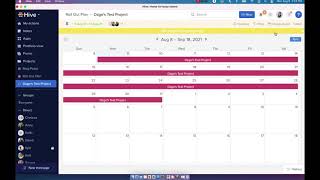 Features of Hive
Access Controls/Permissions
Activity Dashboard
Activity Tracking
Agile Methodologies
Alerts/Notifications
Approval Process Control
Assignment Management
Backlog Management
Bar Chart
Brainstorming
Budget Management
Business Process Automation
Calendar Management
Capacity Management
Client Portal
Collaboration Tools
Color Codes/Icons
Commenting/Notes
Communication Management
Content Management System (CMS) Software
Create Subtasks
Customizable Templates
Dashboard Software
Dependency Tracking
Document Management Software
Drag & Drop
Email-to-Task Conversion
File Sharing Software
For Creative Agencies
Forms Management
Gantt/Timeline View
Goal Setting / Tracking
Idea Management Software
Import Tasks
KPI Monitoring
Kanban Board
Live Chat Software
Meeting Management
Messaging
Milestone Tracking
Mobile Access
Percent-Complete Tracking
Portfolio Management
Prioritization
Product Roadmapping
Progress Tracking
Project Management Software
Project Planning Software
Project Planning/Scheduling
Project Scheduling
Project Tracking Software
Real Time Editing
Real Time Notifications
Recurring Tasks
Remote Access/Control
Reporting & Statistics
Reporting/Analytics
Reporting/Project Tracking
Resource Management Software
Resource Scheduling
Risk Management Software
Roadmapping
Search/Filter
Skills Tracking
Sprint Planning
Status Tracking
Strategic Planning Software
Tagging
Task Editing/Updating
Task Management Software
Task Progress Tracking
Task Scheduling
Task Tagging
Template Management
Templates
Third Party Integrations
Time & Expense Tracking
Time Tracking Software
Video Chat
Video Conferencing Software
Visual Workflow Management
Visualization
Workflow Configuration
Workflow Management Software
Sudhir
Planning Engineer in Jordan
Construction, 51-200 Employees
Used the Software for: 2+ years
An effective collaborative tool for managing projects and tasks in detail
Comments: As a result of Hive's unique workflow planning and management software suite, the team was able to keep track of all the details and monitor all the tasks, as well as raise the attention on due dates and priorities by each team member and clients on a regular basis.
Pros:
Hive allows the development of the team's capabilities to follow up on all projects on one system, as it provides us with enough flexibility to display different information in detail about all our projects independently or at once. Hive, through its capabilities to promote effective communication between team members, enables them to be familiar with all the details of workflow plans and also all the requirements of different tasks. I like in Hive the ease of preparing work schedules, and also the automatic update of the start and end dates of activities, and it is equipped with several views, enabling you to get a distinct view of work programs. Hive enables you through the project dashboard to know all the information you need, and also for each member of the team to know the tasks to be followed up and the dates for closing them.
Cons:
Not a lot of complications, Hive is very easy to use and all members can do their jobs directly through it. I just find that Hive needs more automation, especially with regard to updating the start and end dates of missions, also some improvements must be added with regard to search options, because in the current situation we cannot reach accurate results.
Hive Technology Response
3 months ago
Thank you for leaving us a review, Sudhir! We are so glad Hive keeps your team organized and on task. Cheers!
Lindsey
Director of Operations in US
Marketing & Advertising, 2-10 Employees
Used the Software for: 6-12 months
Good and Bad, but Mostly Good
Comments: Overall, Hive works for our Marketing team and customer service is exceptional (especially [SENSITIVE CONTENT HIDDEN]). The biggest frustration is that we tested a few systems and chose Hive because it combined messaging, we liked the look of it, and the ability to link external apps if desired. The ultimate reason we chose Hive, though, was because when tested, projects with a date range for a due date showed up at the beginning of that range, which is exactly what we needed and no other system did that. However, a month after we switched and installed, that changed and they now show on the due date which causes issues (and extra messages and meetings) for our team to make sure stuff is being worked on proactively. We've had a large amount of issues with recurring actions and auto-snooze as mentioned above and I've reported it several times. We've had Hive around 8-10 months and just went through redoing our entire workspace to hopefully make it more streamlined due to the systemic issues we were having. With that, I'll say there are several ways to utilize Hive and you can find what fits for your team. So overall, good and bad - mostly good.
Pros:
For our team of five, the most beneficial features are: ability to assign two people, ability to color code projects, ability to track time within a task, ability to add approvers within a task, direct and group messaging within the app (replaced separate use of Slack), Notes and ability to share them, and the "status" and "table" views for projects.
Cons:
For our team, we have had repeat issues with recurring actions not functioning correctly, specifically with auto-snoozing actions and sub actions (even past their due date) as well as due dates when we try to update recurring actions. We shifted our set-up and re-entered all actions at one point to try and workaround the need for a recurring action. We also prefer for actions with a date range for a due date to show up as of the start of that date range so we know how many days we have to work on something, however they show up the day it's due.
Alternatives Considered: FunctionFox, VOGSY, monday.com and Ravetree
Reasons for Choosing Hive: The setup within Asana wasn't beneficial for everyone and due dates were being missed. We also needed a system we could communicate within rather than the team communicating through Slack and Email outside of the system. We liked that Hive had different ways to view projects so each team member can choose what works for them and that communication could be integrated.
Switched From: Asana
Reasons for Switching to Hive: I explained this in the overall feedback section. :)
Hive Technology Response
2 years ago
Thanks for your review, Lindsey! We're happy to hear that Hive is a helpful tool for your marketing team. Your feedback is also appreciated, and will be passed along to the product team here at Hive. Cheers!
Bram
Founder in Netherlands
Marketing & Advertising, 2-10 Employees
Used the Software for: 1+ year
Easy project management
Comments: Hive has been a great help in keeping an overview of all the different projects that run simultaneously. Assigning tasks, checking off to-do lists and tracking time is what I use Hive for on a daily basis, and with great pleasure!
Pros:
The software is really easy to use - and very friendly to the eyes and mind. I love using the Gantt-chart option when setting up projects, to keep a nice overview of the status of a project. For employees to be able to switch project views is an excellent tool too, because not everyone needs the overview like me.
Cons:
What I like least is the way integration with email and Slack is done. It definitely works, and probably like charm knowing the team and the software, but it sits on a rather small portion of the screen and makes the rest of the app a lot smaller, too.
Alternatives Considered: Trello, monday.com, Asana and HubSpot CRM
Reasons for Switching to Hive: Hive just started out when I got my subscription - and it promised a great deal. Being a start-up myself, I felt motivated to go with a project management tool that was just starting out. I stuck with Hive over the past few months because they deliver on their promises.
Hive Technology Response
2 years ago
Hi Bram, Thanks for leaving a review of Hive! We're thrilled that you've been loving Gantt. If there's ever anything we can do for you, feel free to reach out at [email protected] Best, The Hive Team
Stephen Brent
Founder in US
Verified LinkedIn User
Marketing & Advertising, 2-10 Employees
Used the Software for: 1+ year
The project management product we were looking for
Pros:
We looked at and tested several project management options and had used several in the past. Hive was never on our radar and unfortunately isn't as well known, but we discovered it through the WeWork employee portal and gave it a try. The set up was simple, it offered flexibility in terms of how you view and sort projects. It also allowed us to add external users without paying for a seat. This was extremely important because we want our clients to have access to our project boards, but we don't need full functionality for them. While it wasn't available when we first started using it, the addition of time tracking was a huge bonus for us as an agency, and Hive continues to impress us by adding additional features and functionality. When it comes to support, they are extremely responsive and in the rare times we have had to utilize support, issues have been resolved to satusfaction.
Cons:
I wish there was a native integration with HubSpot, but we're able to get around that with Zapier.
Alternatives Considered: monday.com
Reasons for Choosing Hive: Asana did not offer pricing for less than 5 users and at the time, we only needed 2-3. We needed the additional functionality that came with the paid version but couldn't justify paying for seats that were going to go unused for an undetermined amount of time.
Switched From: Asana
Reasons for Switching to Hive: Part of the reason was that they offered a discount to companies that worked at a WeWork location, but it was also easy to set up and use during the trial period.
Sadie
Media and Marketing Manager in US
Marketing & Advertising, 2-10 Employees
Used the Software for: 6-12 months
Thank you Hive for making our business run seamlessly!
Comments: Hive has made communication between our company's team easy. Now, we don't have to constantly call each other, have follow-up meetings, and walk into each other's offices. We can simply log into Hive and see who is doing what. We know when things are due and what needs to be done next. Because of Hive communication is easy so we can focus on getting jobs done for clients and getting them done on time.
Pros:
Hive is ridiculously user friendly. I like most how our team can collaborate on different tasks and we all know who is doing what and when. We also know when everything is due and what is to be done next. It makes communication and completing tasks practically effortless. Now we can focus less on the lists and to-do's because of Hive; now, we have more time to focus on actually completing the tasks themselves. Because of Hive, we can get jobs completed for customers on time. I also really like the time clock feature, where we can log our hours for different tasks and clients. Plus, anytime I have questions or troubles, the Hive customer support team is right there, ready to help. I can't rave about Hive enough.
Cons:
I honestly have nothing that I least like about this software. It's an amazing product that myself and our company uses every day.