Effivity
What Is Effivity?
Effivity is the best ISO, GRC & ESG automation software validated by users in 120+ countries for Quality - Occupational Health & Safety - Environment - Food Safety & Information Security Management
Read more
System. Achieve 100% conformity with ISO 9001/14001/45001/22000/27001/HACCP standards with world-class risk management, non-conformity, document control, internal audit, training, calibration, incident mgmt modules. Let's make your QMS/HSE/FSMS/ISMS simple, quick, easy, collaborative & time-saving.
Read less
Who Uses Effivity?
Automate, augment & simplify your QMS, HSE, ISMS, FSMS & ISO implementation with Effivity - ISO management system software loved by auditors and validated by all leading ISO certification bodies.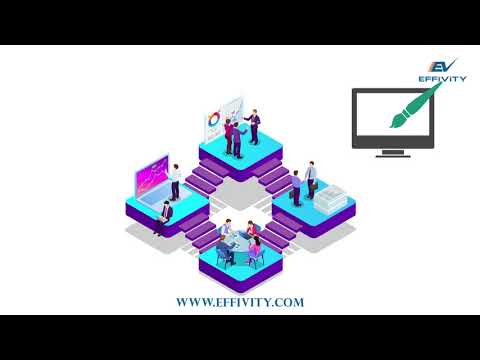 Not sure about Effivity? Compare with a popular alternative
Mark
United Arab Emirates
Verified LinkedIn User
Used the Software for: Not provided
Source: GetApp
MyEasyISO
Comments: Our ISO implementation has simplified to a great extent after we deployed MyEasyISO. We have been certified for last 3 years and MyEasyISO ensured we were more productive and efficient in our compliance by reducing the amount of paperwork we were required to maintain. MyEasyISO was good in terms of the level of automation in offered and also support we received during initial signup and post purchase. They also offered us a dedicated ISO consultant to get us get best of the system and provide assistance at all the stages. We loved the Non-Conformance Module, Risk Module, Internal Audit Module and Customer complaints module. Also purchase, quality and operations modules offered as kind of template free ISO system and ensured we were ready for all of our ISO audits on a real-time basis. We are going to use MyEasyISO even for our group companies next month as they are offering attractive pricing plan for our multiple subscriptions and also free ISO consulting option. Recommended for all companies.
Pros:
Simple user interface and workflow. Meets almost all the requirements and compliance expected from our ISO 9001, ISO 14001 and OHSAS 18001 standards. We really saved a lot of time using MyEasyISO.
Cons:
More options for service planning, tracking and real-time monitoring of shipments. If they offer sector specific MyEasyISO, it will be great.
Chan Heng
Customer Support Manager in Singapore
Automotive, 51-200 Employees
Used the Software for: 1-5 months
Nice tool to implement and certify your organization for ISO 9001 Standard
Comments: We started implementation of ISO 9001:2015 QMS in October 2016. We tried several software including MyEasyISO during our evaluation phase. We selected MyEasyISO as per preferred ISO 9001 software becuase of its simplicity, pricing and support provided. We were able to be productive with the system in less than 10 days and in 2.5 months we had our first internal audit conducted with certification audit just completed and we are successful with just one minor NC and 2 observations. We have now a completely paperless QMS with MyEasyISO. They also offered us complimentary pre-audit consulting free of cost which was a nice gesture from them. They are very pro-active in understanding needs of the subscribers and most of our recommendations were addressed in subsequent releases they had. I wish they offer custom forms and more visual representation in the software....we have already communicated this to them and i guess as always in next couple of months, this will also be taken care. Being into automobile field, we have very specific requiremments for risk identification, customer complaints, non-conformity and documentation management. All of these were perfectly addressed by MyEasyISO.
Pros:
We tried around 4 different QMS software before finalizing MyEasyISO....they were probably the most comprehensive in terms of meeting all compliance requirements of ISO 9001:2015 standard. The modules are in logical flow and arranged in a way our ISO consultant guided us for implementation. The quick setup wizard was also good in getting the basic setup done in a couple of hours. Support was excellent and they have a TAT of 8 hours but in most cases either it was instant or less than 2 hours.
Cons:
No option to create own forms.
Effivity Technologies Response
5 years ago
Thank you Chan Heng. Appreciate your feedback. We are glad to add 2 additional months to your MyEasyISO subscription as a kind gesture from us to say thank you for your review.
Human Resources, 2-10 Employees
Used the Software for: 1-5 months
ISO accreditation
Comments: Very low.
Pros:
Not much at all. It was provided as part of an ISO package.
Cons:
Clunky. Heap of duplication required for what is essentially a database. Very limited support. Do yourself a favour and go with another solution.
Tommy
- in US
Verified LinkedIn User
Used the Software for: 1-5 months
The best valued ISO 9001 solution available!
Comments: Hopefully obtain ISO 9001 certification
Pros:
The document control and training modules are what sold us on MyEasyISO along with the price. Document control is simple and it effectively reduces bottlenecks in the routing chain. The training module allows us to keep track of records and meet the standard. The pricing is perfect for us as we are just getting started on our ISO journey. The customer service both on the sales and after purchase side is pretty phenomenal. Always quick to respond and provide solutions or documentation to help resolve issues.
Cons:
Lack of customization. There are many programs available that allow you to customize fields, but at a much greater price. There are instances where we just have to adjust what we call things in order to use the software as it was intended.
Effivity Technologies Response
5 years ago
Dear Tommy, We glad to earn your 10 / 10 likelihood of recommendation on the basis of quality of the software, simplicity of use, customer support and value for money. We are also happy to note that you are finding our document control and training modules adding value to your business and operations. We have a major product launch planned in next few weeks which will bring screen level, field level, report level and approval level customization capabilities in the software. We will give access of this new upgrade to you being our valuable client to use this software when launched and help you benefit from the proposed customization capabilities we are bringing in. We remain committed to help you implement and maintain a robust Quality Management System and partner in your QMS certification process. Thank you.
Eng Siong
Manager in Singapore
Transportation/Trucking/Railroad, 201-500 Employees
Used the Software for: 6-12 months
Review on ISO software MyEasyISO
Comments: Wonderful online software with great backend support, and all come with a very reasonable price.
Pros:
Simple to use and yet incorporated all requirements under the ISO code. Not to mention the good and timely support of the backend team. Suitable for both ISO beginner till expert level. The software is designed by people who have an in-depth knowledge of ISO, yet they readily take in feedbacks to improve the system.
Cons:
Can't really say what we dislike. Maybe to provide a better training video for beginner users as the linkage between modules must be quite difficult to connect unless after some hands-on practice.
Effivity Technologies Response
4 years ago
Dear Eng Siong Lee, We are delighted to receive your positive feedback and know the degree of satisfaction with MyEasyISO. Satisfaction with overall quality, ease of use, customer support and value for money are always very strong points behind the success of MyEasyISO as correctly identified by you. We are are working hard everyday to continually improve the features and functionalities of the software to make it better with each passing day and I am sure our upcoming releases and product upgrades will add much more features in your favorite software. We are already live with our major software upgrade MyEasyISO PRo that offers custom forms, custom workflow, custom fields, custom reports and 100% customization. We look forward to serving you and your organization with our amazing customer service as reported by you in days to come and partner your journey towards business excellence. Happy to help! MyEasyISO Customer Success Team