What Is Effivity?
Effivity is the best ISO, GRC & ESG automation software validated by users in 120+ countries for Quality - Occupational Health & Safety - Environment - Food Safety & Information Security Management System.
Achieve 100% conformity with ISO 9001/14001/45001/22000/27001/HACCP standards with world-class risk management, non-conformity, document control, internal audit, training, calibration, incident mgmt modules.
Let's make your QMS/HSE/FSMS/ISMS simple, quick, easy, collaborative & time-saving.
Who Uses Effivity?
Automate, augment & simplify your QMS, HSE, ISMS, FSMS & ISO implementation with Effivity - ISO management system software loved by auditors and validated by all leading ISO certification bodies.
Where can Effivity be deployed?
Cloud, SaaS, Web-based, Mac (Desktop), Windows (Desktop)
About the vendor
Effivity Technologies
Located in New York, U.S.
Founded in 2015
Phone Support
24/7 (Live rep)
Chat
About the vendor
Effivity Technologies
Located in New York, U.S.
Founded in 2015
Phone Support
24/7 (Live rep)
Chat
Effivity videos and images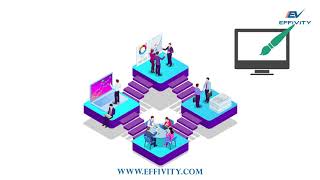 Compare Effivity pricing with similar products
Features of Effivity
Access Controls/Permissions
Activity Dashboard
Air Emissions Management
Alerts/Notifications
Archiving & Retention
Audit Management
Audit Trail
Business Process Automation
Change Management Software
Collaboration Tools
Communications Management
Complaint Management Software
Compliance Management
Compliance Tracking
Controls Audit
Corrective and Preventive Actions (CAPA)
Customizable Reports
Data Import/Export
Document Coding & Control
Document Management Software
Document Storage
Drag & Drop
Environmental Compliance
Equipment Management
Forms Automation Software
Forms Management
Hazardous Materials Management
Incident Management Software
Inspection Management
Maintenance Management Software
No-Code
OSHA Recordkeeping
Occupational Health Management
Process Modeling & Designing
Process/Workflow Automation
Quality Control
Reporting & Statistics
Reporting/Analytics
Risk Assessment
Risk Management Software
Supplier Quality Control
Sustainability Management
Task Management Software
Third Party Integrations
Training Management
Version Control
Waste Management Software
Water Management
Workflow Management Software
Mark
United Arab Emirates
Verified LinkedIn User
Used the Software for: Not provided
Source: GetApp
MyEasyISO
Comments: Our ISO implementation has simplified to a great extent after we deployed MyEasyISO. We have been certified for last 3 years and MyEasyISO ensured we were more productive and efficient in our compliance by reducing the amount of paperwork we were required to maintain. MyEasyISO was good in terms of the level of automation in offered and also support we received during initial signup and post purchase. They also offered us a dedicated ISO consultant to get us get best of the system and provide assistance at all the stages. We loved the Non-Conformance Module, Risk Module, Internal Audit Module and Customer complaints module. Also purchase, quality and operations modules offered as kind of template free ISO system and ensured we were ready for all of our ISO audits on a real-time basis. We are going to use MyEasyISO even for our group companies next month as they are offering attractive pricing plan for our multiple subscriptions and also free ISO consulting option. Recommended for all companies.
Pros:
Simple user interface and workflow. Meets almost all the requirements and compliance expected from our ISO 9001, ISO 14001 and OHSAS 18001 standards. We really saved a lot of time using MyEasyISO.
Cons:
More options for service planning, tracking and real-time monitoring of shipments. If they offer sector specific MyEasyISO, it will be great.
Chan Heng
Customer Support Manager in Singapore
Automotive, 51-200 Employees
Used the Software for: 1-5 months
Nice tool to implement and certify your organization for ISO 9001 Standard
Comments: We started implementation of ISO 9001:2015 QMS in October 2016. We tried several software including MyEasyISO during our evaluation phase. We selected MyEasyISO as per preferred ISO 9001 software becuase of its simplicity, pricing and support provided. We were able to be productive with the system in less than 10 days and in 2.5 months we had our first internal audit conducted with certification audit just completed and we are successful with just one minor NC and 2 observations. We have now a completely paperless QMS with MyEasyISO. They also offered us complimentary pre-audit consulting free of cost which was a nice gesture from them. They are very pro-active in understanding needs of the subscribers and most of our recommendations were addressed in subsequent releases they had. I wish they offer custom forms and more visual representation in the software....we have already communicated this to them and i guess as always in next couple of months, this will also be taken care. Being into automobile field, we have very specific requiremments for risk identification, customer complaints, non-conformity and documentation management. All of these were perfectly addressed by MyEasyISO.
Pros:
We tried around 4 different QMS software before finalizing MyEasyISO....they were probably the most comprehensive in terms of meeting all compliance requirements of ISO 9001:2015 standard. The modules are in logical flow and arranged in a way our ISO consultant guided us for implementation. The quick setup wizard was also good in getting the basic setup done in a couple of hours. Support was excellent and they have a TAT of 8 hours but in most cases either it was instant or less than 2 hours.
Cons:
No option to create own forms.
Effivity Technologies Response
5 years ago
Thank you Chan Heng. Appreciate your feedback. We are glad to add 2 additional months to your MyEasyISO subscription as a kind gesture from us to say thank you for your review.
Prashant
Auditor in India
Environmental Services, 201-500 Employees
Used the Software for: 6-12 months
User friendly software
Comments: Great
Pros:
No consultant required. It is very good software for new implementation
Cons:
All is good. Nothing to say negative. Comfortable to use.
Used the Software for: 1+ year
Ecstatic! Its exactly what i envisioned of how my company's ISO&HSE management tool should be.
Pros:
Small companies especially Indian SME's require agile teams & members that can multi task. Instead of having a separate cost head for QA/QC, QMS, the software immediately helps bring in the "systems" culture. In a few months time people found that QMS isnt some one elses job but an important part of their own work scope. Immediately we find the process ownership rising, with only the fact that a very good, clutter free and easy software tool is at hand accessible on any device anyhere. This tool has reduced immensely the paperwork and is good at data display. Payoff is that customers find it very impressive and shows our committment as a company to improve upon our systems. For our ISO9001:2015 certification, surprisingly my team waltzed through our certification audit because with MyEasyISO they were pros! The auditors were astonished and we did that with basic QMS knowledge, without employing a consultant. Simply put, related to the task at hand, its a flexible tool which take out the burden of remembering all relevant documentation to be referred to and updating is a jiffy. Suddenly ISO/QMS/ HSE are not dreaded words!
Cons:
What i like least about this software, is the fact that, not many people (in India) are aware of it.
Effivity Technologies Response
4 years ago
Dear Vaibhav, We are delighted with your satisfaction with MyEasyISO. In Fact it is the feedback and reviews from users like you that keep us motivated and enables us to enhance our software continually. We are glad to learn that MyEasyISO has become an integral part of your organization and helping you to integrate QMS with your strategic direction. We agree with your comment that MyEasyISO makes the user experience simple, easy, clutter free and collaborative as experienced & reported by our users globally. We are working on several improvements and when released, they will make your MyEasyISO experience even better. We thank you for being our valuable customer and look forward to partnering your organization in your drive of performance, productivity, profitability and growth.
Tommy
- in U.S.
Verified LinkedIn User
Used the Software for: 1-5 months
The best valued ISO 9001 solution available!
Comments: Hopefully obtain ISO 9001 certification
Pros:
The document control and training modules are what sold us on MyEasyISO along with the price. Document control is simple and it effectively reduces bottlenecks in the routing chain. The training module allows us to keep track of records and meet the standard. The pricing is perfect for us as we are just getting started on our ISO journey. The customer service both on the sales and after purchase side is pretty phenomenal. Always quick to respond and provide solutions or documentation to help resolve issues.
Cons:
Lack of customization. There are many programs available that allow you to customize fields, but at a much greater price. There are instances where we just have to adjust what we call things in order to use the software as it was intended.
Effivity Technologies Response
4 years ago
Dear Tommy, We glad to earn your 10 / 10 likelihood of recommendation on the basis of quality of the software, simplicity of use, customer support and value for money. We are also happy to note that you are finding our document control and training modules adding value to your business and operations. We have a major product launch planned in next few weeks which will bring screen level, field level, report level and approval level customization capabilities in the software. We will give access of this new upgrade to you being our valuable client to use this software when launched and help you benefit from the proposed customization capabilities we are bringing in. We remain committed to help you implement and maintain a robust Quality Management System and partner in your QMS certification process. Thank you.