Todoist
What Is Todoist?
Todoist is the world's #1 to-do list & task manager to organise your life and work. Regain clarity and calmness by getting tasks out of your head and into Todoist, no matter where you are or what
Read more
device you use. It's a simple yet powerful to-do list app ranked best-in-class by Apple, Google, The Verge, Forbes, and more. Since 2007, over 25 million people have used Todoist to organize work and life, completing more than two billion tasks along the way.
Read less
Who Uses Todoist?
Personal and team productivity.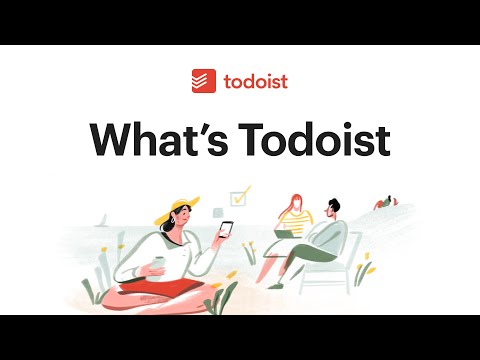 Not sure about Todoist? Compare with a popular alternative
Civil Engineering, Self Employed
Used the Software for: 6-12 months
Alternatives Considered:
Todoist review
Comments: Amazing app, helps with productivity and make tasks easier
Pros:
I like that you can share task with others, good integrations and is intuitive
Cons:
Can't retrieve task loses some functionalities on the app compared to site
Jaden
Web Developer in US
Computer Software, 2-10 Employees
Used the Software for: 2+ years
Simplicity, Speed, & Ease Of Use
Pros:
What makes Todoist stand out is it's streamlined design. The design itself is minimal and clean. You organize tasks into projects, and those projects can be organized into sub-projects. One of it's best features is natural language input: you can set the due date, priority, project, labels, and more all in the name of the task. This makes it super fast to create & edit tasks, and makes it easy to get ideas out of your head and into Todoist.
Cons:
The one feature I want Todoist to have is custom features. At the moment you can create "filters", which allow you to show tasks filtered by due date, project, label, etc. However the tasks always show up in a list style view. I would love it if you could display the filter in an alternate view such as a kanban board, or any of the other views offered by ClickUp's dashboards or Notion's database views.
Yassine
CEO in Morocco
Verified LinkedIn User
Design, 2-10 Employees
Used the Software for: 2+ years
Todoist Is the best To do list and task management software on a small scale.
Comments: I love it as a to do list and small task manager, but when i grow my team a switched to notion, i think todoist is more for personal use of for student or small teams.
Pros:
It's a great software that is easy to use yet powerful, well integrated and intuitive. I especially like the integration with Fantastical and you can use your lists on multiple devices and you can share tasks with other users and edit tasks across platforms.
Cons:
I Find its interface somewhat confusing and hard to manage tasks especially done ones, and you always need to search for them, also some bugs in android devices.
E-Learning, 2-10 Employees
Used the Software for: 2+ years
The best task manager I've used; and it keeps getting better
Comments: Really good. I liked it at the start. And they continue to add more features.I can email tasks to my app. I can share sections of the app with others.
Pros:
It is that rare combination of full-featured and SO easy to use.If you want to add a project, you go to the project list, right click, and choose "Add a Project."A dialogue shows up to let you add a task. You can type in "Turn in report Tues at 3 p.m." and you'll get task added that has a deadline right when you wanted. Or set up a board and track projects through stages. You can also set up sub projects and sub tasks for each task.It will tell you all the tasks due today, tomorrow, overdue, whatever timing you indicate.
Cons:
You can't do dependencies. It's not great at telling you how long your project will take.You can schedule tasks way out in the future. But you can't rely on Todoist to add up the time of subtasks to tell you how long the entire task will take.
Sarah
System Administrator in US
Verified LinkedIn User
Information Technology & Services, 10,000+ Employees
Used the Software for: 2+ years
A Great Way to Keep Yourself Organized and Productive
Comments: It has a lot of wiggle room. Jobs may be broken down into smaller tasks, and each task can be scheduled. Custom categories can be created by you. On the go, there's an app to keep track of things. Has access to a wide range of equipment. And you'll get daily email reminders, with a lot of encouragement, as well.
Pros:
Todoist is a simple task management tool. Todoist may be accessed from a variety of devices. There are two ways to access it: online and on the go. User satisfaction will be enhanced by the fact that data is synchronized and may be modified simply. Managing task lists is a breeze because to the user-friendly layout, which makes it easy to find the most important features. It is possible to prioritize activities in Todoist, as well as add comments to each job and estimate the amount of time it will take to finish it.
Cons:
You have to keep going and be aggressive in order to succeed. A to-do list might start to feel like simply another thing to check off your list if you aren't actively interested in it. That's not Todoist's fault, though. But if you're serious about utilizing it, you'll need to put in the time and effort.