Local product
What Is My Music Staff?
**NEW: VIDEO LESSON INTEGRATIONS** My Music Staff is the #1 studio management software that automates the way you run your music studio. Schedule lessons, create invoices, record payments and more! If you're looking for a solution that has everything all in one place and saves you time and money, then your search stops here! Discover why more music teachers are choosing My Music Staff. Start your FREE 30-day trial today. Free unlimited phone & email support.
Who Uses My Music Staff?
Individual music teachers, and studios with multiple teachers, who need affordable, easy to use software, to manage the core aspects of their teaching business.
Where can My Music Staff be deployed?
Cloud-based
On-premise
---
About the vendor
Port 443
Located in Burlington, Canada
Founded in 2004
My Music Staff pricing
Starting Price:
US$14.95/month
Yes, has free trial
No free version
My Music Staff does not have a free version but does offer a free trial. My Music Staff paid version starts at US$14.95/month.
Pricing plans
get a free trial
About the vendor
Port 443
Located in Burlington, Canada
Founded in 2004
My Music Staff videos and images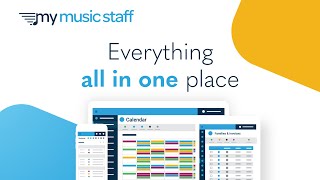 Features of My Music Staff
Attendance Tracking Software
Calendar Management
Class Management
Class Scheduling
Course Management
Customizable Branding
Progress Tracking
Student Management
Tests/Assessments
Third Party Integrations
Alternatives to My Music Staff
Reviews of My Music Staff
Music, 2-10 Employees
Used the Software for: 6-12 months
My Music Staff review first year
Comments: I definitely have been having a great experience with My Music Staff. Especially their actual staff members. I spoke with [SENSITIVE CONTENT] recently and she did a phenomenal job at helping me fix my accounting issues and invoicing issues. She was very easy to talk to you she listened to my concerns and questions that I had and took time to teach me how to fix my accounting problems. I had several students accounts that had it inputs put in the wrong way for discounts etc. and she was able to quickly spot what the problems were as well as allow me the time to fix them and explain why not to do what I did before and how to properly and put the information I need to moving forward and why. I told her I think it would be nice if My Music Staff will give her a bonus to make videos on how to create invoices and teaching users how to utilize accounting and how all of the features work together to help balance out the accounting page and create invoices all of the ends and outs! She would be great at that as well!
Pros:
It's really kind of hard to pinpoint what specifically I like because there's a lot of features that I do like such as being able to schedule, pull reports, upload videos for our students, upload link sent of the learning material for our students, payroll etc
Cons:
I don't like that I'm not able to use PayPal and stripe at the same time to except payments. I do have parents who like to pay through PayPal as well but I have to utilize a different source to receive those payments because only stripe or PayPal can be used one at a time. I wish that it was also a lot easier to understand how to utilize the invoice an account features. I have gotten pretty confused and had to call in and ask questions several times in order to really get the hang of it. It can be a bit confusing without that additional coaching to understand how to bill clients. I've had moments where my numbers were off because I gave an additional discount or I build them incorrectly and didn't understand how I did it or why.
Port 443 Response
last year
Hi Irma, thanks for a great review! We actually do have a number of tutorial videos already, including ones that go over various parts of invoicing. We also have a Getting Started Guide on our website that goes over how all of the features work together :)
Nicole
CEO and Teacher in Australia
Music, Self Employed
Used the Software for: 6-12 months
Communication and Organisation
Comments: This software definitely has 'bang for buck'. All of the things teachers are able to do through this platform certainly impress me. I started teaching 40 years ago and everything was done in hardcopy by hand. Wow, what a difference. What has impressed me the most, and continues to impress me, is your customer support. My questions are answered quickly and always with courtesy too. I feel like I am dealing with real people who care about my ability to use their product with as much ease as possible. It is an absolute pleasure doing business with you.
Pros:
There are quite a few things I like about MMS. The first is communication with my students. Being able to create lesson notes each week, schedule lessons on the calendar and do invoicing through the platform helps me to keep things organised. I also I like that it allows me to invoice my students and keep track of their payments easily. The library is very helpful. Now I don't lose things I loan out anymore and students (I believe) are notified when they have something that need to be returned.
Cons:
I am not very happy with my website and wish there was more support on how to do this well. Being a sole proprietor I cannot afford to hire someone to do this and it isn't very intuitive (although better than many others I looked at, especially when you consider what you get with the package). More videos that give direction, suggest and examples of this would be helpful. Maybe reach out to some of the teacher who have created exception sites and ask them to share their secrets. We're teachers, we can't help ourselves. : ) It is a little thing, however; buttons for social media (like Facebook, Instagram Linkedin, etc) would be really nice on the site as well.
Music, 2-10 Employees
Used the Software for: 2+ years
It's great once you get to know it
Comments: For a relatively low cost, this software is helping me grow and define my business. The company was extremely responsive when the pandemic hit and new features were unveiled quickly. I am able to run my appointments just as easily from zoom as face to face using the software tools they provided. Overall, I would recommend this product as a great tool for a studio.
Pros:
It makes scheduling and keeping track of payments a breeze. Everything is all in one place and generating reports is also simple. For the most part, it does more than I had expected/hoped.
Cons:
For people who prefer having support via the phone, this is not a good option. There are many times that I wish I could just dial a number to get an answer. That being said, they respond quickly via email. There is also a learning curve with this software that might be a barrier to some.
Port 443 Response
3 years ago
Hi Anamarie. Thank you for the lovely review. I do just want to point out that we do have phone support as well! You can reach our team toll-free at 1-888-732-6134 :)
Kristin
Private piano instructor in US
Music, Self Employed
Used the Software for: 1-5 months
2 months in- loving it!
Comments: The customer service is exceptional. It's really like having a 'staff.' Responses are prompt and answer the question asked, usually along with additional suggestions. The staff checks in about once a month to see if you need help with anything. They are great at anticipating what you might need. For example, during the Corona shutdown they were quick to get online teaching platforms integrated with their scheduling program. They went above and beyond by offering tutorials about getting started teaching online for those of us who had never done it before.
Pros:
I have been using My Music Staff for a couple of months now. My favorite feature is the auto billing from the calendar. Students can change times or cancel lessons themselves which eliminates a lot of the administrative work. I love that I can email students or parents or both seamlessly. I use the online resources feature to upload audio or video customized for each student. It's easy to email notes to parents or students and also maintain private notes for myself. I also like that there is an easy check box for when students pay at the lesson. Just check the box, no need to enter a payment. I like the setting that a cancelled lesson automatically creates an open 'makeup' spot in my schedule that ask students can see and claim.
Cons:
I offer tiered pricing for families. So the first student in a family is full priced, the 2nd is discounted, and the 3rd is more discounted than the 2nd. There isn't a good way to do that on this site. I can assign different prices per student, but if the 'first' child in the family cancels, but child 2 and 3 still do lessons, I have to manually adjust the price. I also don't like that the invoicing shows a balance owed all month long, although it does adjust as needed. For example, my students pay at the end of the month. But on the first of the month, it shows that they owe for the full month. They won't get an invoice until the end of the month, But if they (or I) check their account before then, I would prefer to see a current balance for lessons taken, not lessons taken and scheduled.
Julia
Director/Instructor in US
Music, 2-10 Employees
Used the Software for: 1+ year
A great All-In-One Business Manager and Scheduler
Comments: The scheduling alone and automated charges and billing are amazing - so much easier to keep track of everything. I'm also loving the additional features and ease of communication to students and parents from one place.
The improvements they've made over the past 2 years (most especially becoming more friendly to syncing to Google Calendar) have been unobtrusive and are generally making the software easier to use - and all at a reasonable cost!
Pros:
First of all, the price is fantastic for a small business - you pay per teacher you're managing and the base subscription price is outstanding! Any equivalent scheduling software charges as though you are a large company and was many times the price for just me and my partner! The scheduling interface is easy and pretty intuitive, and I love that I can opt to allow people to change their own times (but only to a time that I've already set aside for teaching). I continue to have control over the times and days that I teach, and I have to deal with fewer make up lesson headaches! I've only started using some of the other functions this school year (file sharing, practice tracking, sending notes to parents/students, etc) so only a few months, but so far it's working really well and I love being able to contact the parents with concerns or suggestions when the child is not present.
Cons:
1. Most of my students pay on an automated monthly tuition model, and I would love to be able to set the month beginning/end dates for something other than the 1st. (mid month starts, 2nd pay period, etc) 2. While it is great to be able to message parents with notes, notifications of uploads, etc, it would be great if there were a way to group all those messages together instead of spamming them the day after the lesson. 3. Sometimes changes I make from my mobile device don't save properly (attendance is bad for this)