What Is SKULabs?
Supercharge your ecommerce business with an all-in-one inventory management and order fulfillment solution. Sync all of your multi-channel orders in one place, push inventory updates in real-time, and pick and ship orders faster than ever using barcode scanning and automatic sorting for individual orders or multi-order batches. Get live rates and print shipping labels from every carrier you use without switching between shipping software. Plus, get instant access to discounted USPS postage!
Who Uses SKULabs?
E-commerce businesses, online retailers, wholesalers and distributors.
Where can SKULabs be deployed?
Cloud-based
On-premise
---
About the vendor
SKULabs
Located in Coral Springs, US
Founded in 2014
Countries available
Australia, Canada, Germany, United Kingdom, United States
SKULabs pricing
Starting Price:
US$499.00/month
SKULabs does not have a free version. SKULabs paid version starts at US$499.00/month.
Pricing plans
About the vendor
SKULabs
Located in Coral Springs, US
Founded in 2014
Countries available
Australia, Canada, Germany, United Kingdom, United States
SKULabs videos and images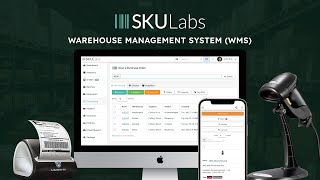 Features of SKULabs
Air Shipping
Alerts/Notifications
Backorder Management
Barcode / Ticket Scanning
Barcode Generation
Barcode/Label Management
Barcoding/RFID
Batch Printing
Cataloging/Categorization
Check-in/Check-out
Contact Database
Cost Tracking
Forecasting
Ground Shipping
Inventory Auditing
Inventory Control Software
Inventory Management Software
Inventory Optimization Software
Inventory Tracking
Item Management
Kitting
Mobile Access
Multi-Location
Order Entry Software
Order Fulfillment Software
Order Management Software
Order Tracking
Product Identification
Purchase Order Management
Purchasing & Receiving
Quality Management Software
Real Time Data
Receiving/Putaway Management
Recurring Orders
Reorder Management
Reporting/Analytics
Returns Management
Search/Filter
Shipment Tracking Software
Shipping Labels
Shipping Management
Supplier Management
eCommerce Management
Grant
Founder / Director in New Zealand
Tobacco, 2-10 Employees
Used the Software for: 1+ year
SKULabs gives you the ERP features you need to grow, at a fraction of the cost
Comments: SKULabs from the pre-planning to onboarding to ongoing support is out of this world, couldn't have asked for a better partner!
Pros:
Overall ease of use - we came from StitchLabs when it was killed-off; SKULabs was just outside of our desired budget, but it delivers ERP grade software at a fraction of the cost. We have utilised SKULabs features to grow our business by over 45% in a single year! Before, I was probably say I was "flying blind" - now we use Insights and Sales Velocity daily and totally changed how we operate our business.
Cons:
Nothing yet. It is extremely intuitive, easy to use and if you get stuck the support team are super quick to respond.
Alternatives Considered: Cin7 and Fulfil.IO
Reasons for Choosing SKULabs: StitchLabs was being killed off, in a way I am glad; our business is 100% better off for using SKULabds
Switched From: Stitch Labs
Reasons for Switching to SKULabs: Hands down the better feature set, support and ability to answer our specific requirements.
Apparel & Fashion, 2-10 Employees
Used the Software for: 1+ year
Good product, needs some work though
Comments: Skulabs solved the problem of me paying too much for my previous inventory control program. It, for the most part, does what I wanted it to do.
Pros:
It connects to lots of marketplaces. Once you understand how the software works, it works pretty well about 90-95 percent of the time. I have found it was a software written by software engineers (of course) that probably have never run a store before. But over, it is okay. Have not found a better alternative yet
Cons:
The product search is horrible. It is an exact word search. If you don't put it in exactly, you won't find your product. I only have a few hundred products. I can't imagine what it would be like if you had thousands. There are lots of little things about this software that if you don't get right then it won't work at all. It is a must to pay them to set it up since it is most certainly not a plug and play type situation. So I compared this one to my last one like this: My last inventory control solution was like a teenager. You have to keep you eye on them since stupid things can happen, but for the most part they do okay just leaving them alone and letting them do their thing. Skulabs is like an infant child: You have to watch it constantly as problems will popup consistently and you have to solve them or else bad things can happen.
SKULabs Response
3 years ago
Thanks for your candid feedback. Every solution has its pain points, but we'll continue working to reduce ours as much as humanly possible.
Tisha
Director of Ops & Marketing in US
Health, Wellness & Fitness, 2-10 Employees
Used the Software for: 6-12 months
SkuLabs has simplified our Inventory Mgt Process
Pros:
We like skulabs because it integrates very well with Big Commerce. Being able to load our inventory at a SKU level and build kits has streamlined my inventory mgt process. We have very few skus, but sell those skus packaged in quite a few different kits, but I always see with one click inventory on base skus.
Cons:
>Wish for had a few more choices on shipping vendors. >Wish for the ability to have POS orders come through as Waiting to Ship
Alternatives Considered: ShipBob
Reasons for Choosing SKULabs: We needed inventory management capabilities and tools send vendors orders.
Switched From: ShipStation
Reasons for Switching to SKULabs: More inventory focused
SKULabs Response
3 years ago
Thanks for your feedback! We've been hard at work making inventory management less of a headache for everyone, and it's great to see that bearing fruit for your team!
Aimee
Vice President in US
Consumer Goods, 2-10 Employees
Used the Software for: 6-12 months
Functional
Comments: It's been good. WE like it, it works, however, we are approaching an inventory point where we need some of these issues we have to work. The shipping feature would be huge as we still cant use it.
Pros:
SKuLabs has been very functional for us in making our inventory management easier utilizing the 'warehouse' feature for two warehouses. It's helped us know our current inventory, update and order items. It's been EXTREMELY helpful. The inventory updates are relatively quick, so it's nice to have the site match the inventory. Customer Service has been responsive, but only on chat.
Cons:
The shipping feature cant be utilized because it prints the products on the outside of the label. It would be nice if that would changed. We have products we sell individually that are also part of a kit, where the parts are in two warehouses. We can't seem to figure out how to create these kits and the chat help hasn't been helpful. Sometimes a human voice to guide through processes would be significantly helpful. The barcodes also don't work where we can print from SKUlabs. We purchased 4 different label printers assuming it was the printer and customer service basically said, it is what it is, it won't work. That's been a downside in needing to print thousands of labels routinely.
SKULabs Response
3 years ago
Hi Aimee, and thanks for your candid feedback. Our team was not aware of some of these ongoing issues and would like to resolve them with you as best we can. Please reach out to us whenever you have time available to restart those conversations I'm sure the issues you're still experiencing can be sorted out and your team will be using SKULabs to its fullest potential in no time!
Justin
Administrative Assistant in US
Import & Export, 2-10 Employees
Used the Software for: 1-5 months
Excellent inventory management
Comments: SKU Labs support is top notch, they are insanely responsive and willing to help work through almost anything you have issues or questions with.
Pros:
The ability to create items as kits that depend on other products was key for us, since our business relies on these types of listings. We used to need to keep kit inventory separate from general, but now it is so easy to just enter inventory amounts into products X Y and Z, and the kit that needs them automatically calculates how many can be sold based on hat items are on hand. Amazing!
Cons:
It took a while to get used to and get everything set up. There is a learning curve that can cause some headache, but the support team will make it as smooth as possible.