What Is HR Partner?
Start this month to get 50% off for 6 months!
HR Partner is a simple, all-inclusive online HR Management system for businesses with 30 to 300 employees.
HR Partner manages your employee records, onboarding, leave requests, renewable documents, performance management, asset tracking, and recruitment - all in one place.
Your whole team can use the self-service portal to check their leave balances, submit leave requests, or update their details.
Who Uses HR Partner?
HR managers & business owners looking to take the pain out employee management. Includes employee onboarding, employee documents and records, leave requests, and comprehensive recruitment tools.
Where can HR Partner be deployed?
Cloud-based
On-premise
---
About the vendor
HR Partner
Located in Darwin, Australia
Founded in 2016
HR Partner support
Phone Support
24/7 (Live rep)
Chat
HR Partner pricing
Starting Price:
US$86.00/one-time
Yes, has free trial
No free version
HR Partner does not have a free version but does offer a free trial. HR Partner paid version starts at US$86.00/one-time.
Pricing plans
get a free trial
About the vendor
HR Partner
Located in Darwin, Australia
Founded in 2016
HR Partner support
Phone Support
24/7 (Live rep)
Chat
HR Partner videos and images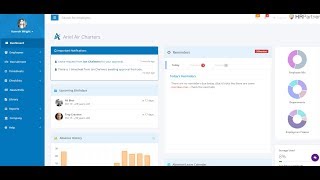 Features of HR Partner
360 Degree Feedback Software
API
Applicant Tracking Software
Candidate Management
Compliance Management
Electronic Forms
Employee Database
Employee Handbook
Employee Management
Employee Profiles
For Cloud
HR Management
Interview Management
Job Posting
Onboarding Software
Orientation Workflow Management
Payroll Management
Performance Management
Recruitment Management
Reporting/Analytics
Self Service Portal
Task Management Software
Third Party Integrations
Time Off Management
Time Off Requests
Training Management
Alternatives to HR Partner
Bilal
Chief Operating Officer in Finland
Verified LinkedIn User
Computer Software, 11-50 Employees
Used the Software for: 1+ year
One of our best investements
Comments: Excellent experience. They are responsive and keep improving their software. It is a must have tool if you want to manage your employees
Pros:
HR Partner is a brilliant tool for small and mid sized companies to manage employees. It has all the features you can think about including Expense Claims, Leave Management, Recruitment etc.
Cons:
There are not really any cons but some improvements they can add. They need to improve the reports section. You cannot really generate quality reports. Also there is no option to print an expense claim or other things. Sure you can do ctrl+p but that prints the whole page. Would be nice if they can give option to print employee details and expense claims in nicer cleaner way.Have an inbuilt system to generate salary slips.Add live chat support on their website that would be awesome
Staffing & Recruiting, 11-50 Employees
Used the Software for: 1-5 months
A great addition to our company!
Comments: We are happy to have implemented this software into our company. The support team have been great and are very knowledgeable. We had a great demo call and appreciated the 2 week trial. Following our setup, we were able to have another call with [SENSITIVE CONTENT HIDDEN] to check how we are integrating the system and iron out any niggles. We are looking forward to rolling out the software in the company and believe it will add a lot of value and save us a lot of time and energy!
Pros:
Overall a great piece of software. The software makes it easy for Admins to control / amend holidays even after they have been approved. The chat function is great as you usually receive a response within 2 hours of submitting a query. It is great that the software has a recruitment function. We look forward to handling our internal recruitment on this. We have previously used a paper form application form for applicants but the recruitment function allows you to create a custom application form so this process can now be digitised for us. Furthermore, there is a great 'scorecard' function that allows you to collectively assess job applicants as a hiring team together, so it provides one easily accessible platform to handle internal recruitment. There are lots of ways to customise the software to tailor it to your business' needs e.g. adding your own leave categories, assigning different hours to different employees, assigning different permissions to the Admin users.
Cons:
If a leave request is initiated by an Admin rather than an employee, the leave request will not display on the employee's recent leave requests. Also, employees can only view their annual leave calendar on a monthly basis rather than being able to view the whole year in one go. Furthermore, days off in their annual leave calendar do not state whether or not this was a half of whole day making it difficult for employees to track where they have taken leave. On our previous software, employees were also able to request 0.5 days off whereas this software forces you to input the hours and minutes for a half day... this is not a huge issue but just leaves more room for error with employees having to work this out for themselves. I have submitted these issues as a request for improvement with the developers so hopefully they can implement these changes!
Pauline
HR Manager in Singapore
Marketing & Advertising, 11-50 Employees
Used the Software for: 1+ year
Using HR Partner is definitely recommended!
Comments: Since we are all WFH, it very easy to manage our employees via HR Partner.
Pros:
HR Partner is easy to use and it's also easy to convert to from your current HR system. Their support desk is also quick, friendly and helpful and a lot can also be found in their manuals too.
Cons:
Integration with more job boards would be much appreciated and creating an app for smartphones too.
Alternatives Considered: BambooHR
Reasons for Choosing HR Partner: HR Partner has is a more complete HR system.
Switched From: OrangeHRM
Reasons for Switching to HR Partner: The applications looked exactly what we needed for our available budget.
Lonnie
Founder in Mexico
Verified LinkedIn User
Marketing & Advertising, 11-50 Employees
Used the Software for: 6-12 months
The Complete HR Management Package
Comments: HR Partner is much better than the previous HR software we used. Switching to HR Partner was the best decision we could have made, having all employee information in a glance has made our life and work easier.
Pros:
HR Partner has all the information we need about every employee, it is easy to use, it allows us to have different leave policies and holidays depending on the location of our staff, so we can personalize it according to our needs. The note system is great to keep a record of every detail we need to review in the future. It is flexible and intuitive and it has a lot of extra options other systems don't have like recruitment and a document library where all training documents or manuals can be uploaded. Overall is a very complete system that covers every employee aspect we need.
Cons:
The only issue I have is with the automatic leave accruals, I'm using the Upfront option where the employee will be allocated the entire default allowance at the start of the employment and every anniversary thereafter but I wish there was an option here where you can start the allowance on a certain date and not on the anniversary date.
HR Partner Response
3 years ago
Hi Lonnie, thanks so much for your review. It's great to hear that HR Partner is helping you keep your HR records much more organized. Also, I wanted to let you know that we do have the ability to have leave allocated on a certain date that you can define. If you haven't found this yet, please contact our support and we'll help you with this. All the best, Fiona
Shaun
Senior Project Manager in US
Verified LinkedIn User
Used the Software for: 1-5 months
HRPartner is really good
Pros:
- I was looking for software that will help us track paid time off (leave) and I found software that can help us with dozens of other HR needs that I didn't realize we needed including recruitment (job postings, integration with Glassdoor, etc.), employee documentation, sick day tracking, org charts, onboarding/termination checklists, online employee requests, pay scale tracking, position and location tracking, and much more. - The customer service has been absolutely fantastic. Seriously fantastic. They have representatives around the world that can help companies in any time zone. We are in the Eastern (USA) time zone and I have had help from Australia early in the morning and Alaska later in the day. Responses always come in a few seconds. - They are open and very quick to fulfill feature requests. I don't know if I just have good ideas, or if HRPartner is just one of the most effective development teams I have seen in years, but I have requested half a dozen changes and every single one has been added except one. The last one was a timeclock module, and they have said that they are building one that should be rolled out in the next few weeks. Based on their track record, I have no doubt it will be added. - I can tell that the HRPartner team is not huge. I have chatted directly with the CEO. But in this case, that seems like a good thing. It makes them very nimble and able to provide great service and to meet my needs quickly.
Cons:
- The software/website is fairly new which means that many features are coming soon. - Some nice-to-have features are still pending. - There are limited integrations: only one payroll integration (Xero) and only one recruiting integration (Glassdoor)