15 years helping Canadian businesses
choose better software
What Is Zoho Inventory?
Zoho Inventory is an online application that enables you to manage orders and inventory. With multi-channel selling, shipping integrations and powerful inventory control, you can now optimize your inventory and order management, right from purchase to packing, to payments.
Who Uses Zoho Inventory?
e-Commerce Businesses, Online sellers, Retailers, Wholesalers, Small and Medium sized businesses.
Where can Zoho Inventory be deployed?
Cloud-based
On-premise
---
Zoho Inventory support
Phone Support
24/7 (Live rep)
Chat
Languages
Chinese, English, French, Japanese, Spanish
Zoho Inventory pricing
Starting Price:
US$79.00/month
Yes, has free trial
Yes, has free version
Zoho Inventory has a free version and offers a free trial. Zoho Inventory paid version starts at US$79.00/month.
Pricing plans
get a free trial
Zoho Inventory support
Phone Support
24/7 (Live rep)
Chat
Languages
Chinese, English, French, Japanese, Spanish
Zoho Inventory videos and images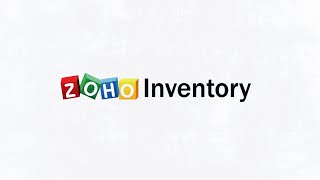 Features of Zoho Inventory
3PL Management
Activity Dashboard
Alerts/Notifications
Backorder Management
Barcode/Ticket Scanning
Barcoding/RFID
Billing & Invoicing
Cataloging/Categorization
Contact Database
Cost Tracking
Delivery Management Software
For 3PLs
Forecasting
Inventory Auditing
Inventory Control Software
Inventory Management Software
Inventory Optimization Software
Inventory Replenishment
Inventory Tracking
Item Management
Kitting
Multi-Location
Order Entry Software
Order Fulfillment Software
Order Management Software
Order Tracking
Product Identification
Purchase Order Management
Purchasing & Receiving
Real Time Data
Real Time Synchronization
Receiving/Putaway Management
Recurring Orders
Reorder Management
Reporting/Analytics
Returns Management
Search/Filter
Shipping Management
Supplier Management
Third Party Integrations
Warehouse Management Software
Alternatives to Zoho Inventory
Reviews of Zoho Inventory
David
Software Engineer in US
Verified LinkedIn User
Semiconductors, 1,001–5,000 Employees
Used the Software for: 1+ year
Reviewer Source
Robust inventory management tool
Comments: Provides a wide variety of functions to optimally manage inventory tracking.
Pros:
Facilitates tracking of products at all stages through a verification and logging mechanism for employees. Allows you to generate reports for real-time analysis, enabling you to review, track and manage supplies efficiently. The suite of integrations it offers is simple to perform and very productive. With bar code scanners you can be very accurate in collecting data on products in stock.
Cons:
It was a bit complicated to finalize the integration with some third party platforms.
Sancharini S
Admin Executive in India
Verified LinkedIn User
Hospital & Health Care, 11–50 Employees
Used the Software for: 2+ years
Reviewer Source
Source: GetApp
Practical, economical option for Inventory Management
Comments: Functional company, hands on management. Can write to them any time, it's a different thing that they don't reply, but get the ball moving through their team !
Pros:
Practical features that are used by any warehouse daily, pick list, packing list, item management, batch / serial number management etc... all in all a complete package for warehouse management.
Cons:
Can be more economical due to scale of zoho, they could pass some more discount to clients.
Alternatives Considered: Salesforce Marketing Cloud
Reasons for Switching to Zoho Inventory: Complete solution / package to run a business, not only inventory management.
Julie
Vice-présidente in Canada
Transportation/Trucking/Railroad, 2–10 Employees
Used the Software for: 1+ year
Reviewer Source
Simple but well good
Pros:
The functions are easy to use and to deal with! Its worth it.
Cons:
The only thing is if we scan some product for an order we cant scan twice
Executive Office, 2–10 Employees
Used the Software for: 6-12 months
Reviewer Source
Love the Concept, reality is that its not ready for ecommerce
Comments: Poor. I ran out of room on the cons: lack of business acumen. No ability to convert or auto convert specific sales transactions from various sales channels to final invoice in zoho books. The funny thing in discussing the sales order to invoice issue, "So many people ask for the capability". Crazy idea for an ecommerce co with multiple landing pages, Social media, and various sales channels. We have attempted to work with Zoho One and Zoho Inventory because I love the concept of having all the various systems on a single platform. You would think the mitigation of risk in todays world of ecommerce might be accomplished. I think what Zoho has perfected is the proverbial "Jack of all trades and master of none". There are simply countless holes, errors, and omissions that for one reason or another Zoho's Development team have not addressed or can not get to because the list of fixes is too long.
Pros:
proposed functionality and inter connectivity with CRM, campaign, books, etc... Too bad it does not work I do like the chat to support, although they rarely have answers. When attempting to chat to support tonight for the below issues the system turned it into an email. Hopefully they will get back to us over the next 2-3 days.
Cons:
Does not work or function properly. example 1) ~500 transactions via amazon merchant fulfilled. Inventory was out of sync within 2 days. Orders stopped being pushed from amazon into our system as sales orders and the customer service issues ensued. Zoho had no answer and we turned off the inventory. Most if not all 3rd party consultants we have spoken to advocate back end fixes using Zoho Creator and deluge. example 2) We add a new zoho one license for a consultant yesterday. a) the new email assigned to the consutlant does not work. b) zoho inventory decides to do a reset asking the consultant and all of our employees to walk thru the start up menu. Upon enabling zoho inventory once again, all of our transactions except those for the past 4 days are accurately in zoho inventory are in the system as sales orders. Upon review of our amazon marketplace zoho inventory integration it was turned off. Upon attempting to enable the amazon marketplace integration the application immediately recognized our credentials. Just missing last 4 days sales orders. No integration with shipstation, its on their roadmap. No ability to concurrently hold and run amazon merchant fulfilled and amazon FBA inventory, not supported by zoho inventory. Its either one or another. Zoho flow integrator is limited and most 3rd party consultants laugh when you ask about using the application to resolve some of the funcationality issues between the various zoho applications.
Dayle
Front-end Developer in UK
E-Learning, 1,001–5,000 Employees
Used the Software for: 1-5 months
Reviewer Source
Fair, but there's better.
Comments: Not too great. I'd say 'okay' at best. The amount of emails we had to send to their customer support team to receive a response data later, often which didn't answer questions or were irrelevant made this software a bad choice for us.
Pros:
The software itself was great! Probably one of the best! The amount you can do with it is endless and forever growing.
Cons:
The customer service team is terrible. And the connection plugin from your store to the Zoho online system is very temperamental. Not exactly what you want when running a busy business.
Alternatives Considered: Quickbooks Online
Reasons for Switching to Zoho Inventory: We chose Zoho due to the amount of features which it offered which would accommodate for most if not all our business needs.