15 years helping Canadian businesses
choose better software
What Is Whatagraph?
Whatagraph is a data platform built for marketing agencies and in-house teams. It helps you connect, visualize, and share all the marketing data.
- Connect your sources via numerous native integrations, Custom API, Google Sheets, and Google BigQuery.
- Visualize data using templates, drag-and-drop, pre-made building blocks, and more. Customize, apply filters, build a visual story with data.
- Share results effortlessly. Automate send out or create a link to a live dashboard.
Who Uses Whatagraph?
Whatagraph is a data platform intentionally built for marketing agencies and in-house marketing teams.
Where can Whatagraph be deployed?
Cloud-based
On-premise
---
About the vendor
Whatagraph
Located in Amsterdam, Netherlands
Founded in 2015
Whatagraph support
Phone Support
24/7 (Live rep)
Chat
Whatagraph pricing
Starting Price:
US$199.00/month
Yes, has free trial
No free version
Whatagraph does not have a free version but does offer a free trial. Whatagraph paid version starts at US$199.00/month.
Pricing plans
get a free trial
About the vendor
Whatagraph
Located in Amsterdam, Netherlands
Founded in 2015
Whatagraph support
Phone Support
24/7 (Live rep)
Chat
Whatagraph videos and images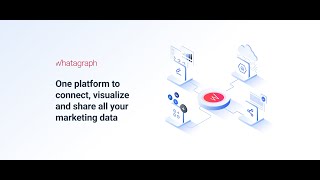 Features of Whatagraph
API
Access Controls/Permissions
Activity Dashboard
Ad hoc Analysis
Ad hoc Reporting
Alerts/Notifications
Campaign Analytics
Campaign Management Software
Campaign Tracking
Channel Management Software
Client Management
Collaboration Tools
Conversion Tracking
Customizable Dashboard
Customizable Reports
Customizable Templates
Dashboard Creation
Dashboard Software
Data Analysis Tools
Data Capture and Transfer
Data Connectors
Data Import/Export
Data Mapping
Data Visualization Software
Drag & Drop
ETL Software
Email Marketing Software
Engagement Tracking
Event Triggered Actions
Functions/Calculations
Historical Reporting
Integrations Management
KPI Monitoring
Marketing Automation Software
Multi-Campaign
Multi-Channel Attribution
Multi-Channel Data Collection
Multi-Channel Marketing
Multiple Data Sources
Performance Metrics
ROI Tracking
Real Time Analytics
Real Time Data
Reporting & Statistics
Scheduled/Automated Reports
Search/Filter
Single Page View
Social Marketing
Template Management
Third Party Integrations
Trend Analysis
Visual Analytics
Visual Discovery
Website Analytics
Website Visitor Tracking
Widgets
Alternatives to Whatagraph
Verified Reviewer
Verified LinkedIn User
Hospital & Health Care, Self Employed
Used the Software for: 2+ years
Reviewer Source
Set and forget (Whatagraph then does the rest)
Comments: I was looking for an easier way to receive regular reports in a consistent format from the various platforms I use socially. Whatagraph does that perfectly. I now get regular reports that are consistently branded and laid out from the several social networks I use.
Pros:
The ease of receiving an email regularly to let me know the latest report is ready for viewing is priceless. The quality of the reports themselves in the platform is excellent as well.
Cons:
The number of connections is limited, but honestly suits my personal needs.
Alternatives Considered: Cyfe
Reasons for Switching to Whatagraph: The setup was easier, and so far the platform has had far fewer data disconnections than I'd experienced in free versions of other platforms I'd tried previously.
Whatagraph Response
4 years ago
Thanks so much! So glad to hear Whatagraph helps you create better reports in a fraction of the time.
Mindaugas
Marketing Consultant in Lithuania
Marketing & Advertising, 2–10 Employees
Used the Software for: 6-12 months
Reviewer Source
Unprecedented reporting solution for marketing specialists
Comments: A very good tool for reporting my Google Analytics and social media platform metrics to clients. I made a switch from GDS and Sheets for reporting to Whatagraph, and I am saving literal hours each week on performance report creation. Our small firm actually managed to onboard 2 new clients as a result of all the time we saved on managing data and reporting. The customer service is also really helpful and easy to reach, however, I am located in Europe so I did notice that some reviewers weren't too happy with customer service hours but they were located in NA.
Pros:
I like how incredibly easy it is to set up this platform for reporting. Integrating digital marketing tools is quick and you can start reporting in just a few minutes after setting up an account. I noticed they also recently launched a new feature called Smart Builder, which basically builds the entire report for you, based on the desired platforms and reporting specifications. Amazing stuff really.
Cons:
Some graphs are interactive and allow you to select the line graphs you wish to display at the same time, however, I only discovered this by accident. This feature should've been communicated more clearly.
Marketing & Advertising, 2–10 Employees
Used the Software for: 1-5 months
Reviewer Source
Great idea that is full of bugs and just doesn't deliver real value
Comments: Not done. There's zero chance I would trust this with clients. During the sales process, I was told we could white label the product on our own URL. After seeing there was no obvious way to make that happen in the app, I reached out to support and was told that feature wasn't available. I bristled at that because that was a big part of the deal for us. Eventually, they said they could make it happen. We never set it up though because there were simply too many other red flags. I think the support people were nice and good intentioned. I just think the product is not stable and needs some thought put into it. I have screenshots, videos, and chat transcripts that I'm happy to share with anyone who wants to know more about my experience. I tried to get a refund, but they let me know that they don't that. They did offer me a free month, but what use is a free month of something that doesn't solve your problem. So, they took me for $800. The software costs $3,200/year, at least that was the "deal" I got. I'm hoping anyone considering this product will read this and take my experience into consideration. Again, I think it's a great idea. Execution is very lacking.
Pros:
I liked the idea. Who wouldn't want one tool that combines all your marketing platforms and allows you produce beautiful reporting. That may be the brand promise. Unfortunately, it just doesn't deliver... unless your reporting needs amount to the stock reports you could get from any native platform.
Cons:
Bug, bugs, bugs. On day one, the date selector did not work. I have no idea how many customers they had, but I'm the one who brought it to their attention. They didn't know their date selector didn't work. Support had to provide a "work around" whereby I would need to select not the dates I wanted in order to get the dates I wanted. Then, that took a few days to fix. I shouldn't need to explain that a very basic feature. But, that was just the beginning. Over about a week of trying to use this software, I was hit with what I would describe as more bugs along with many things that were either completely counterintuitive from a UI perspective or just misrepresentations of functionality from the sales process. For instance, they claim to integrate with Google Sheets. They even have documentation on how to do it. All I needed to do was simply display a simple Google Sheet. Not possible. They had to get a developer involved and more or less trick the system into just displaying a simple sheet. No calculations. Nothing fancy. Just values in cells that could not be displayed without a team of people working on it. Hopefully, they're going to either change the product, fix the documentation, or just remove Google Sheets as one of their supported integrations. Often times, while using the product, I would "save" something only to have it not save. I saved a report to test, generated a link, and the link showed an old version of the report prior to the save.
Marketing & Advertising, 2–10 Employees
Used the Software for: 1+ year
Reviewer Source
Great for Reporting
Pros:
It's very easy to use, and the support staff is very responsive and easy to work with. They typically resolve any issues within the day, sometimes within a few minutes.
Cons:
Sometimes when APIs for the external sources are updated, it takes a little bit for the updates to be fully reflected in Whatagraph, which can lead to a short period of time where we can't show our clients their reports because of missing/incorrect data. Usually this is not an issue, but when it does come up, it's a bit of an inconvenience.
John
SEO Strategist in US
Marketing & Advertising, 11–50 Employees
Used the Software for: 6-12 months
Reviewer Source
EZMarketing and WhatAGraph
Comments: We are showing our clients the work that we're doing for them and this is incredibly important for our clients ROI. They want to see results and having a tool like WhatAGraph that can show data from virtually every source we use is hugely important.
Pros:
Once the Next Gen version was implemented and we learned how to use it, WhatAGraph really assists us with showing how our clients are doing with their SEO, Google Ads and FB marketing.
Cons:
Minor glitches in the software. Data sources being randomly disconnected for no apparent reason. The "Merge" and "Keep Pages" options for the reports can cause some difficulties for our clients who print reports to not only see all the data without it being cut off but seeing all the data on multiple pages instead of having to expand widgets, etc.